15 Must-See RV Camping Destinations in Canada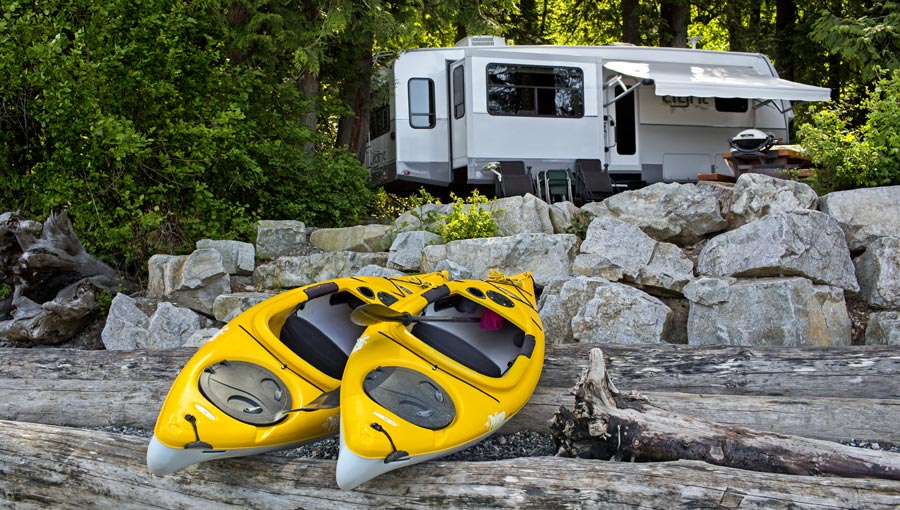 June 9, 2016
With so many places to see in our beautiful country, sometimes it's hard to decide where to begin. One thing's for sure ' a new adventure is just around the corner (you just have to know where to look). For a little inspiration, check out these 15 must-see RV/camping destinations recommended by fellow adventurers coast-to-coast.
1. Jasper National Park, Alberta
Look up, waaaaay up. Also known as 'the gentle giant of the Rockies', Jasper National Park is one of Canada's largest parks. Popular among wildlife enthusiasts, Jasper offers nearly 1000km of trails ' and, if you're lucky, a chance to see caribou, bighorn sheep, mountain goats and other spectacular wildlife.
@GoRVingCanada @ParksCanada #Jasper is top of our list! Tent camping 2014. Can't wait to take our new RV there this year #CampingWeekCA

— Michelle (@michandhershey) May 29, 2016
Wine, beach and bird-watching' Hello! On the shores of Lake Erie, Campers Cove is an RV-friendly campground celebrating over 50 years of camping. This popular spot in Ontario features 1,200 feet of sandy beach with several nearby attractions including golfing, wineries and a bird sanctuary.
#CampingWeekCA campers cove wheatley ontario

— Jim Wood (@wouldeye1958) May 28, 2016
3. Birds Hill Provincial Park, Manitoba
Canada's Birthday Park' What's not to love' Birds Hill Provincial Park officially opened in July 1967 in honour of our nation's centennial. With a wide variety of landscapes throughout the park, Birds Hill is great for outdoor enthusiasts who enjoy hiking, horseback riding, mountain biking and cross-country skiing.
@GoRVingCanada @ParksCanada Bird's Hill Park #CampingWeekCA

— Toby Erin Collins (@tobyhir) May 29, 2016
4. Gros Morne National Park, Newfoundland
Gros Morne is an official UNESCO World Heritage Site. So you're guaranteed to see some pretty magnificent and breathtaking scenery. Pack up your RV and get the family together for some wildlife-watching and spectacular hikes in this seaside gem on the east coast.
@GoRVingCanada @ParksCanada #CampingWeekCA
Beautiful Gros Morne National Park is a stunning spot for camping!

— Doris (@newfiechick) May 28, 2016
5. Pinery Provincial Park, Ontario
Bird-watchers, butterfly enthusiasts and green thumbs unite! Pinery Provincial Park's ecosystem features over 757 plant, 325 bird and 60 butterfly species. It's also the largest protected forest in southwestern Ontario. (Don't forget to pack your binoculars!)
@GoRVingCanada @ParksCanada We love the Pinery in Ontario..great spot for families because there's so much to do! #CampingWeekCA

— Tara Jeles (@Sojeles) May 29, 2016
6. Algonquin Provincial Park, Ontario
Looking for a beautiful spot for canoeing' Algonquin Provincial Park is a premier canoeing destination with plenty of scenic views. It's also a great place for fishing, boating, biking and interpretive walking trails in Ontario.
@GoRVingCanada @ParksCanada my favourite spot is Algonquin Park. Such beauty we have in Ontario and in Canada! #CampingWeekCA

— Ace (@acejaffer) May 29, 2016
7. Similkameen Valley, British Columbia
As they say in Similkameen, 'counting the stars is more important than thread count'. We couldn't agree more. With orchards, wineries, fresh fruit stands to indulge in, and lots of wide open spaces to hike, bike and play, Similkameen Valley is an RV destination to add to your must-see map!
Found a little spot on Nickel Plate Road in the Similkameen. @GoRVingCanada #CampingWeekCA pic.twitter.com/eD38CUB6qg

— Steve Vanden-Eykel (@impossiblebones) May 28, 2016
8. Sasquatch Provincial Park, British Columbia
Pocket lakes, tranquil forests and mountain views. Sasquatch Provincial Park is located north of Harrison Hot Springs and a popular spot for canoeing, fishing, camping, hiking ' and even windsurfing!
@GoRVingCanada @ParksCanada I love camping out at Sasquatch Park near Harrison. Always great places in BC. #BeautifulCanada #CampingWeekCA

— Bigpita (@big_pita) May 28, 2016
9. Carson-Pegasus Provincial Park, Alberta
A destination for trout fishing enthusiasts ' with or without a boat! Carson-Pegasus offers a boat launch at McLeod Lake as well as a lake fish wall with park benches for fishing along the shoreline. (Just make sure you've got your fishing license, rod and reel in tow.)
@GoRVingCanada @ParksCanada Carson Pegasus #CampingWeekCA

— Thuy Nguyen (@ThuyTNguyen) May 30, 2016
10. Spruce Woods Provincial Park, Manitoba
Kiche Manitou Campground is named for an aboriginal phrase meaning 'Great Spirit'. This scenic, desert-like area in Spruce Woods Provincial Park features 30-metre sand dunes as well as family-friendly activities such as campfire talks, guided hikes and interpretive programs.
#CampingWeekCA our favourite spot is at Sprucewoods Provincial Park Kiche Manitou #FamilyFun pic.twitter.com/FvQyk5jTjz

— Carla (@CarlaHoule) May 29, 2016
11. Grundy Lake Provincial Park, Ontario
Who's ready for a canoe or kayak adventure' Grundy Lake is where it's at ' with numerous inland lakes and canoe/kayak rentals available nearby. Sounds pretty stellar to us!
Favourite park is Grundy Lake Provincial Park #CampingWeekCA pic.twitter.com/gos314f3b4

— Craig Martin ' (@Craig3Martin) May 29, 2016
12. Willow Rock Campground, Alberta
Deep in the heart of Kananaskis Country' Willow Rock features hiking trails, fishing, scenic vistas and fresh mountain air. Willow Rock is a short commute from Calgary or Canmore, so it's great for a weekend getaway in the Rockies. (You're welcome.)
@GoRVingCanada Willow Rock Campground in the Bow Valley at the foot of the Rockies. ' #CampingWeekCA

— Craig Drebit (@CraigDrebit) May 29, 2016
13. Waterton Springs Campground, Alberta
Ever wonder what it's like to be next-door neighbours with a UNESCO World Heritage Site' That's what you'll find out at Waterton Springs Campground, on the border of Waterton Lakes National Park. Stunning panoramas and plenty to do for the outdoor enthusiast.
So many fav spots, looking forward to Waterton Springs campground, before the boy heads to college! #CampingWeekCA #ExploreAlberta #Family

— Jenn (@daydame) May 29, 2016
Snorkeling and cycling and paddling, oh my! Surrounded by the natural beauty of the Bruce Peninsula, Tobermory is an adventurer's dream.
@GoRVingCanada @ParksCanada Love camping in Tobermory! #CampingWeekCA

— MonaQaiser! (@monaqaiser) May 29, 2016
15. Paradise Valley, Squamish, British Columbia
It's all about the simple pleasures in life at Paradise Valley:
Unplug. Connect with your family. Immerse yourself in nature's beauty. Repeat.
Beauty of a spot in #Squamish called Paradise Valley. Amazing. #CampingWeekCA @GoRVingCanada @ParksCanada pic.twitter.com/MQLL4QpByn

— David Wald (@djwald) May 28, 2016
Looking for more RV vacation ideas' Get started with our handy RV trip planner.
So' where are you going on your next adventure' We'd love to chat. Connect with us on Facebook, Twitter or Instagram.'