7 Pet-Friendly RV Campgrounds Across Canada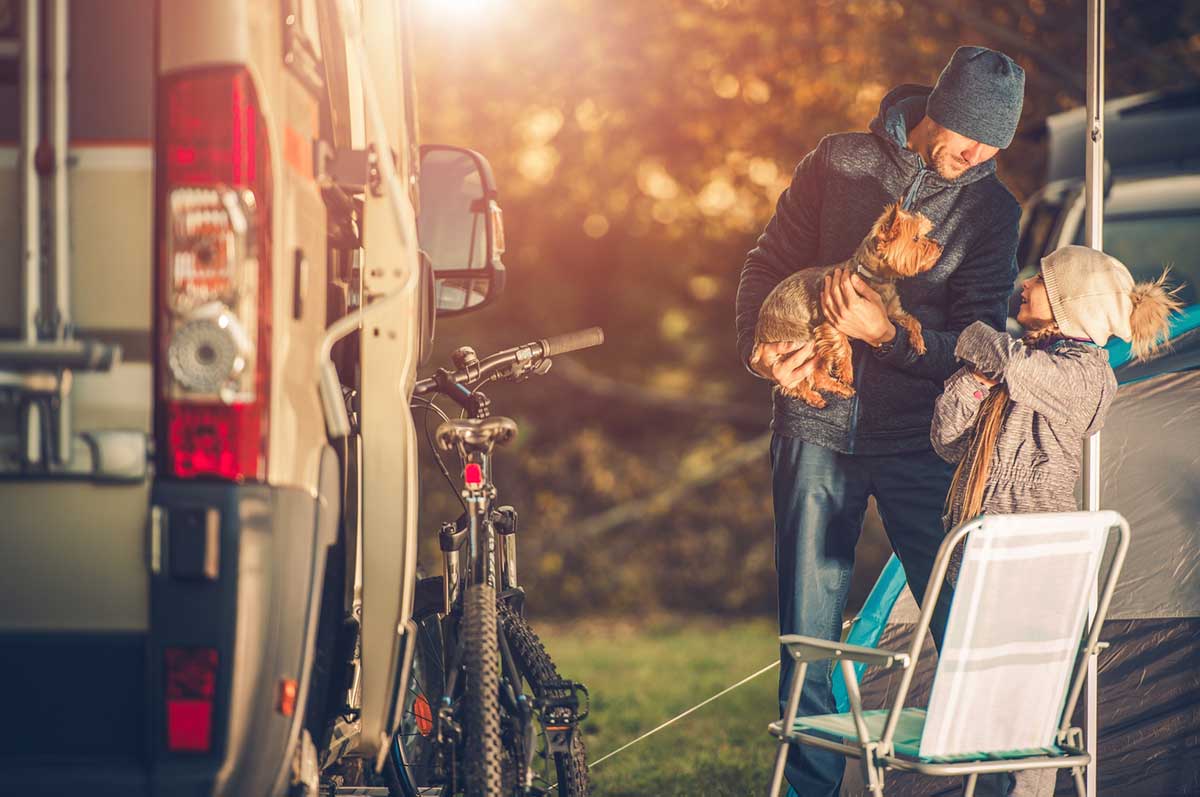 February 20, 2018
Bringing your four-legged friends along for the ride? There are heaps of pet-friendly campgrounds across Canada – you just have to know where to look. Here's a roundup of 7 Pet-Friendly RV Campgrounds that are outdoor playgrounds for campers of all ages – fur babies included!
1. Twin Shores Camping Area (Prince Edward Island)
Looking for an oceanfront abode on the gentle island – aka Prince Edward Island? Twin Shores is a fantastic choice for the family – four-legged family members, too!* There's even plenty of beach to explore with your pup on leash (except for Profitt's Point Beach, which is a protected habitat).
* Excluding exotic animals and aggressive breeds
2. Living Forest Oceanside Campground & RV (British Columbia)
Forested, waterfront acres with an abundance of beach, trails and green space to enjoy. What more could you ask for? Pets are more than welcome to camp out with your crew at Living Forest in Nanaimo! How awesome is that?
3. Riding Mountain National Park (Manitoba)
Rolling prairies and beautiful meadows galore await you at Riding Mountain National Park in friendly Manitoba. Hike, bike, canoe, snowshoe – you name it, there are heaps of outdoor activities to enjoy at Riding Mountain. Just make sure your pup is on leash.
FIND A CAMPGROUND
4. Mountainview Camping (Alberta)
Planning to roll in for the Calgary Stampede or kicking off camping season during Canadian RV and Camping Week? If you're looking to blend an urban getaway with the peace and calm of the countryside, Mountainview Camping in Calgary is a great choice. "In the country, yet close to the city" is how they roll!
Keep in mind, the pet policy here is a maximum of two pets per unit, no dogs over 22 kg (50 lbs) and dogs must be on leash at all times.
5. 1000 Islands / Kingston KOA (Ontario)
Looking for a campground with an off-leash park so you and your pups can roam free and find your Wildhood?
1000 Islands / Kingston KOA may be just the ticket. It makes for a great home base when visiting Canada's first capital – Kingston – and the spectacular views of the 1000 Islands!
6. Ponderosa Pines Park (New Brunswick)
Making the trek to see the highest tides in the world and walk the ocean floor at low tide at Hopewell Rocks? Ponderosa Pines is the closest campground to this natural gem – and it's just a short drive away from Fundy National Park. Pets are welcome – just make sure they're on leash at all times.
7. Tadoussac (Quebec)
Is the Fjord Route (Route du Fjord) in Quebec on your must-see list this year? The 200-site Tadoussac campground offers incredible views of the Saguenay fjord. It's also pet-friendly** – as long as your dog is on leash and not left unsupervised.
Check out our interactive route map for exploring the Lakes and Fjords of Quebec with our handy RV Trip Planner.
** Excluding the ready-to-camp and POD sections.
We'd love to see where you take your furry friends with you on your camping adventures in 2018 – tag #BringBackWildhood for a chance to be featured on our blog or our social media community.
Looking for helpful tips for camping with pets? Get started with our handy blog post on Top Tips for RVing With Your Pet. Happy travels!
Join our community on Facebook, Twitter, Instagram and Pinterest.