8 Healthy Potluck Recipes for a Family RV Cookout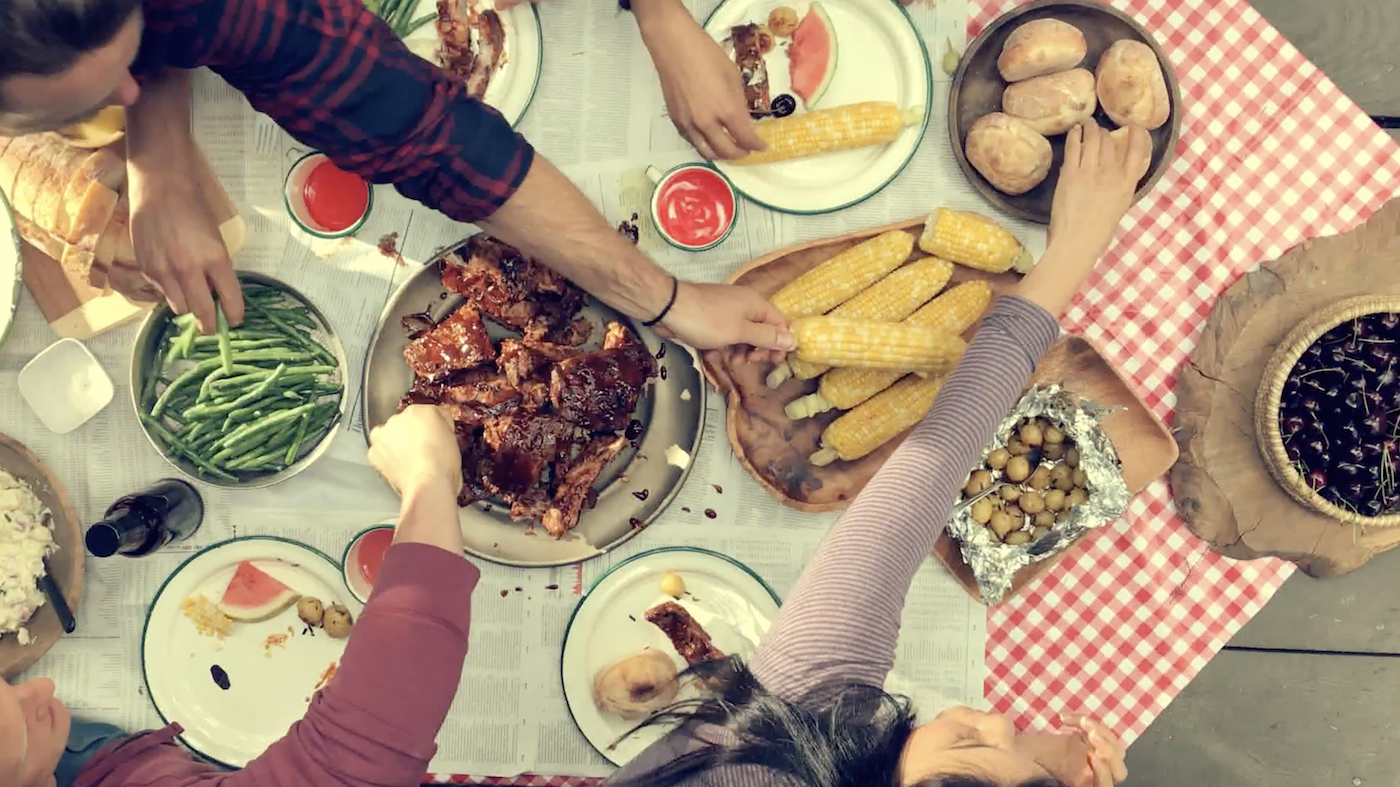 March 25, 2019
Camping season is calling — our favourite time of year! We can't wait to see what this RV/camping season has in store for everyone.
It goes without saying that RVing is a fun family-friendly activity. Are you planning an upcoming camping trip with more than one family? Coordinate a potluck dinner! Group cookouts and RVing go hand-in-hand. It's fun to try your friends and family's take on a new recipe or to fill your plate with a little bit of everything after a full day of outdoor adventures. Plus, it's a budget-friendly way to feed a crowd. Win-win!
You can maintain your healthy lifestyle even while on the road. Potluck meals can be healthy, too. They don't all need to be loaded with cheese! We've found a few healthier potluck options that will fill your crew's bellies. Which one will you try first?
Black Bean Salsa
Mix fresh peppers, corn and tomatoes with black beans, spices and lime juice for a zesty bean salsa everyone will love! If you're dining with picky eaters, hold the cilantro in this recipe. Just add chips to scoop up the salsa goodness!
Ham and Cheese Sliders
Hot ham and cheese sliders are a potluck crowd-pleaser and easy to make even when camping – either in your RV kitchen or toasting over the campfire. This recipe kicks up the traditional ooey-gooey goodness with a honey mustard and poppy seed dressing. Yum!
Broccoli Salad
Broccoli salad is a camping favourite because it stores so well in the fridge. Make this dish ahead of time, so you can spend the rest of the day outside. Come dinnertime, it will still taste great! Dried cranberries, sunflower seeds and bacon bits are the typical toppings, but this salad tastes good with any vegetables you have on-hand.
Deviled Eggs
Everyone loves deviled eggs! Although they are rich in flavour, they are high in protein. Refresh an old classic with a healthier twist by swapping in Greek yogurt for mayo, but the same old spices still do the trick. Which one do you prefer?
Healthy Spinach Dip
Yes — spinach dip can be healthy! This recipe substitutes most of the typical mayo for protein-rich Greek yogurt. Double the spinach for extra nutrition and it's still just as tasty.
Party Pinwheels
Easy and delicious! Every potluck needs some party pinwheels. These ones are made with mayo and cheese, but you can substitute some with cream cheese for a slightly different take on a classic. Mix and match other toppings as you see fit for your group.
Greek Chicken Kabobs
These Greek chicken kebabs are flavourful and easy to throw together on the grill. Marinate the chicken in feta, yogurt, lemon juice and spices for a few hours, add veggies to your skewers and toss them on the grill until cooked through. Healthy, crowd-pleasing and quick!
Arugula Pasta Salad
Add some more greens to the traditional pasta salad to make an old classic a little healthier. This arugula pasta salad features tomatoes, edamame and feta, but it's still simple enough to throw together with fresh groceries while camping. We like recipes with minimal cooking required!
What do you like to bring to outdoor potluck dinners? The options are endless! Here are some more camping recipe roundups to inspire your family meals this RV season:
• 6 Cozy Campfire Recipes
• Crowd-Pleasing Summer Camping Recipes
• 10 Seafood Camping Recipes to Feed a Crowd
• 6 Fuss-Free RV Camping Meals
• Healthy Eating on the Road
• Spicy Mango Bean Salad Tortilla Wraps
Which of these potluck recipes will you try first? Let us know on our Facebook Group: Wildhood Recipe Club! We would love you to chime in and be a part of our community.
Still hungry for more camping cooking inspiration? We share more recipes and meal ideas on our social media channels – join the conversation at Facebook, Twitter, Instagram and Pinterest.