Food Network Canada's Chuck & Danny's Road Trip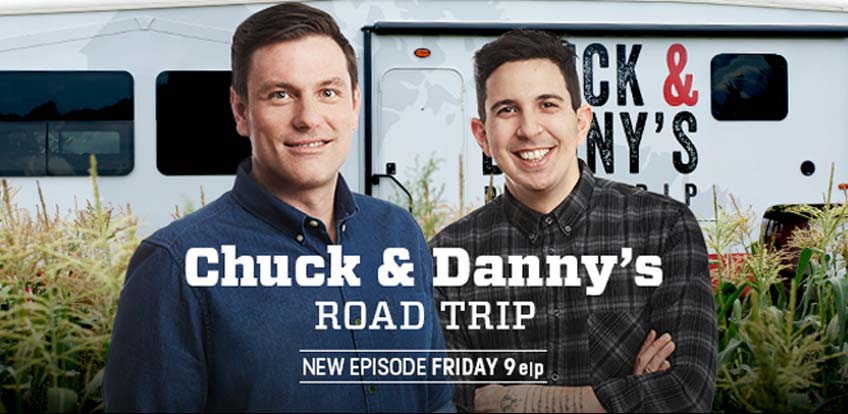 February 22, 2017
What do you get when you put together two celebrity chefs/best buds, an adventure-ready RV and a beautiful country brimming with delicious local ingredients? An epic road trip across Canada filled with witty banter, a little friendly competition and some pretty amazing culinary mash-ups in the wild!
Montreal-based chefs, Chuck Hughes and Danny Smiles, are always up for an adventure – especially if it involves great food and the great outdoors. To mark Canada's 150th birthday, the culinary duo teams up and takes their gear on the open road in an RV to celebrate the regional flavours of Canada, gather around the campfire and meet an incredible community of local farmers, fisherman and foragers along the way. The six-part series Chuck & Danny's Road Trip premieres on Food Network Canada on Friday, March 3 at 9 ET/PT.
Find Your Wildhood
What better way to find your Wildhood than to surround yourself with nature, gaze at the breathtaking landscapes from coast-to-coast, hunt for fresh local ingredients and cook outdoors. Chuck and Danny's Road Trip features a lobster bake by the ocean, moose meat on the grill, a medley of fresh harvest vegetables and mouth-watering moments galore. Go RVing Canada was definitely game for this epic RVing adventure with Chuck and Danny!
For a sneak peek at what's cooking, check out the episode guide and tune in to Chuck & Danny's Road Trip ' premiering on Food Network Canada on Friday, March 3 at 9 ET/PT.
Chris Mahony, President of Go RVing Canada, tagged along for the west coast leg of Chuck and Danny's RV travels on Vancouver Island. With Chuck & Danny's Road Trip premiering in just a few weeks, we asked Chris to share a behind-the-scenes sneak peek and some of his favourite moments from the set with us. Enjoy!
Home Is Where You Park It
In collaboration with Go RVing Canada, Sunwest RV provided a fully-loaded fifth-wheel for Chuck & Danny's Road Trip and the cross-country trek.
'Chuck and Danny truly embrace the camping lifestyle in this series and experienced RV living during their journey,' recalls Mahony. 'And there may have been a few friendly bets and fun chirps between the chefs calling dibs on who got the luxury king-size bed vs. the cozy pull-out sofa in the RV!'
'I can't believe how easy this is to drive.'
From farm to forest, ship to shore, market to meet up, Chuck and Danny drove the RV with ease from location to location. They took their cooking gear and comforts of home in tow, gathered a bounty of local ingredients along the way and cooked up a one-of-a-kind outdoor feast in six stunning locations from Vancouver Island to Prince Edward Island.
Rolling With The Punches
The mood on Chuck & Danny's set was jovial and upbeat; the interaction on the set was high-energy and creative.
'What you see is what you get with Chuck and Danny,' says Mahony. 'It's amazing to watch them cook and improvise and embrace the outdoor lifestyle. Watching Chuck and Danny in action is something pretty special and I think Canadians will really get a taste for the culinary landscape of our country and the joys of RV living.'
What can you expect from Chuck & Danny's Road Trip'
A celebration of Canada's natural beauty and culinary gems from coast-to-coast
A true appreciation for fresh ingredients provided by farmers, fisherman and foragers every day in our local communities
A look at what outdoor life and the RV living is all about
An epic (and delicious!) adventure
'Chuck and Danny's Road Trip will take you along a pretty incredible journey across Canada,' says Mahony. 'I think people are going to feel inspired to release their inner chef, cook something new outdoors, and gather with friends and family around the campfire. It's really a fantastic way to celebrate Canada's 150th birthday.'
What's YOUR signature dish to cook in the great outdoors' Feel free to share your camping recipe inspiration with our #GoRVingCanada community. Connect with us on Facebook, Twitter or Instagram. Happy travels!