Blistered garlic tomatoes, cold yogurt, and charred bread With Andy Hay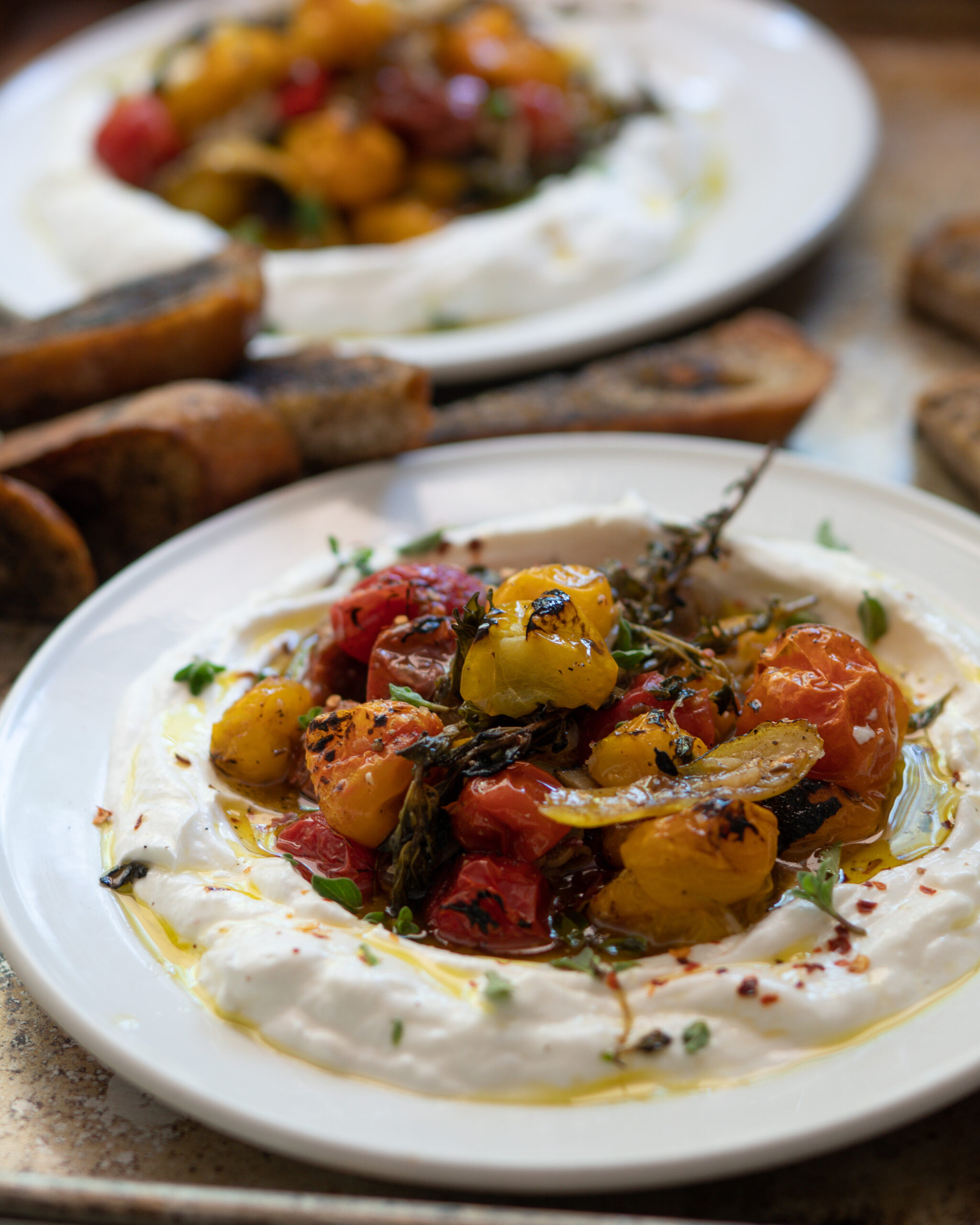 June 17, 2020
Blistered garlic tomatoes, cold yogurt, charred bread. A total show stopper!
I was watching Netflix the other night and did a deep dive into the latest season of "Somebody Feed Phil". Given my ultimate dream is to have a food travel show, I am fairly obsessed with this style of content. Anyway, in this particular episode Phil is in London and he goes to eat at one of the Ottolenghi restaurants (Famous chef in London) where they dig into a dish very similar to this one. Ottolenghi is talking about the contrast in temperature is what makes this dish so special. I couldn't get it out of my head. I just had to make it.
There is nothing fancy about this recipe, but it does require you to make sure the tomatoes you do buy are high-quality ones. Take your time to get the good farmers market cherry tomatoes. They truly sing in this dish. That is generally the secret for cooking. Take your time to find the best ingredients possible. It makes all of the difference.
This recipe is perfect for the cottage, camping, or in the RV. You need very little equipment and really could make this with nothing more than a skillet and an open fire. One key piece of advice beyond the buying the right tomatoes is to char the bread you use for dipping. The flavor of "burnt" takes this dish to the next level and really is a must. 
Ingredients:
2 pints of cherry tomatoes (find the good ones)
3-5 tbs of olive oil
1 tsp cumin seeds
1/2 tsp brown sugar
4 garlic cloves sliced
3 thyme sprigs
6 oregano sprigs (4 mixed in with tomatoes, two left raw for garnish)
3 strips of lemon peel
1 tsp flakey sea salt
1 tsp black pepper
2 cups cold greek yogurt
1 tsp chili flakes
1/2 a loaf of sliced sourdough
Instructions:
Preheat the oven to 425
In a mixing bowl, add in tomatoes, olive oil, garlic, cumin, sugar, thyme, oregano, lemon peel, salt, and pepper. With your hand or a spoon, mix to make sure tomatoes are totally covered in the mixture.
Pour tomatoes mixture onto a baking sheet that is prepared with parchment paper. Place in oven for 25 minutes.
After 25 minutes, turn oven to broil for 5-6 minutes to give the tomatoes some blisters. If you have a blow torch, this is the time to use it!
While the tomatoes are broiling, prepare the charred bread. Cut sourdough into slices and cover with olive oil. If possible, char bread using the open flame of the BBQ or over a camp fire. You can always use a broiler as well. The char adds so much to the flavour of the dish, so don't skip.
Once tomatoes are done, get the yogurt out of the fridge and scoop 2 cups onto a plate. Using the back of the spoon make a well and then place the tomatoes into the well. Drizzle with olive oil, salt, fresh oregano leaves, and chilli flakes. Dive in while the tomatoes are still hot.
Check out Andy Hay's video instructions below and Bring Back Wildhood with this INSANE dish!