Camping for a Cause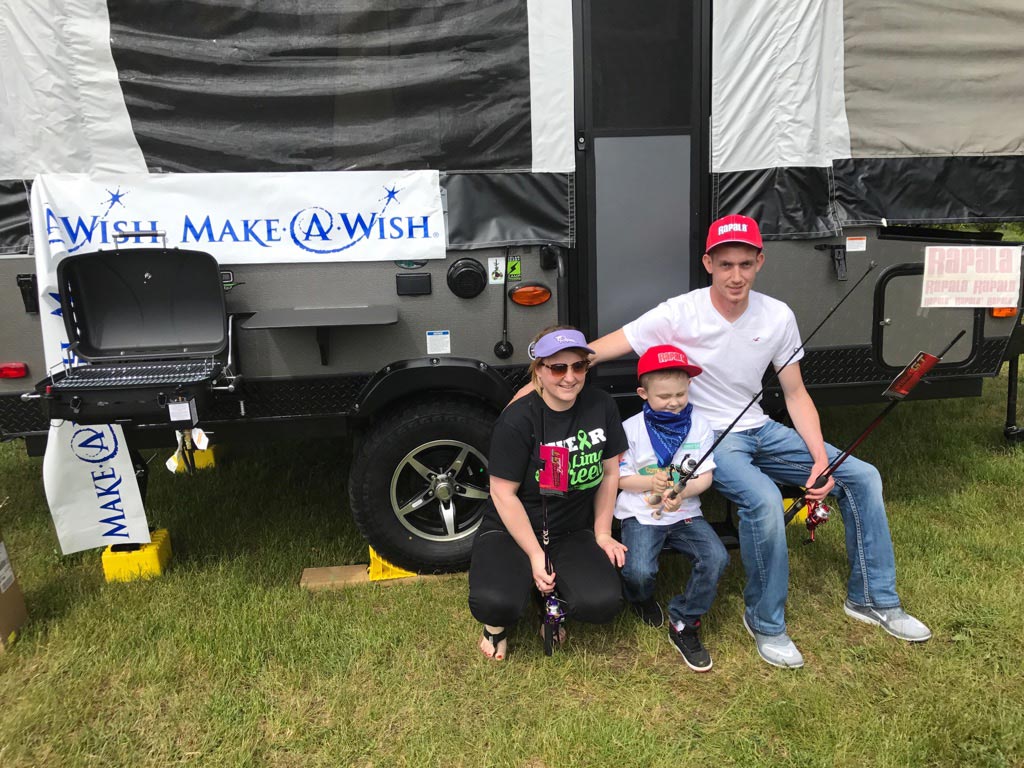 June 2, 2017
What do you get when you have a nationwide marshmallow roast, thousands of happy campers and RVers, 58 participating campgrounds, enthusiastic RV dealers and #CampingWeekCA partners, AND a pure love for community'
An incredible outpouring of support for Make-A-Wish® Canada and a weeklong celebration of the great outdoors!
Go RVing Canada, the Canadian Camping and RV Council (CCRVC) and the Canadian RV Association, along with campgrounds and dealerships nationwide, banded together during Canadian RVing and Camping Week (May 23-28, 2017) with a fundraising goal of $20,000 for Make-A-Wish® Canada. Funds raised during #CampingWeekCA will help bring hope, strength and joy ' granting wishes for children with life-threatening medical conditions.
Earlier this week, a brave six year old's wish came true. Parker, this year's #CampingWeekCA Wish Recipient, was granted his wish for an RV to go camping, fishing and hiking and make memories with his family and friends. Here are Parker and family enjoying their new pop-up trailer and fishing gear.
Shoutout to Emerald Lake Campground, Niagara Trailers and FISH TV for helping to make this Wish Day so memorable. Watch video highlights from this very special Wish Day in Puslinch, Ontario.

Watch the Facebook live reveal

RVers, campers and outdoor enthusiasts alike from coast-to-coast gathered together at more than 50 campgrounds on May 27 for the nationwide marshmallow roast. It was a beautiful evening to huddle around the campfire, eat from a stick and gaze up at the wish stars lighting up the night sky.
We were thrilled to see so many Wish Stars beaming with hope and strength across Canada! Our generous RVing community extended their support by purchasing Wish Stars for $2 at participating RV dealerships and campgrounds nationwide, with 100% of the proceeds going to Make-A-Wish® Canada. It was truly heart-warming to see Canadians come together for such a worthy cause.
Thank you to all of our generous campers and cottage friends for supporting #CampingWeekCA #GoRVing #MakeAWishCanada pic.twitter.com/QnAITop46E

— RedBayTentandTrailer (@RedBayCamp) May 30, 2017
We raised $575!! We were honoured to participate in the Nation Wide Marshmallow Roast in support of @MakeAWishCA for #campingweekca pic.twitter.com/FpufBt76v8

— Camping Passport (@CampingPassport) May 29, 2017
Big thanks to everyone from coast-to-coast who participated in #CampingWeekCA to help make wishes come true! If you missed Camping Week, you can keep the camp vibes a-flow and the wish stars a-glow by donating online to Make-A-Wish® Canada.
#campingseason & wish kid Nadav will be enjoying the great outdoor! #CampingWeekCA is now on with Go RVing Canada! https://t.co/5MDrhUCoZf pic.twitter.com/09udhsscnA

— Make-A-Wish EO (@MakeAWishEO) May 24, 2017
Cheers to the start of a fantastic season of camping! For more RVing tips and travel inspiration, join our Go RVing Canada community on Facebook, Twitter, Instagram or Pinterest.
Find local RV Dealers