Camping Smiles, S'mores and a Wish Come True!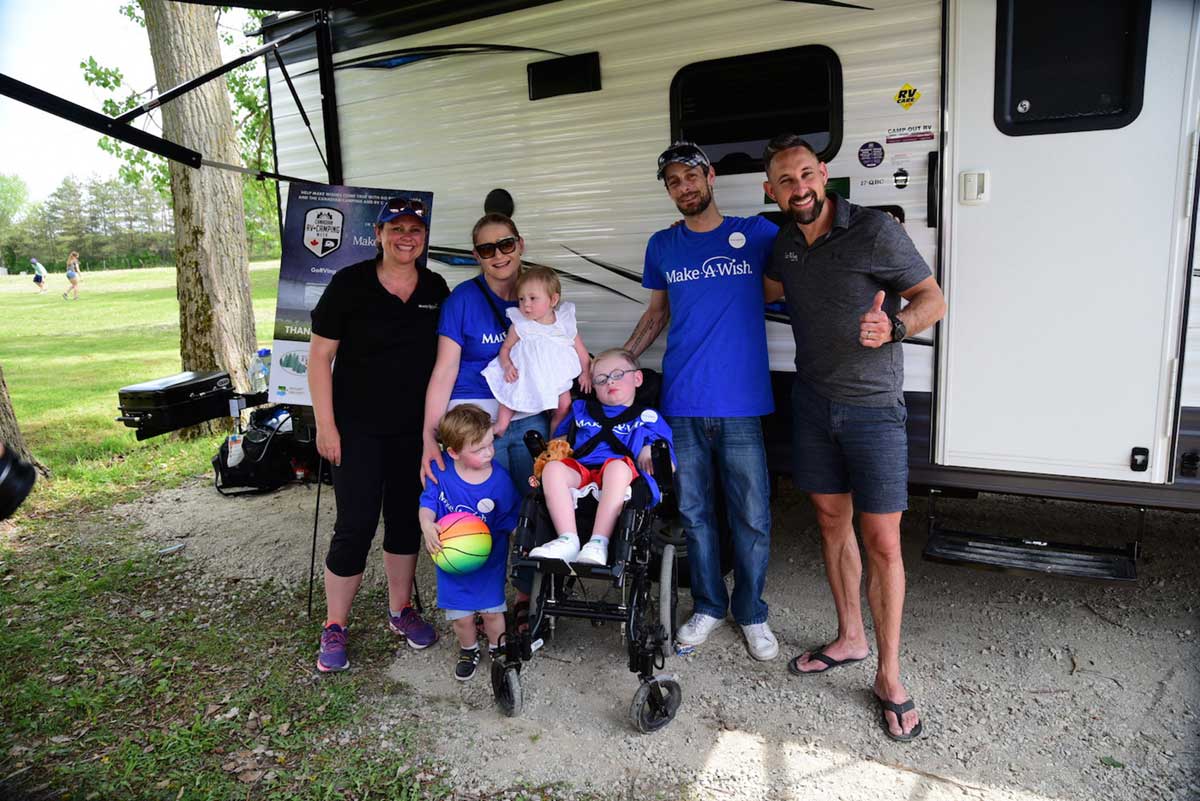 June 20, 2018
Each year, we ring in the start of camping season with #CampingWeekCA! This year, we celebrated Canadian RV and Camping Week on May 22-27, 2018. More than 60 campgrounds and RV dealerships across the country participated in the outdoor festivities. It's a fun week that Canadian families look forward to each spring.
We love that this annual event brings RV and camping enthusiasts together every year to find their Wildhood and celebrate the great outdoors. We also love that our community is so generous during Canadian RV and Camping Week in support of Make-A-Wish® Canada!
Go RVing Canada, in partnership with the Canadian Camping and RV Council, RVDA of Canada and RV dealerships, campgrounds and fellow campers nationwide help to raise funds to grant wishes for Canadian children with critical illnesses through Make-A-Wish Canada! We know that wishes mean so much to these children and their families, and we are honoured to continue our support of such a worthy cause. We know that wishes give children the physical and emotional strength they need to fight a critical illness.
Making a Difference in Our Community
We raised funds for Make-A-Wish Canada through online donations and wish stars available for purchase at participating RV dealerships and campgrounds leading up to #CampingWeekCA. A single wish star is only $2.00, but each one makes a huge difference in a child's life! Alternatively, people can donate directly through our Make-A-Wish Canada campaign.
Atticus's Wish for an RV
Each year, we team up with Make-A-Wish Canada to fulfill a wish for a child in our community. Last year, we had the pleasure to grant Parker's wish for a pop-up RV.
Earlier this year, we were moved when our friends at Make-A-Wish Canada shared Atticus's story, his love of the outdoors and his wish for an RV. Atticus is six years old and living with a neurological condition. He loves animals and fireworks and making memories with his family! Atticus's mom remembers when he saw fireworks for the first time – he was amazed. This sparked the wish for the whole family to be able to spend more time outdoors. Atticus's parents, Melissa and Terence, have fond memories of camping (complete with fireworks!) when they were growing up. They wanted Atticus and his two siblings to enjoy a similar childhood.
Here's why Atticus made a wish for an RV to enjoy with his friends and family in the great outdoors:
"Atticus's love for the outdoors is second to none. His one true wish was to put his toes in the sand, feel the wind against his face, smell campfires, explore nature and wildlife and simply just spend time with family and friends. It was no surprise to his wish granters that he wanted an RV so he could fully experience the camping lifestyle."
Thank You for Helping Make Wishes Come True!
We wrapped up #CampingWeekCA festivities on May 26 with the help of our friends at Make-A-Wish Canada, Canadian Camping and RV Council, RVDA of Canada, Campout RV, Forest River, Wayfarer, Goreski's Landing and Hershey's Canada. We gathered at Goreski's Landing RV Resort on Scugog Lake in Kawarthas, Ontario, where Atticus received his very own RV – his wish come true! Campers from coast-to-coast roasted s'mores around the campfire that night, lighting up the night sky and coming together to celebrate #CampingWeekCA!
Atticus and his family are thrilled to #BringBackWildhood and spend the summer together outside with their new RV. They are looking forward to exploring nature, watching wildlife and just playing outside as much as possible. It also means that Atticus and his family can go camping regardless of the weather. "He's going to love it!" said his mom. "He's going to soak up the sun, the fresh air, the nature." That's just the kind of summer we love!
High fives and huge thanks to all our partners and our amazing community of generous campgrounds, RV dealers and campers who supported #CampingWeekCA this year! This wish meant so much to Atticus' family and we couldn't be happier for them at Go RVing Canada.
Looking for ways to #BringBackWildhood this summer? Join our community on Facebook, Twitter, Instagram and Pinterest.