Creamy Cheesy Mexican Chicken Casserole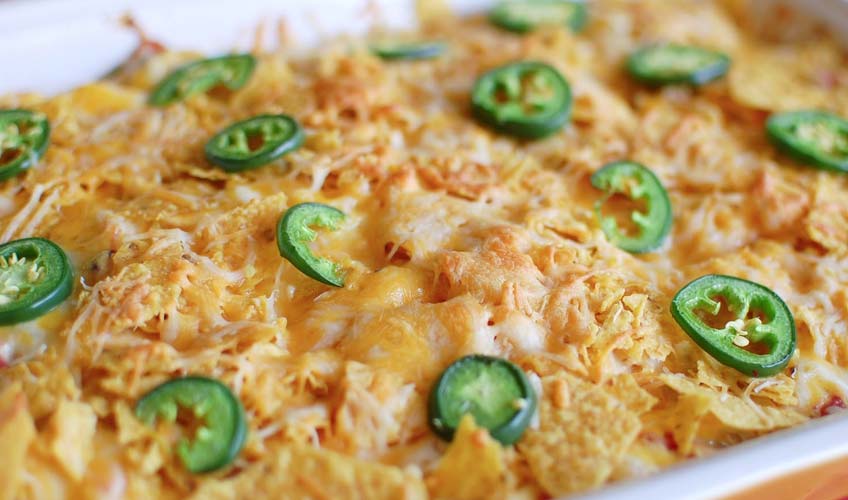 July 28, 2012
Preparation
Cut up chicken into bite-size pieces. In a large skillet melt butter or margarine. Add cubed up chicken, garlic, onion, green bell peppers.
Cook over medium-high heat until chicken is no longer pink and no liquid is left in skillet. Stir in soup, Rotel Tomatoes and finely chopped habanero pepper. Reduce heat and cook until the cheese melts, stirring constantly.
Place the cooked spaghetti in a greased 2 quart casserole dish. Pour the cheese/chicken mixture over top spaghetti.
Bake at 350 degrees for 30 minutes or until heated through.
Ingredients
4 chicken breasts (Boneless/Skinless)
1 can (10 3/4 ounce) cream of chicken soup
1 can (10 ounce) Rotel diced tomatoes and green chillies
1 clove (large) Garlic; Minced
1/2 Onion; Chopped
1 tablespoon Butter or Margarine
1/2 Green Bell Pepper; Chopped
1 Habanero Pepper; Finely Chopped (Optional)
Garnish with Jalapeño Pepper (optional)
8 ounces) Velveeta Cheese; Cut into Small Cubes
8 ounce(s) Spaghetti; Cooked and Drained
Serves 6
Photo credit: www.loulousucreblog.com