Deck The Haul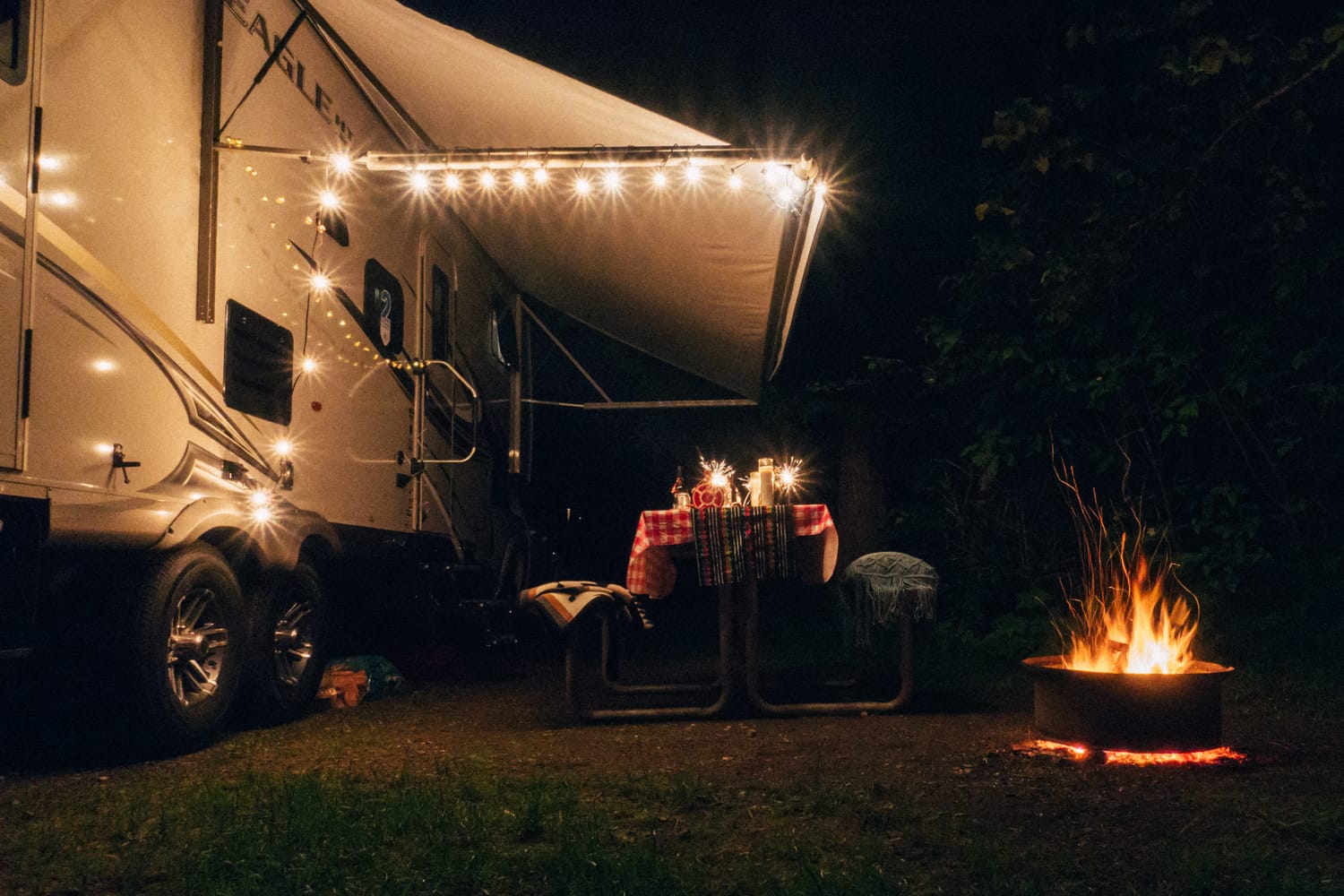 March 11, 2020
There's no place like home! Except for home away from home, aka your RV. If you're anything like us, you love spending time out in the wild—daytime adventures and warm nights telling stories around the campfire before tucking into the rig at night.
We often pay a lot of attention to sprucing up your RV interior, but have you thought about your outdoor setup? Think of the living space you'll gain with just a few touches! Here's 5 ideas ranging from easy, to funky, to full projects to get you started.
Twinkle Lights
If you're the kind of camper who moves around every weekend, you probably don't want to haul a whole lot of extra decor items. Fix up your campsite with decorations that double as functional: twinkle lights! They don't take up too much space in storage and serve the purpose of lighting up your site at night.
Browse the web or your local home store to take your pick in terms of style. For example, do you want large solar bulbs or strands of tiny twinkle lights?
Fancy Fire Pit
Who says you need to stick to the same old they give you when you park your RV? Upgrade your fire pit to one that feels more like home with a rim that looks like an indoor mantel. Pair this look with the previously suggested twinkle lights and you have a pretty cozy setup already!
Again, you have options. Do you want portable or permanent? You could stick to a classic wood burning fire pit or switch to a gas one to save yourself the trouble of chopping wood. Some look like small end tables, while others are larger and lower so you can kick your feet up after a long day.
A Pop of Colour
Sometimes all you need is a pop of colour! Bright pillows or chairs, potted plants and table accents. Go all out and paint your RV door if you feel like it. Why stop there? Paint an entire vintage camper for a real statement look with your outdoor decor. You could keep it simple with just a few small splashes of colour or raise the bar with fun patterns all around. The whole campground will want to stop by to see your handiwork. They say it's easier than it looks!
Fun Details
Embrace your tacky side with fun details like light up flamingos, RV wind chimes, or RV family signs. If you aren't into plastic lights, they make metal flamingo sculptures too. Depending on where you travel, you could probably find little items like these while on the road.
Pro tip: These are cute gifts to give your RVing friends!
Deck it Out
Sometimes you need to deck it out to make a real statement. Build a proper deck complete with outdoor seating and let the natural green backdrop be your decor. Just add comfy gravity chairs, fun details, and string lights. Voila!
What does your patio setup look like at your RV? Share your photos with us on! Join the community on Facebook, Twitter, Instagram, and Pinterest.