The Essentials to Pack on Your Next RV Trip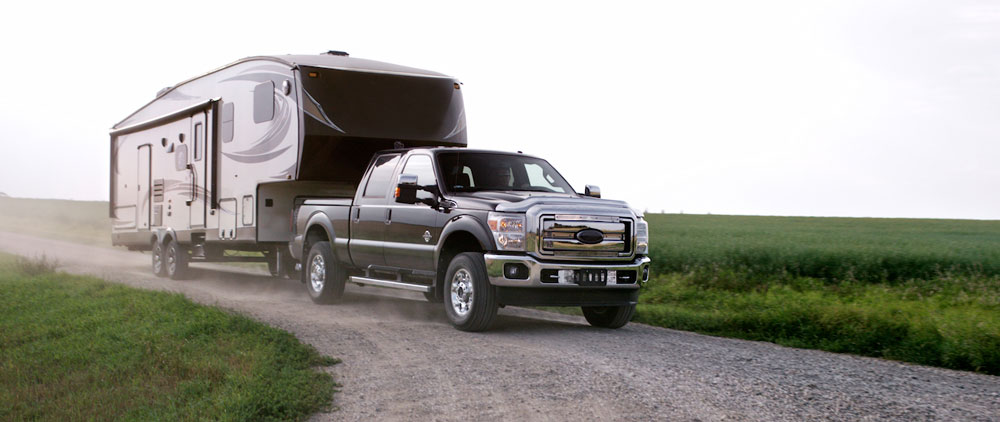 February 9, 2017
So you've mapped out your road trip and booked your campsites, what next' You'll want to make sure you pack the essential gear for your RV adventure. That said, packing light is the name of the game! Here are 8 RV packing tips to help keep your load light and get you on your way.

1. Be efficient
Think about the duration of your journey and how many pit stops you anticipate along your route. Bring as much as you (realistically) need. As tempting as it might be to fill the RV cupboards and stash the storage pockets to the brim with 'essentials' for your adventure, there's no need to pack up your entire house for a four-day road trip. Unless you're traveling out to a super remote area, chances are, you can pick up provisions along the way.
Don't travel with a full tank of fresh water ' it's heavier than you think. Skip the canned goods and jumbo-sized bottles of pop and jars of pasta sauce. Travel with just as much water and groceries as you need until your next pit stop or your final destination; use the amenities on the route and stock up when you arrive.
If you're traveling south of the border to the United States, keep in mind there are seasonal food restrictions ' particularly with meat, produce and firewood.
2. Keep your crew happy, not hangry
Nobody likes to travel with a cranky road-tripper and listen to umpteen 'Are we there yet"s. Avoid the sugar lows and growling tummies; keep your crew happy and hydrated with a refillable water bottle at the ready and plenty of pre-portioned, healthy snacks in tow. Do yourself a favour and skip the drive-thru. Check out these road trip recipes for some nutritious bite-sized snacks to prepare for your journey.
Better yet, plan to pull over and take a break every two hours for a stretch break and a breath of fresh air. Check out our blog post, for more tips for keeping healthy on those lengthy drives.
3. Be prepared
Just in case, it's a good idea to bring a small toolkit with basic tools such as a hammer, screwdriver set, tire gauge and flashlight with extra batteries. If you're planning to build a campfire, pack a small axe and a little shovel to keep the pit neat and tidy ' but ignore the BYOF (Bring Your Own Firewood) memo. It's not worth the extra weight to save a couple of bucks on discounted firewood; instead, buy it when you arrive at the campground.
You'll also want to make sure you bring sunglasses and sunscreen to keep the UV rays in check, mosquito repellent or citronella candles to keep those pesky bugs away, and a first aid kit to patch up any owie's that you may stumble upon along the way.
4. Plan your meals
One of the best things about RVing is the simple joy of easy, no-fuss living. Meal planning will be your best friend ' plan for BBQ meals or one-pot recipes that streamline your grocery shop and reduce the amount of dirty dishes. Leave the fancy gourmet spices and family-size condiments in your pantry at home ' bring smaller refillable containers of ketchup, mustard, mayonnaise, salt, pepper and steak sauce. One small pot to boil water and one multi-purpose skillet that serve double-duty (either stove-top or on the campfire grill) are ideal.
A reasonable amount of pre-chopped ingredients (such as veggies) for the first day of meals will help save time while cooking, but again, don't worry about stocking up the fridge before you head out on the road. Make sure to bring airtight containers, a cooler with ice, aluminum foil and resealable bags for leftovers. And don't forget to bring a couple of small bags for garbage and recyclables.

5. Dress in layers
Weather can be unpredictable, so pack smart when it comes to clothing. It's not sensible to pack up your entire wardrobe for any trip ' much less a road trip ' so bring a reasonable assortment of tops and bottoms that can mix and match and function as layers. You can easily remove or add a layer of clothing depending on the temperature on a given day. If you plan to go swimming or hiking, bring a swimsuit, raingear, hat and proper footwear.
6. Stay fresh
Just because you're camping, it doesn't automatically mean that you have to smell like you haven't showered in days! Don't forget to bring along your basic travel-sized toiletries (toothbrush, toothpaste, soap, shampoo, toilet paper, etc.), but leave your fancy grooming products and perfumes at home.

7. Keep your fur babies happy
Make sure your pet's identification tags (and any required meds) are up-to-date and make sure the tags have the phone number you can be reached at during your travels. Pack a refillable water bowl, food, treats and small toys to keep your fur baby fed and entertained. Your pet-friendly campsite may have rules about on-leash and off-leash areas, so be sure to bring a leash and plastic bags to pick-up after your pup. Check out our blog post for more tips for RVing with pets.
8. Be flexible
It's smart to have a plan, but it's even smarter to be flexible. The reality is that plans sometimes change and you might need to tweak your route or switch your destination on a whim. Make sure to monitor weather reports and road conditions along the way. Bring emergency contact info in each person's wallet or backpack. Bring some cash, in case some places don't accept credit cards or there are no ATMs nearby. Pack your battery charger for your phone ' ideally a charger compatible with your vehicle. And bring along your passport ' in case you decide to travel across the border for the day.
At the end of the day, a good rule of thumb for RVing is to only bring what you need and don't leave stuff behind along the way.
For more helpful tips on packing for your RV trip, check out our video tutorial and checklist.
What item do YOU think is a must-have to pack for an RV trip' Feel free to share your ideas with our #RVersKnow community. Connect with us on Facebook, Twitter or Instagram. Happy travels!