Gazing at Wish Stars Across Canada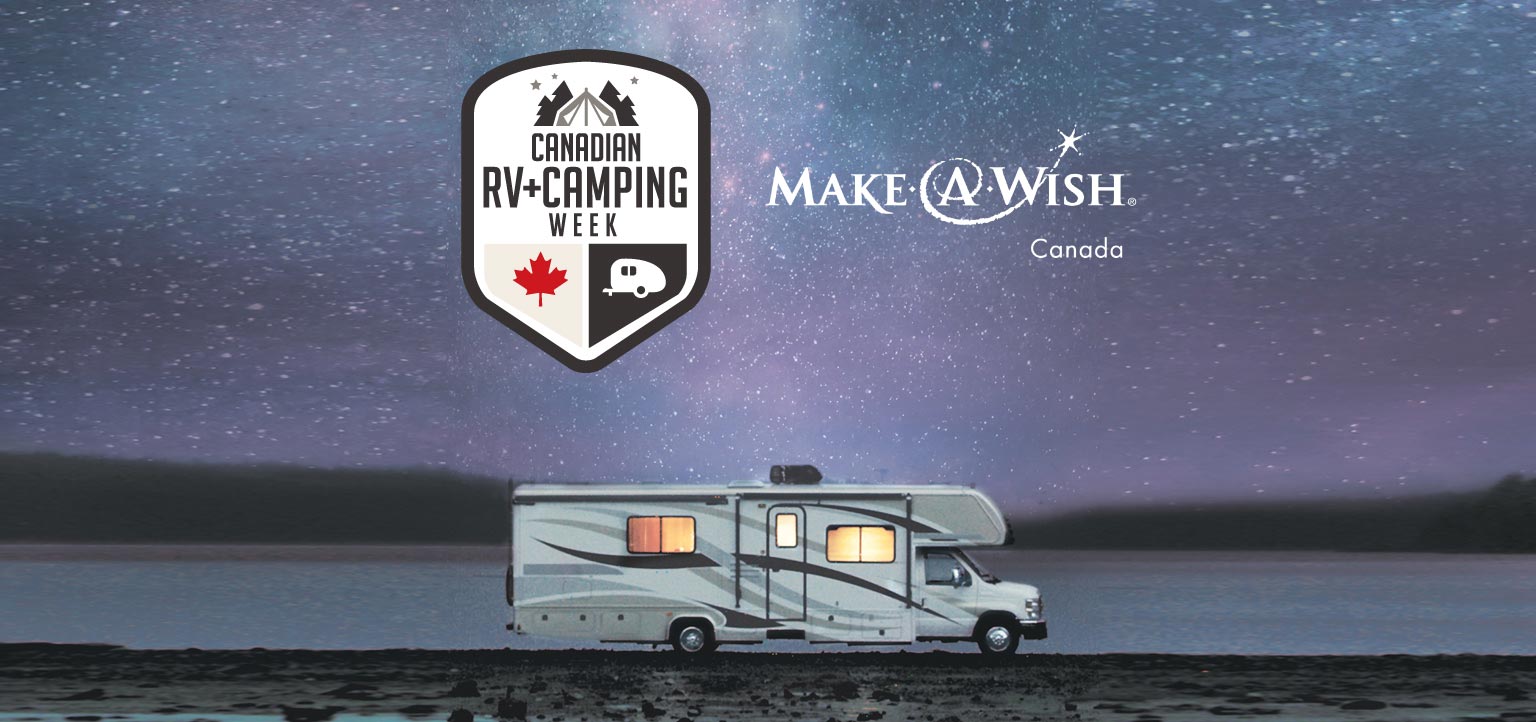 May 5, 2017
Gather around the campfire, gaze up at the stars and go camping for a cause! Canadian RVing and Camping Week is May 23-28, 2017, in support of Make-A-Wish® Canada.
Round up your best buds, bring along the kiddos, pack up the RV and set out on the open road to #BringBackWildhood across Canada for #CampingWeekCA! What better way to kick-off camping season than by spending some quality time in the great outdoors and raising funds for a worthy charity.
Go RVing Canada has partnered with the Canadian Camping and RV Council (CCRVC) and the RVDA of Canada, along with campgrounds and dealerships nationwide, to raise funds for Make-A-Wish® Canada. Funds raised during #CampingWeekCA will help bring hope, strength and joy ' granting wishes for children with life-threatening medical conditions.
Here's how you can get involved'
Camp for a Cause
Book your stay from May 23 to 28 at a participating campground and take part in #CampingWeekCA activities, in support of Make-A-Wish® Canada. [link to: https://gorving.ca/canada-rv-camping-week/] Special discounts are available at participating campgrounds. [link to: http://ccrvc.ca/event-promotion]

Make Wishes Come True
Buy a Wish Star for $2 at participating RV dealerships and campgrounds across Canada, with 100% of the proceeds going to Make-A-Wish® Canada. Read more about how your contributions are truly making a difference in our community.
Eat from a Stick, Gaze at the Stars
S'more, please! Join us for the Nationwide Marshmallow Roast on Saturday, May 27 at dusk (local time). Fellow RVers, campers and outdoor enthusiasts from coast-to-coast will gather together at 58 campgrounds in celebration of #CampingWeekCA and in honour of Make-A-Wish® Canada. It's the perfect time to snuggle up with your favourite people around the campfire, eat from a stick, nosh on s'mores and gaze at the wish stars lighting up the night sky.

Donate to Make-A-Wish® Canada
Help us reach our goal of $20,000 to help make wishes come true! Every little bit helps ' donate online to Make-A-Wish® Canada.
Keep the Camp Vibes A-Glow
We'd love to see where and how you're celebrating #CampingWeekCA in your neck of the woods. Share your crew's glowing smiles, your favourite Wildhood adventures and your roasted marshmallow foodie moments with our camping community on social media. Be sure to tag us @GoRVingCanada and #CampingWeekCA and we'll repost our faves!
Looking for some travel inspiration' Get started with our #CampingWeekCA board on Pinterest.
Join our community on Facebook, Twitter, Instagram or Pinterest. Happy camping!