Parker's Wish for a Pop-Up RV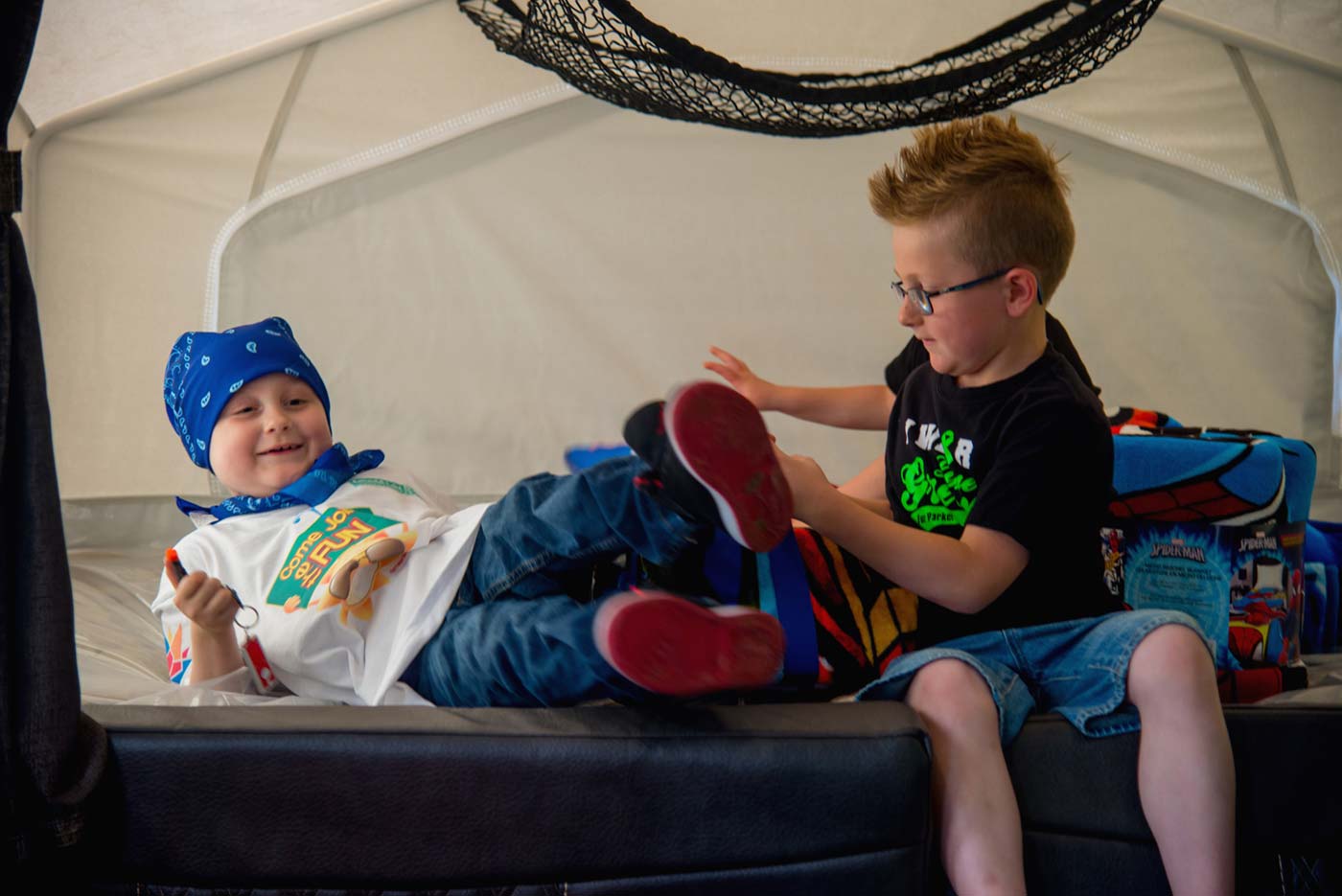 May 17, 2018
Parker is an outgoing boy who loves spending time with his family outside. Last year, our partners Make-A-Wish® Canada approached us with Parker's story. He is currently battling cancer and his treatment is almost complete. We did everything we could to make Parker's wish for a pop-up tent trailer RV come true! Go RVing Canada, along with the Canadian Camping and RV Council, RVDA of Canada, RV dealerships, campgrounds, and campers nationwide, raised over $22,000 for Make-A-Wish® and granted Parker's wish.
The Big Wish Event at #CampingWeekCA
Go RVing Canada presented Parker's pop-up trailer to him at Emerald Lake Trailer Resort and Waterpark in Ontario during Canadian RV and Camping Week in 2017. Parker worked his way through a scavenger hunt with his friends and family waiting to surprise him at the campsite.
The wish granters created a fun scavenger hunt that led Parker to the splash pad, snack bar, and to the lake before he found his pop-up. "We had a lot of clues," Parker said. Once he discovered and found his trailer, he was thrilled! He grinned the whole time while following his clues, and eagerly explored his new trailer.
We knew that Parker loves to camp. He's a real outdoorsman! That's why Emerald Lake Campground is one of his favourite places to visit. "I did a lot of swimming and we had campfires," he said. Parker had so much fun with his family last summer, but of course, his favourite day of last summer was: "When I got the trailer!"
Parker has big plans for this summer. "I hope to travel further," he said. "Grand Bend is one of the places I want to go to." He's hoping to do more hiking this year too.
Over the winter, Parker was excited to get back outside. "We watched a lot of TV," he said. "I can't wait to get back, that's for sure!"
The Importance of a Wish
Wishes let kids be kids again, and allow their family to start a new chapter together. A wish has the unique ability to transform a child and family's life during some of their most difficult trials – as a wish creates an opportunity for hope and the ability to experience life beyond illness. Parker's mother, Danielle said, "When he got the trailer his spirits immediately changed."
"Parker was in the hospital for a long time," said Danielle. "When we got the trailer, he totally forgot about being sick." The trailer is still a place where Parker can play like a kid again. "When he's at home he tells me when his medication is due. At the trailer, he completely forgets about it." Now that Parker's treatment is almost complete, the family should be able to travel a little further. At Parker's request, Grand Bend is next on the list!
Regardless of where the family camps, they all enjoy the time outdoors. "Just being there is my favourite. Seeing him able to run and be a kid again. Not worrying about hospitals. We love everything about the trailer," said mom.
And now that summer is so close, Parker can hardly wait for May long weekend! "Since we parked the trailer for the winter, that's all he talks about." He always asks how much longer until May long weekend. The whole family is excited to bring the trailer out for another summer. "As soon as we get there he's a totally different kid," mom said. "It's amazing that a wish can change a child's spirits. It makes them stress free. They don't have to worry about being sick."
Join Us for Canadian RV and Camping Week
This year, #CampingWeekCA is on May 22-27, 2018. Join Go RVing Canada, the Canadian Camping and RV Council, and the RVDA of Canada as we partner with Make-A-Wish® Canada to grant another wish to a child in our community.
Do you want to learn how you can get involved in #CampingWeekCA? It's easy! Leading up to Camping Week, buy a Wish Star for $2.00 from participating campgrounds and RV dealerships. The big wish event will occur on Saturday, May 26. Fellow RVers and campers at participating campgrounds will roast s'mores together across the country. See you there!