Potatas Bravas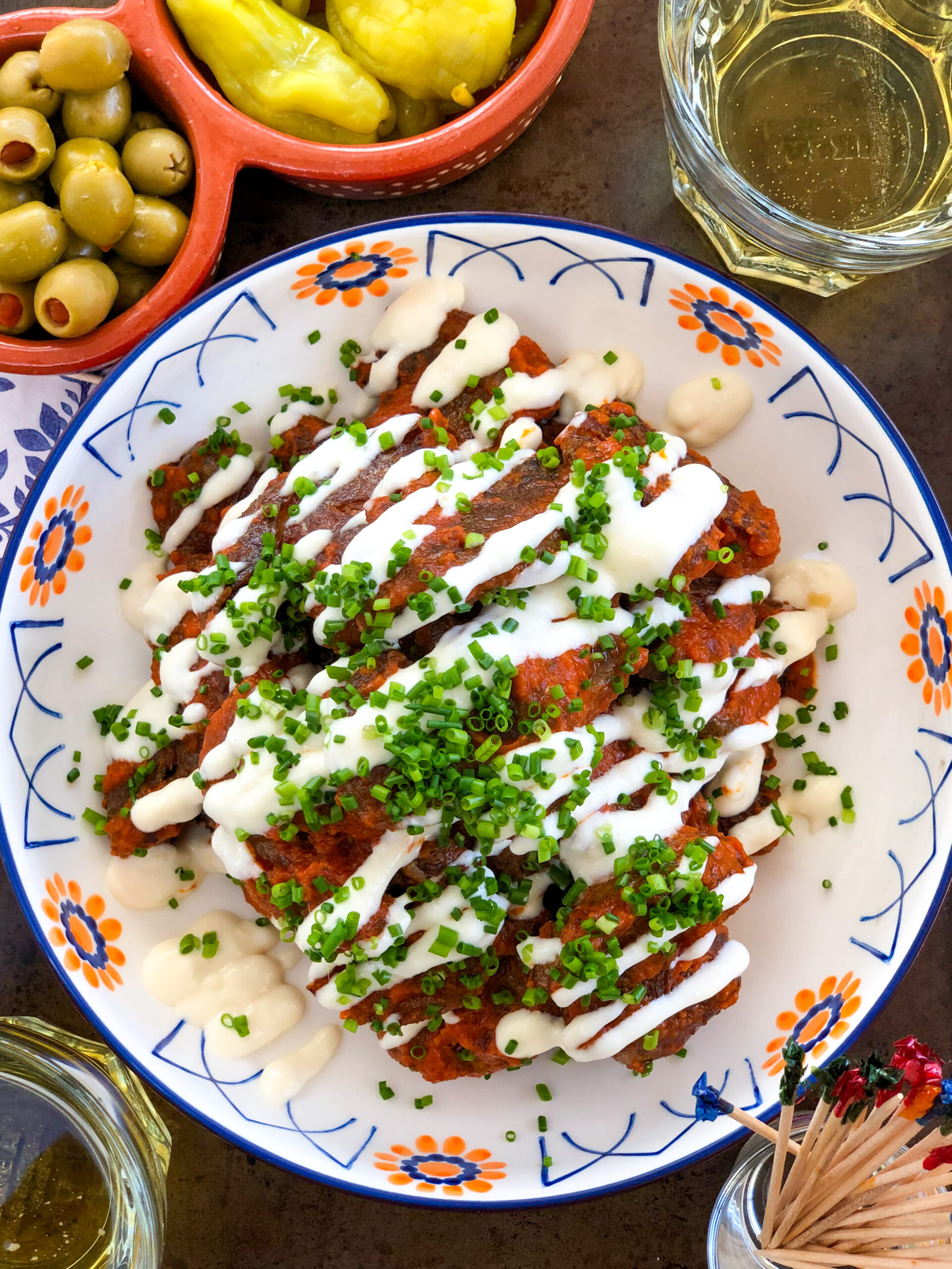 August 21, 2020
A couple years ago, before kids came along and changed everything, myself and a group of my friends took a trip to Spain. It was phenomenal. Some of the most fun I have ever had in my life. We travelled all over and ate ourselves crazy. We dined out everywhere and I took it all in. I feel in love with the Spanish dining culture, especially the tapas. Tapas are small snacks that are served to your table or at the bar when you order a drink. This dish, patatas bravas, was my favourite. There is nothing fancy about it. Generally it's fried potatoes, a smoky paprika tomato sauce, and a garlic aioli. A lovely little treat to enjoy with a cold beer or a glass of wine
This recipe is easy to make and you really don't need much equipment at all! Enjoy! 
Ingredients
1 small bag of mini yellow potatoes
2 tsp salt
1/2 cup olive oil
1/2 white onion diced
5 cloves of garlic minced
2 tsp butter
1 tsp olive oil
4 leaves of fresh basil
1 1/2 tablespoon smoked paprika
1 tbsp tomato paste
1/2 28oz can of diced tomatoes
1 tsp lemon juice
2 tsp pepper
2 pinch salt
Garlic Mayo;
5 cloves garlic
juice of 1 lemon
1 cup store bought mayo
Instructions
Bring a salted pot of water to boil. Add in potatoes and boil until they are soft enough to be easily pierced by a fork. Once soft, pull from water and place on a baking tray.
Preheat oven to 425
Using the back of a fork, crush the potato.. don't smash.. just crush. Once all potatoes are crushed, generously douse the potatoes in olive oil and salt. Place in the oven for 25 minutes and then flip all of the potatoes. Return to the oven for another 25 minutes.
Now tomato sauce. Add garlic, onions, olive oil, butter, and olive oil to a small pot over medium heat. Saute until onion is translucent and then add in paprika. Stir and then add in tomato paste. Pause and enjoy that smell. Pour in dice tomatoes, lemon juice, salt and pepper. Allow to simmer for 15 minutes before blending in a blender. After blended, return to a small pot and allow to reduce on low for 25-35 minutes.
Garlic Mayo. Add garlic, mayo, and lemon juice to a blender and blitz on high. I always like to put the mixture into a squirt bottle once mixed.
Once potatoes are complete, let cook slightly and then place them in a large bowl. Pour a cup of the tomato sauce onto the potatoes and toss gently. Place potatoes on a serving dish and then squirt with mayo mixture.