Tales from the Road: First-Time RVer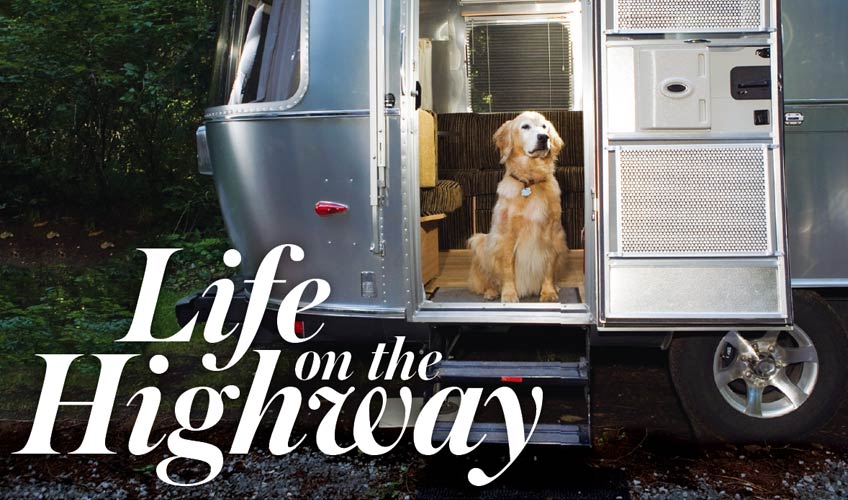 November 1, 2013
Originally featured in Zoomer Magazine.
"I expect to hear the loud thump of the back wheels flying over the curb or the smash of the back end hitting the tree near the corner. Instead, I make the turn without the need to call my insurance company. I'm behind the wheel of the all-new 2014 GMC Sierra truck ' with a 5.3 L V-8 engine capable of 355 HP ' and I'm pulling a travel trailer weighing around 6,000 pounds toward Sierra West Ranch in Lundbreck, Alta. It's my first time embarking on an RV trip and, before setting out, I was certain I would enjoy it as much as I do camping, which is to say very little. But, as I hitched the RV trailer to the Sierra (courtesy of Bucars RV Centre in Balzac, Alta.), the appeal for this type of getaway began to grow on me.
'The RV lifestyle offers the cottage experience for a fraction of the price and the flexibility to see a number of different places,' says Chris Mahony, executive director at Go RVing Canada. 'Both types of RVs ' travel trailers or motorized homes ' provide all the comforts of home, with conveniences like kitchens, bathrooms, air conditioning, beds, etc.,' A towable trailer is more economical than a motorized RV in terms of cost and fuel consumption. Through the hills of southern Alberta the Sierra achieved 23 L/100 km ' impressive considering the weight I was pulling and my heavy foot. The interior space of the Sierra, along with an endless amount of USB charging ports and storage compartments, made the drive convenient and incredibly comfortable. GMC had these types of long hauls in mind when it redesigned this truck.
If your vehicle doesn't have a towing capacity like the Sierra, which in this configuration can pull up to 9,500 pounds, a traditional RV (or motorized home) is a great choice.
'The exciting thing about a motorized vehicle is that the adventure begins the moment you pull out of your driveway,' Mahony says. 'Passengers can enjoy the comfort and activities in the RV while it's moving: watch TV, play cards at the table, reach into the refrigerator. And RVs come with a lot of features that make them easier to drive [such as back-up cameras and side cameras] to help new drivers feel more confident.'
Flexibility is also a big bonus when it comes to RVing. I drove into and set up right on the grounds of Sierra West Ranch, parked to ensure the view included the hills and creek. Mahony advises that you customize your trip based on who's coming along. 'If you've got the grandkids, you can narrow in on campgrounds that have kid-friendly activities. If your parents are joining, it might be important to have certain food stores close by or indoor activities geared to them. For the boomers and their children, it might be critical to have Wi-Fi at the campground (which the majority actually do these days). In my experience, once people step inside an RV, it hits them just how incredible these vehicles are.'