by Rebecca Moroney, Eamon & Bec
Over our years of travel together there is one question we get asked more than any other: How do you two spend 24/7 together and not get sick of each other? I'd love to say that we just click (and on some level we definitely do), but we've also worked hard to make a small space liveable. Here are our top tips for full time RV travel with your partner.
1. Don't let yourself go hungry!
Hanger is real and to be honest is at the root of most of our bickering moments. It's amazing what a little snack can do for your mood, so take our advice and keep some granola bars in every pocket, backpack and nook and cranny of your home!
2. Redefine Romance
Did you know that making morning coffee and doing the laundry are two very romantic gestures? It may not be the "storybook" fairy-tale you were expecting, but knowing that full-time travel is not an all-inclusive vacation is important. Take time to appreciate the little things your partner does for you!
3. Manage Expectations
Social media is fantastic but it is an edited version of someone's real daily life. I used to bookmark destinations I wanted to visit based on Instagram photos until I realized I was perpetually disappointed in the places once we arrived. Having little to no expectations about what the city/town/country will offer is a great way to be!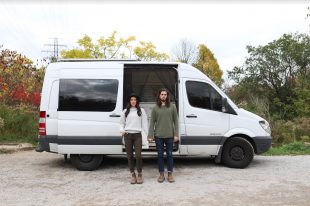 Photo credit: Eamon & Bec
4. Find Your Tribe + Travel with Them!
Introducing new squad members is a great way to keep things fun! Plus, you'll appreciate your alone time even more when you have it.
5. Divide + Conquer
A smaller footprint means there isn't space in the kitchen for you both to always be cooking or cleaning so clearly define your roles and stick to them.
6. Keep Track of $ (But Be Relaxed)
Money can be such a sensitive subject, but it's important to be clear and open with your penny-pinching important that you both feel as though you've fairly contributed to this lifestyle, but penny-pinching can cause real issues.
7. Let it Go
Inhale "let" exhale "go". Life is too short to sweat the small stuff, so address annoyances quickly and move on even quicker!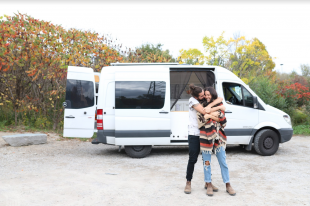 Photo credit: Eamon & Bec
8. Compromise
Compromise doesn't need to be a negative thing. For example, by taking into account the activities your partner would prefer doing, you may find yourself outside your comfort zone enjoying incredible new things!
9. Communicate Honestly
There is no room (quite literally) to beat around the bush, so always say what you mean and mean what you say.
10. Take Time Alone
Even if it's just a yoga class or a quick skateboard around town, taking some time to yourself allows you to recharge and reset.
Watch this video where we unpack this topic:
Cheers to a happy and healthy relationship on the road! Did we miss your top tip for making it last in a small space?
What's your top tip for full-time RVing with your significant other? Join the Go Rving Canada community and chime in on Facebook, Twitter, Instagram and Pinterest.
Follow along with Eamon & Bec's vanlife adventures on YouTube or on Instagram Instagram, @rebeccamoroney and @eh.mon.