One December evening, Eamon and I were dreaming and planning our year ahead with a glass (or two) of wine in hand. I can't recall who blurted it out first (let's blame the vino here) but I do remember us both being a bit intimated by the idea… as if we were going to drive our self-converted Sprinter Van down to Mexico! But, as the story goes, it was mid-winter in Toronto and the harsh temperatures were beginning to take their toll on us and our 60 sq-ft home on wheels. So, as you can imagine, the idea of driving as far south as possible didn't take much convincing.
And with that, we headed to the beach.
Having just returned home from our wild adventure, we're here to share our top five tips for making the most of your RV holiday in Mexico!
1. ENJOY THE JOURNEY
We all know the old saying "the journey is more important than the destination" and in our travel experience, this could not be truer. Our engine failed on us our second day in Mexico and finding a mechanic, replacing the motor, and getting back on the road took up three weeks. Instead of dwelling on the wrench this threw in our initial plans we decided to make the most of our time in Central Mexico. We explored neighbouring towns, hung out with new local friends and ate as many tacos as we could stomach!
2. TAKE THE PATH LESS TRAVELED
Our most memorable nights were spent on remote beaches completely unmarked on apps or maps. Instead, we'd take the time to pull off the highway and explore where the dirt roads lead. Sometimes it's a dead end and other times it's your own private paradise.
3. BRUSH UP ON YOUR SPANISH
Hola, it's time to practice your español. Don't be shy… I can't count on my hands the amount of times I said "dog" (perro) when I meant to say "but" (pero). Pero, learning to speak the local language will help you get to know the locals and I think we can all agree that meeting local people is the single best way to travel a country, town or region.
4. WATER DO'S AND DON'TS
You've heard it said time and time again: don't drink the water in Mexico. Don't fret, there's plenty of cold beer and margaritas to keep your thirst at bay.* And when you want to reach for some agua? Do as the Mexicans do and stick to purified water. We refilled our three 5-gallon fresh water tanks at OXXO (a local convenience store) or at the water refill stations scattered throughout the country.
*Of course, this goes without saying, but just in case: Drink responsibly. Don't drink and drive.
A Normal Day in the Life of Van Lifers
5. RESTOCK AT THE LOCAL MARKETS
Avoid the chain grocery stores, and instead grab your food from the local markets. We love cooking for ourselves while traveling, so it's no surprise that the local fruterias and tortillerias quickly became our best friends. Large bags full of fresh fruits, veggies and pantry staples that would last our LARGE appetites 3-4 days would sell for 150 pesos. You can't beat that!
Did we miss one of your top tips for RVing from Canada to Mexico? Let us know!
Follow Eamon and Becca on Instagram for daily travel stories and YouTube for their epic vlogs:
@Eh.mon
@RebeccaMoroney
Youtube Channel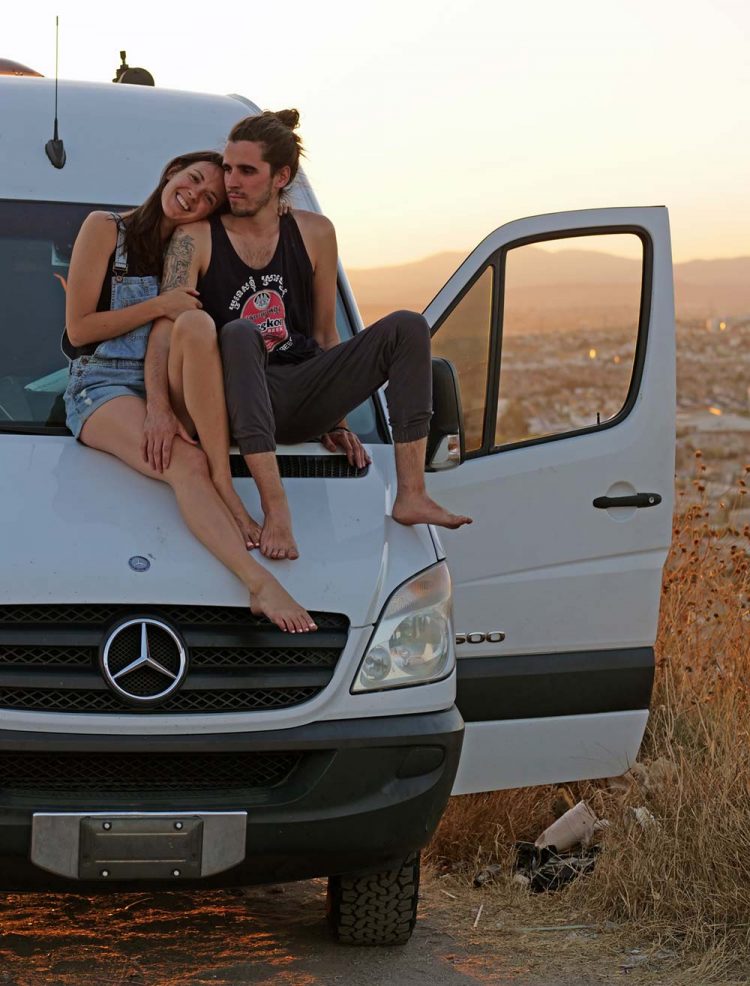 Join Go RVing Canada's community on Facebook, Twitter, Instagram and Pinterest. Be sure to tag #BringBackWildhood for a chance to be featured!