We love the fact that embarking on an RV adventure doesn't require you to leave all of your conveniences at home. The challenge, however, is fitting in everything you want to bring, keeping it organized and, at the same time, keeping things convenient and easy to access.
We've put together a few of our favourite tips below to help you minimize clutter and maximize space.

1. Use a Magnetic Strip for knives and kitchen utensils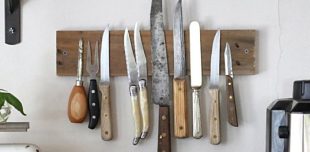 One of the challenges of cooking in an RV is the lack of space and storage. Using a very simple-to-install magnetic strip is a great way to utilize empty wall space to hang knives and utensils for easy access. eHow has a great instructions on how to install your own DIY stylish rustic-inspired wall rack.
2. Divided Organizers to keep cupboards neat, tidy (and safe)
https://www.youtube.com/watch'v=u686Bwk0ffU
Nikki Wynn of Gone With the Wynns has some very helpful tips that we absolutely love in her video RV Organizing: Don't Be A Hot Mess. She suggests using divided organizers in your dish drawers to keep things like glasses both organized and safe. She shows us how to make our own in her video, as well as sharing a few other useful tips, like using ottomans to store extra sheets and blankets.
3. Buy collapsible kitchen supplies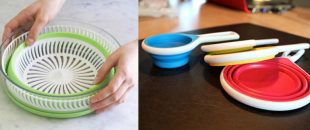 Salad Spinner: http://www.thegreenhead.com/2009/06/collapsible-salad-spinner.php
Collapsible measuring cups: http://www.mykitchenaddictions.com/kitchen-tools
This is another great space saving trick for the kitchen. If you're planning to do a decent amount of cooking, it's worth it to invest in collapsible kitchen supplies, like the collapsible salad spinner or measuring cups pictured above. Stackable plastic bowls are another safe bet for creating ease in the kitchen.
4. Turn an old CD rack on its side to create DIY Bathroom storage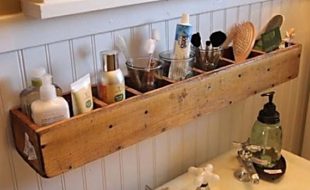 Image via Awesome Inventions: http://www.awesomeinventions.com/creative-home-diy/
We love this DIY idea for the bathroom! If you're not looking to invest a lot of money into storage shelves, don't forget there are plenty of DIY ideas for attachable wall shelving that can be found around your home.
5. Use hooks and hangers on the backs of doors and in the bathroom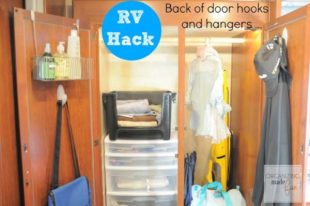 Image via Organizing Made Fun: http://organizingmadefun.blogspot.ca/2015/06/rv-organizing-and-storage-hacks-small.html
Becky at Organizing Made Fun talks about how she used this super smart and easy hack to instantly double your storage space. Command hooks and hanging baskets work perfectly to accomplish a neat and tidy feel with all the added RV storage space.
6. Use stacking kitchen shelf for shoes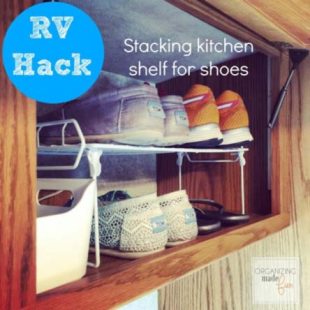 Image via Organizing Made Fun: http://organizingmadefun.blogspot.ca/2015/06/rv-organizing-and-storage-hacks-small.html
Another great tip from Becky at Organizing Made Fun. Shoes can very quickly make an RV cluttered and messy. It's a simple trick to use stacking kitchen shelves to store extra shoes. This will also help entice everyone to put their shoes away, instead of having them spread around your home away from home.
7. Mason Jar DIY for your RV knick knacks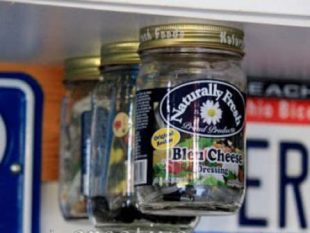 Photo via rvcoutdoors.com: http://rvcoutdoors.com/wp-content/uploads/2014/10/rv-storage-utilizer-jars2.jpg
Screw old mason jar lids underneath your cabinets for quick spin-on and spin-off storage options. This is perfect for spices in the kitchen or knick knacks such as clothes pins, matches or anything you might need in a jiffy.
Share your tips
Whether you're going on your first trip or you're a seasoned pro there are always new RV tips and tricks to discover. If you have any genius RV storage hacks we've missed, we'd love for you to share them with our RVing community on facebook, Instagram or Twitter!