Photo credit: Brooke Foster (Sid Turcotte Park)
by Mattawa Bonfield Economic Development
At the joining of the Ottawa and Mattawa Rivers and in the shadows of the mighty Laurentian Mountains is Mattawa Voyageur Country.
Historically a meeting place for First Nations People and The Voyageurs on long portages from east to west and north to south, Mattawa continues to bring people together at Canada's crossroads, on the shoulder of the Trans Canada Highway (#17) and the Ottawa/Mattawa Rivers. For families travelling cross-country, for people who love off-road trails, for paddlers, hikers and lovers of nature, Mattawa Voyageur Country is the perfect place to stop, meet and take in all of the glory Mother Nature has to offer… and bring your toy hauler in tow!
Off-road adventuring on the 300 km Mattawa Voyageur Multi-Use Trail System (VMUTS) awaits motorized and non-motorized visitors – hikers, mountain bikes, dirt bikes, ATVs, SideXSides and 4x4s. The terrain has something for everyone. From nice and easy forest-access roads, moderate hills, creek crossings, and sand dunes to high-level difficult passages with rocky terrain, all the way to extreme trails for the pros who crave a challenge.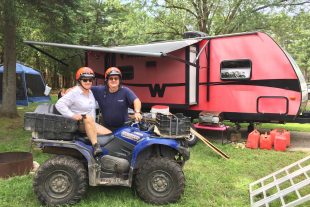 Photo credit: Brooke Foster (Sid Turcotte Park)
The trail system, nestled within the Nipissing Forest, offers exceptional diversity, breathtaking vistas and points of interest that beg exploration. Stop and take in the view at one of two Lookout Points, trek through the Mica Mine or enjoy a picnic on the shore of one of the many lakes and streams.
Municipal by-laws allow for visitors to ride their ATVs/SideXSide within the village directly from your campground to the trailhead. Local campgrounds including Sid Turcotte Park, Camp Conewongo, and Lazy Rock RV Park & Campground are ATV/SideXSide/Dirtbike-friendly and very welcoming to RVers. For more information about Mattawa Voyageur Country, head over to visitmattawa.travel.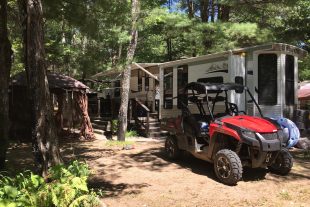 Photo credit: Brooke Foster (Sid Turcotte Park)
Enjoy one of North America's most versatile trail systems: the Mattawa Voyageur Multi-Use Trail System (VMUTS)! vmuts.ca
Join the Go RVing Canada community on Facebook, Twitter, Instagram and Pinterest.