Time: 30 mins
Healthy: it's a dessert! So…..medium healthy with a little sugar
Yumminess: Dutch deliciousness
Servings: 10 ( or less if you can't stop eating)
The Dutch spiced cookie is called SPECULAAS. It is a sweet snack that Dutch people eat all year around pared with a good coffee or tea. We think that the speculaas makes a good spring dessert when adding some sorbetto ice scream. Also serving the cookie warm gives it a whole different dimension. A bit of Holland and a bit of Living Tiny.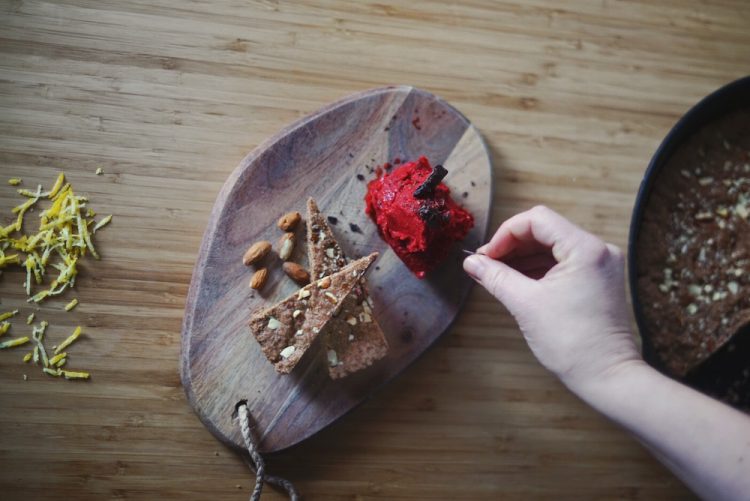 Ingredients
Skillet cookie
• 1 cup whole wheat flour
• 1/2 cup organic cane sugar
• 5 tbsp butter
• 2 tbsp almond butter (optional, you can also use butter instead)
• 1/2 tsp baking sofa
• 1 egg
• spices :
– 2 1/2 tbsp cinnamon
– 1 tsp ginger powder
– 1 tsp nutmeg
– 2 star anise pieces
– 9 whole cloves
– a little bit of mace ( optional)
– a pinch of salt
• Some vanilla extract
• Handful raw almonds
Sorbetto
• A bag of frozen raspberries ( 650 g)
• A couple tbsp water
• Optional : 1/2 frozen banana or other sweetener like maple syrup
Topping
• Fresh lemon zest
• Dark chocolate
Instructions
Skillet cookie
• Mix in a bowl all the dry ingredients with your hands. For the star anise, cloves and mace we used a mortar and pestle to grind it. Of course you can also use already- ground spices for this recipe.
• Use soft butter for this dough ( not melted) and chop it finely. Add this together with the almond butter to the dry mixture and mix it well with your hands. It's ok to get a little dirty and messy.
• Add the egg and vanilla extract to the bowl and mix & knead the dough until you can make a smooth firm big ball that's a little sticky.
• Preheat the oven on 350 F
• Take your cast iron skillet and grease it with some butter. Place the cookie dough ball in the middle and gently spread it to the sides with your hands until the skillet is evenly filled with the dough. Sprinkle on top some chopped and whole almonds and press them a bit into the dough.
• Place the skillet in the oven and bake it in 20 mins ready.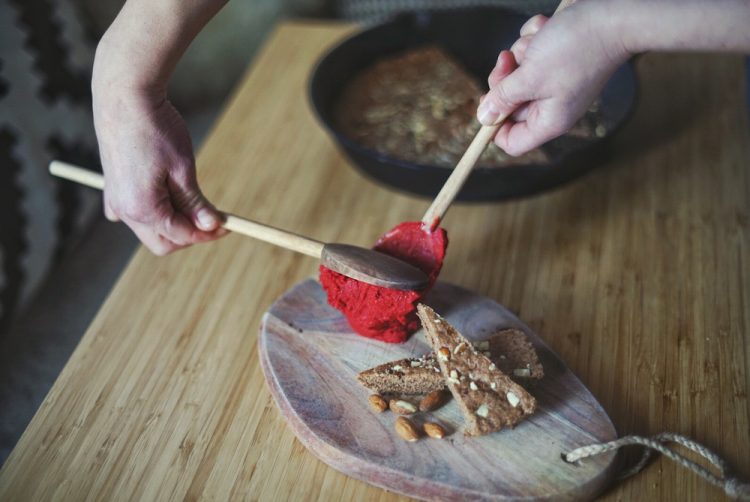 Raspberry sorbetto
• Throw all the frozen berries in a blender. If you don't like the tartness of the raspberries itself, just add some sweetener. This could be either half or even a whole frozen banana (our favourite) or some maple syrup.
• While blending the berries, add bit by bit ( read: tbsp by tbsp) cold water until you get a smooth ice cream texture. Don't use to much water at once as you can easily make a smoothie instead of ice cream.
• Service the sorbetto immediately with the fresh warm cookie and top it off with some lemon zest and dark chocolate chunks. Bon appetite!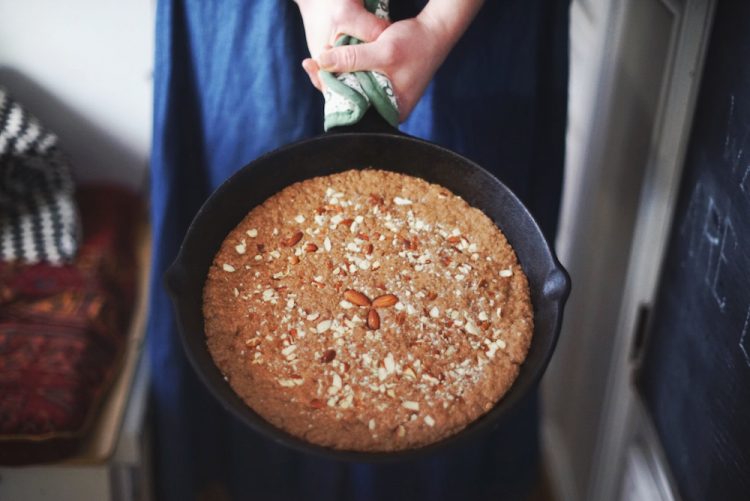 Note: Because you make this cookie in a cast iron skillet, you can also bake it outside on open fire ( or hot coals) or on the BBQ. Perfect for camping right?
Be sure to follow Dirk and Eelke on their full-time RVing adventures on Instagram Instagram and online.
Join our Go RVing Canada community on Facebook, Twitter, Instagram and Pinterest.