Our friends at Living Tiny have shared this great recipe you can easily create on the road, camping or just before embarking on a big hike. We hope you enjoy!
Time: 1 hour and a bit
Healthy: pretty healthy
Yumminess: a fresh yummy summer dish
Servings: 16 small wraps with filling
Ingredients
Flour tortilla wraps
+ 3 cups of organic flour ( it can be white, whole wheat or a mix)
+ 1 teaspoon baking powder
+ 1/3 cup vegetable oil ( I prefer either olive oil or sunflower )
+ 1 cup warm water
+ some salt
Mango bean salad
+ ½ can organic black beans
+ some rice
+ ½ English cucumber
+ 1 ripe mango
+ iceberg lettuce
+ quite a bit of fresh parsley and cilantro
+ salt and pepper
+ optional: feta cheese or mozzarella
Salad dressing
+ vegetable oil
+ chili oil
+ fresh lemon juice
+ sweetener: agave syrup or honey
Instructions
Flour tortilla wraps:
Mix the dry ingredients in a bowl, make a hole in the middle and add water and oil
Knead the mixture very well and make one big ball
Divide the dough into 16 pieces ( little balls)
Place them on the table or a big cutting board and flatten the 16 pieces with the palm of your hand. Just a little push, you don't have to roll them completely out.
Cover the dough with a tea towel and let it rest for about 20- 30 mins
Heat a skillet on the stove or on a open fire. Make sure the skillet pan is very hot and DON'T add any oil.
Take one dough piece, flour the surface and roll it flat with whatever you have in your kitchen hahha (A bottle or dough roller )
Place the tortilla dough in the skillet pan and wait till some bubbles appear (Approximately 1 min). This is the time to flip the wrap and bake the other side also for about 1 min. It all depends if you make your wraps on open fire or on a stove, but I can guarantee you that the wraps are done very quickly.
Pile all the wraps up and (if you want them to be still hot)  cover them with  aluminum foil. I like mine cold tho.
Mango bean salad:
Cook some rice, maybe like 1/2 cup and let it cool down. Or use some left over rice ( that's what I quite often do).
Chop the lettuce and cucumber very fine. I also recommend skinning the cucumber, as the skin can taste a little bitter ( with all the chemicals) and the cucumber flesh is the juiciest and freshest
Cut a ripe juicy sweet mango into small pieces
Take a big bowl and mix all the ingredients
Chop a whole bunch of fresh cilantro and parsley and mix with the rest of the salad. If you are not a big fan of cilantro, try fresh mint instead.
Add salt and pepper
For the dressing, you mix the oils and lemon juice in a little cup or bowl. You decide the amount of each ingredient. Just taste in between ;). For the sweetener: take some hot water and dissolve the honey/ agave syrup/ maple syrup / cane sugar ( whatever sweetener you prefer). Add this to the rest of the dressing and stir very well, as oils and water normally don't mix too well.
Add the dressing to the salad and let it sit for about 10 mins before serving
Prep the wrap: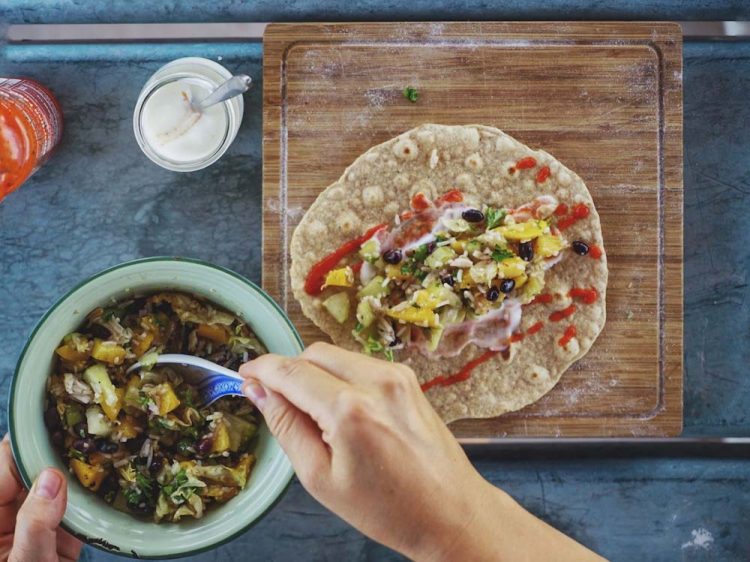 Take a wrap, smear some yogurt or sour cream on top, fill it with spicy salad, try to carefully roll it and if you like it extra spicy, sprinkle some Sriracha or other hot sauce over your wrap.
This is a delicious light summer dish. Good for lunch or dinner. Bon appetite!
*if you want to enjoy your tortilla wraps the day after, store them in an airtight ziplock bag. Be aware that they become quickly very dry, so you better eat them all at once haha!
This recipe was originally posted at Living-Tiny.net and reposted with permission.
Join our community on Facebook, Twitter, Instagram and Pinterest.