Explore Northern Ontario's rugged wilderness where the true outdoor adventure enthusiasts can play and enjoy a truly unique and peaceful experience. As you head north you will see the big cities in your rear-view mirror and nothing but the incredible beauty of the Canadian shield, thick forests and lakes as you begin your journey North. You'll have the chance to experience the world's largest freshwater island, visit Ontario's only wilderness National Park, see some wildlife on the side of the road, view the Sleeping Giant, and canoe in pure rugged wilderness in the canoe capital of Canada.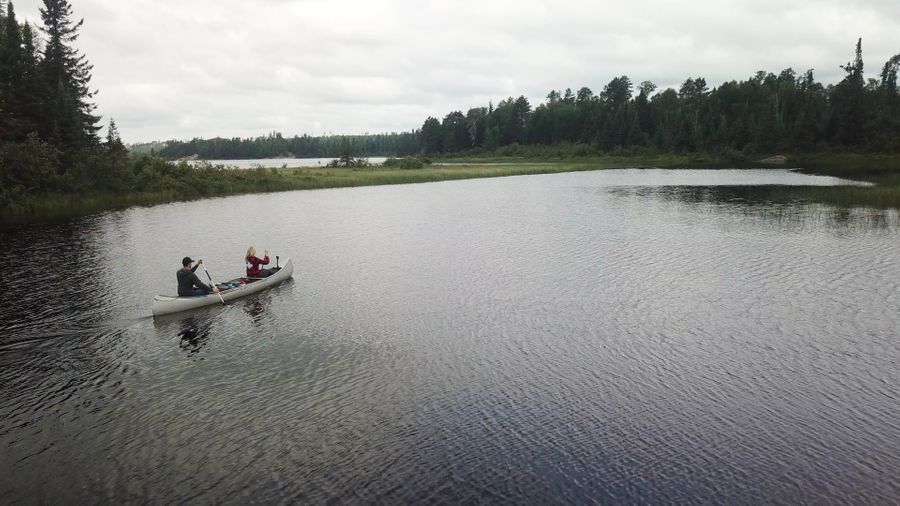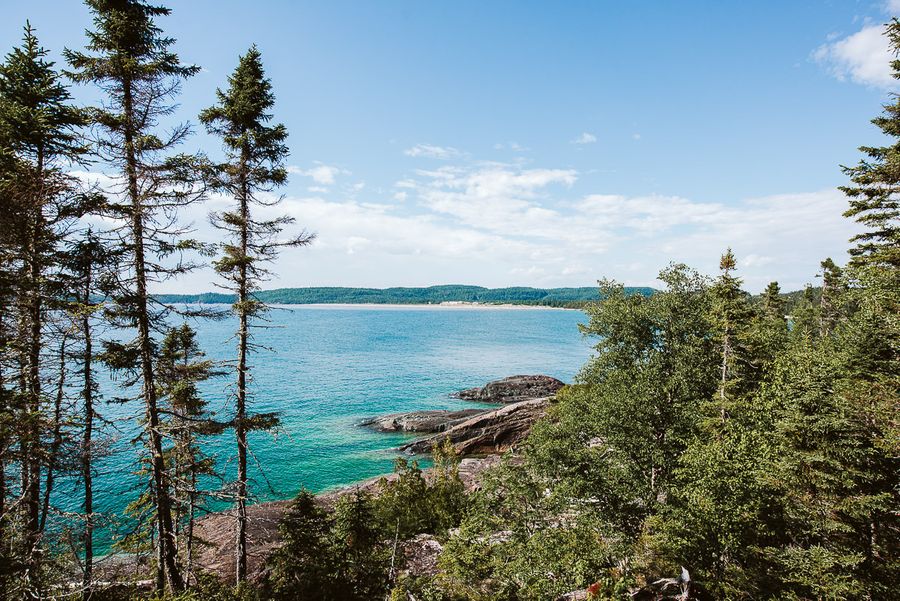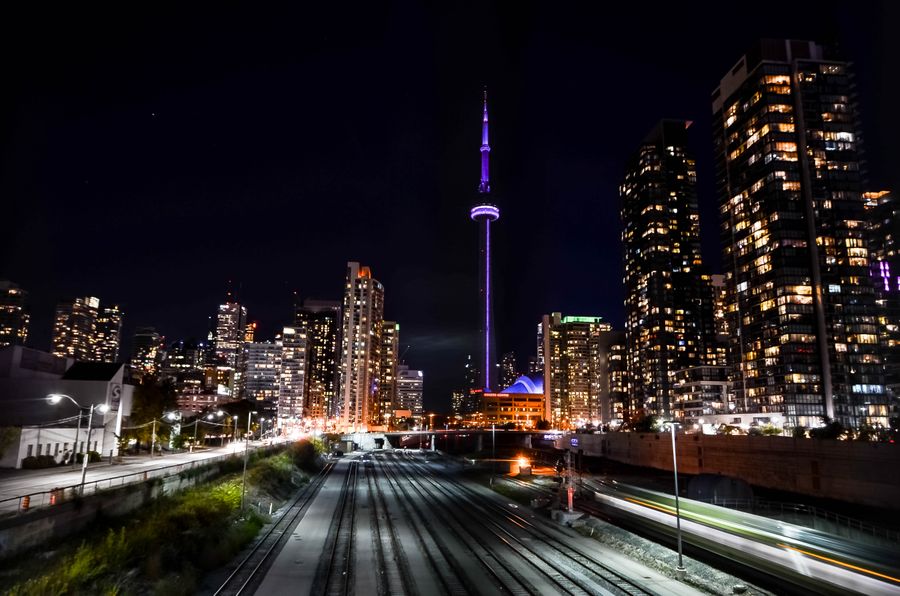 1
Toronto
Toronto is Canada's largest city and Ontario's capital. It is Canada's most populated city and it is always bustling with so much energy and activity. It is well known for its entertainment and food which neither should be missed. Make sure to walk down King Street and try any of the delicious shops along the way. Take in a show at any of the big theatres including the Royal Alexandra or the Ed Mirvish Theatre.
Don't miss some of the must see tourist hot spots including the CN Tower, Royal Ontario Museum, Kensington Market, Ripley's Aquarium, Ontario Art Gallery and The Distillery District. Take the ferry to Toronto Island and rent a bike and spend the day exploring this beautiful island. Don't forget to take a look back at the big city and admire the incredible skyline is has.
If you are looking for places to camp around the city Glen Route Campground or Indian Line Campground will be your two best options. There is no camping in the downtown core itself but these two options are pretty close! If you are coming into Toronto with a large RV make sure to find a few parking lots ahead of time that allow RV's as there is a lot of underground parking or lots that are very small which would pose a problem for not only parking but maneuvering through the lot. There are a lot of great options around the city as well as Toronto has an excellent transit system so maybe consider leaving your RV at the campground and either ubering, taking the street car or Go Train is the best route to go.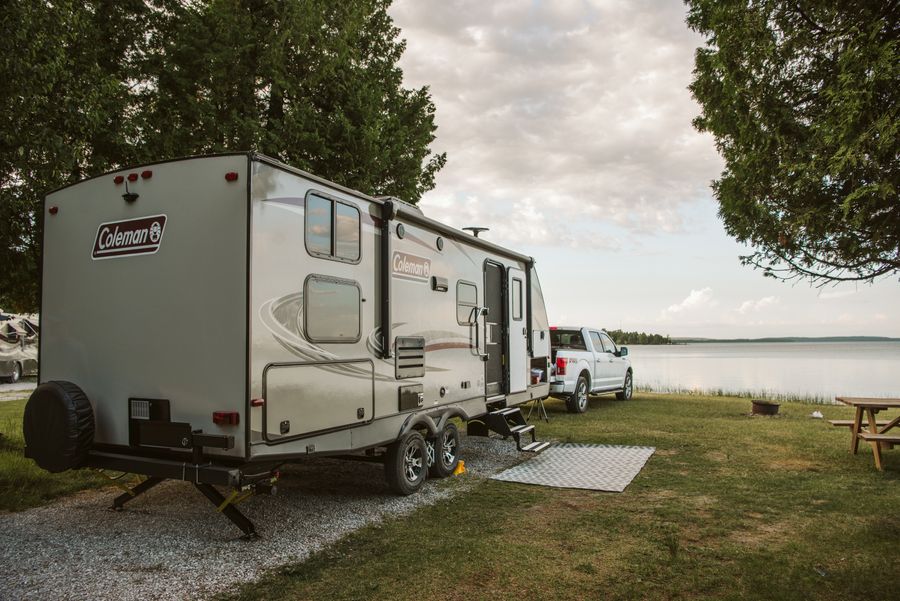 2
Manitoulin Island
The world's largest freshwater island, Manitoulin Island has something for everyone. Manitoulin Island can be accessed by road or by the RV and pet friendly Chi-Cheemaun Ferry. If you're looking for scenic hikes, try Bridal Veil Falls trail off of Hwy 540 or the Cup and Saucer trail. The Cup and Saucer's trailhead is west of the Hwy 540 and Bidwell Road junction. For a wild & serene moment go on an early hike in Misery Bay Provincial Park.
Don't miss the Lighthouses on Manitoulin Island. Take in all of them following Manitoulin Island's Lighthouse Trail, or stop in at lighthouses nearby other stops you make; there are lighthouses to be found all over the island! For a fine dining experience, make reservations at The School House restaurant. Their ingredients are locally grown and sourced. The restaurant is in an original schoolhouse, built back in 1898. For some more casual fare try the craft pizza and craft beer over at Buoy's Eatery.
Manitoulin Island offers multiple options for camping depending on where you want to stay on the island. Two great options are Batmans Campground and South Bay Resort.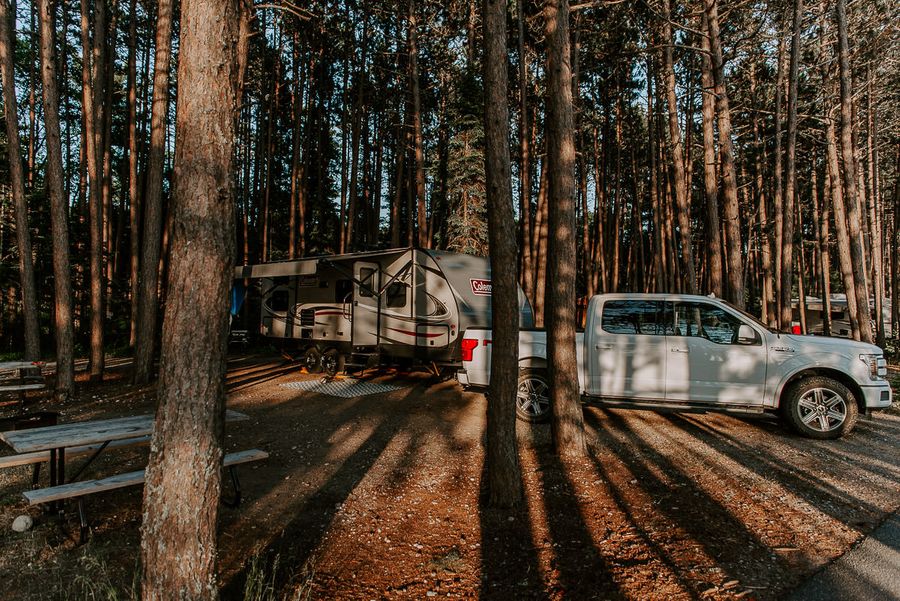 3
Lake Superior Provincial Park
Take in Lake Superior Provincial Park for all of its beauty and wilderness it has to offer. It is easy to spend a few days here or even a week with all that is has to offer. With 11 trails that range from very from easy to very demanding, there is something for every age and skill level. Make sure to take a visit to the Agawa Rock Pictographs, one of the few pictograph sites in Ontario that is accessible by foot. With two campgrounds in this large provincial park, Agawa Bay in the South and Rabbit Blanket in the North, it is the perfect place to stop and explore on your road trip through Northern Ontario.
MORE ABOUT THIS STOP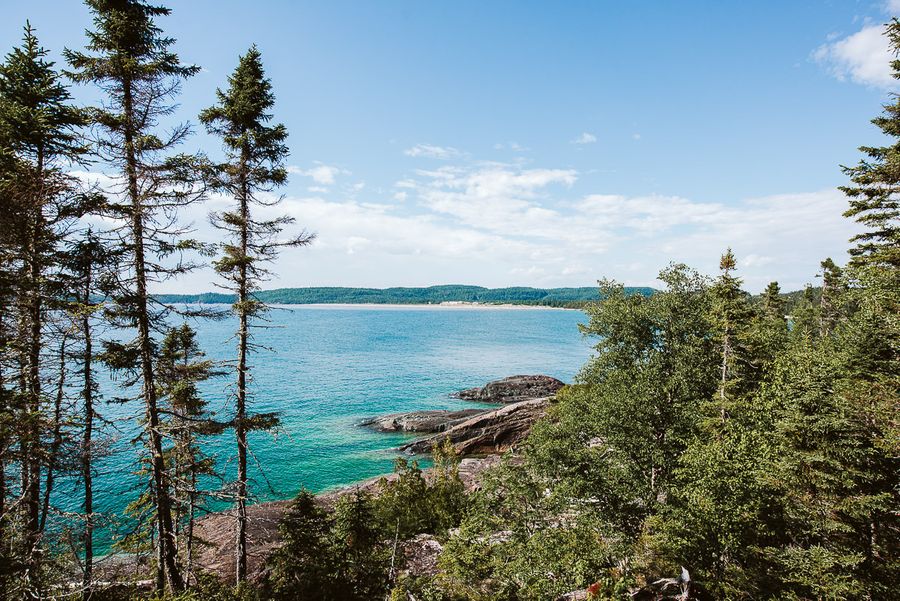 4
Pukaskwa National Park
Ontario's only wilderness National Park which is often a forgotten due to its remote location in Northern Ontario, Pukaskwa National Park is located West off of Highway 17 between Sault Ste. Marie and Thunder Bay, sitting on the rugged and rocky shoreline of Lake Superior.
With over 1878 square kilometres of remote, vast Northern Ontario wilderness to explore, you will not be disappointed. With more than 8 hiking trails you could easily be exploring this area for several days without ever seeing the same area once. Offering both day-hikes as well as multi-day hikes there is something for everyone here. Make sure to do the Manito Miikana and Southern Headland Trails for some breathtaking views.
MORE ABOUT THIS STOP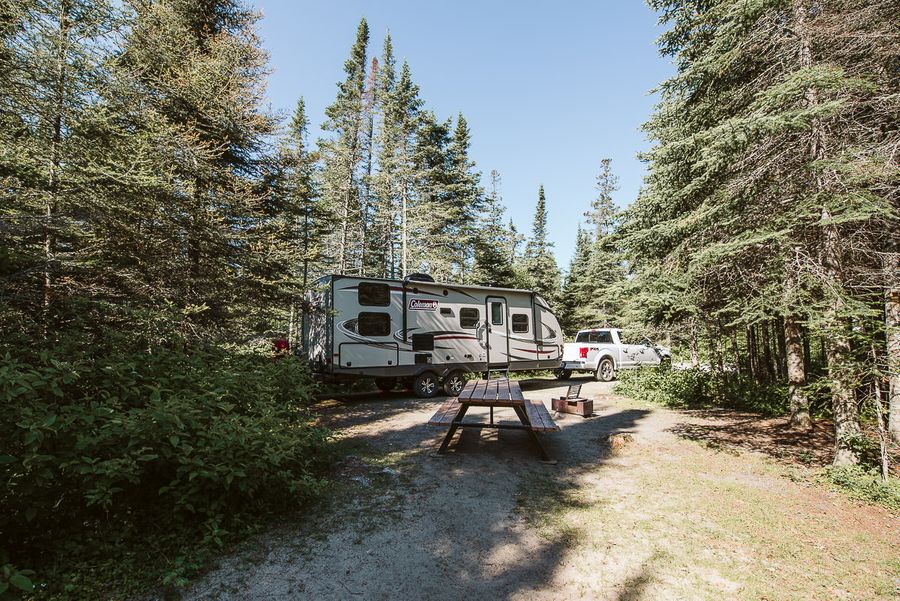 5
Hattie Cove Campground
The hub to Pukaskwa National Park, Hattie Cove Campground is the perfect camping destination. The camping at Pukaskwa in Hattie Cove Campground is on a first come first serve basis offering 67 sites with a mix of electrical and non-electrical sites. All sites in the campground are excellent, spacious, and feature thick trees providing good privacy.
MORE ABOUT THIS STOP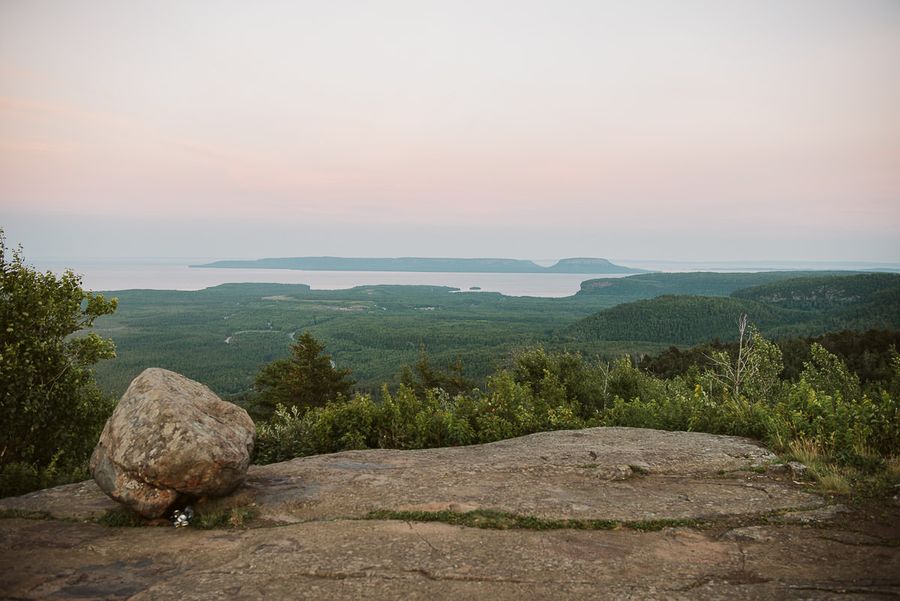 6
Thunder Bay
Explore the largest city in Northern Ontario situated on the Northern shores of Lake Superior. Home to the natural landmark Sleeping Giant – which the provincial park is named after – it is a dominating feature in the landscape. There is a lot to do in Thunder Bay and the surrounding area so make sure to plan to spend a few days here. For example, the hike that gives you views of the entire city and beyond Mount McKay is a must do. You can either drive up the volcanic plateau located on the Fort William First Nations land to the general viewing area or you can challenge yourself with a 20-30 minute hike even further up the East face of the mountain to get the best view in Thunder Bay.
Other things not to be missed are the Terry Fox Memorial, visit the Sea Lion in Sleeping Giant Provincial Park, see the second highest waterfall in Ontario, Kakabeka Falls, and visit the gorge carved by millions of years of erosion the Ouimet Canyon, it is truly a sight to see.
7
Sleeping Giant Provincial Park
Come camp with the giant in your view at Sleeping Giant Provincial Park. Located 45 minutes from downtown Thunder Bay this large park is filled with so many great hiking trails, a beach to relax on, and so much more. Marie Louise Lake Campground has 200 campsites with almost half offering electricity. This park is a very popular destination for both locals and travellers alike, so ensure you make reservations early in order to get a site.
MORE ABOUT THIS STOP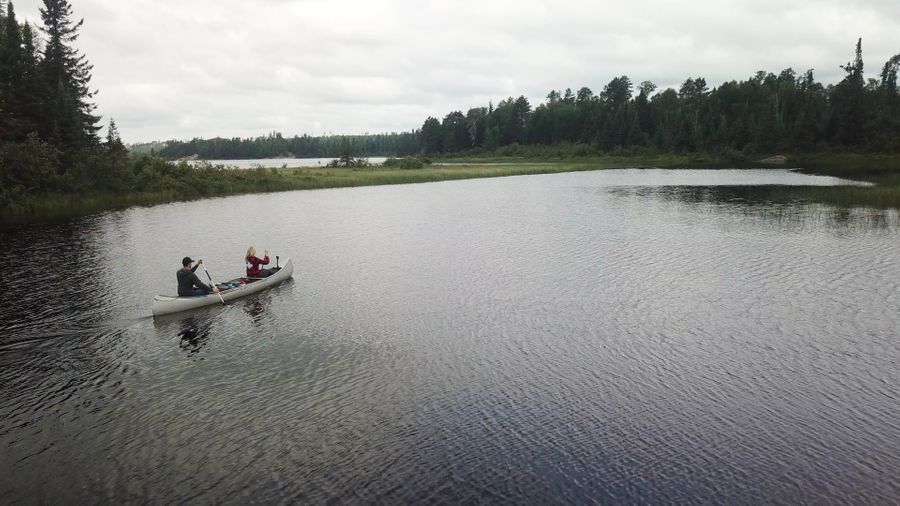 8
Quetico Provincial Park
If you are a canoe enthusiast, Quetico is a place you cannot miss. Quetico Provincial Park has been deemed the canoe capital of Canada. Located just under two hours west of Thunder Bay along highway 17, just outside the small town of Atikokan. With over 460,000 hectares of true remote wilderness and over 2000 lakes you have the opportunity to explore on your canoe or kayak for days or even weeks. There are areas in the park that very few have set foot on, and it is a true honour to be able to swim in these clean, clear lakes, listening to nothing but the wind move through the trees and the loons call to each other across the water.
Quetico Provincial Park has over 100 car campsites that can accommodate both tents and trailers with many of the sites sitting right along the water. The campground offers both electricity and non-electrical sites.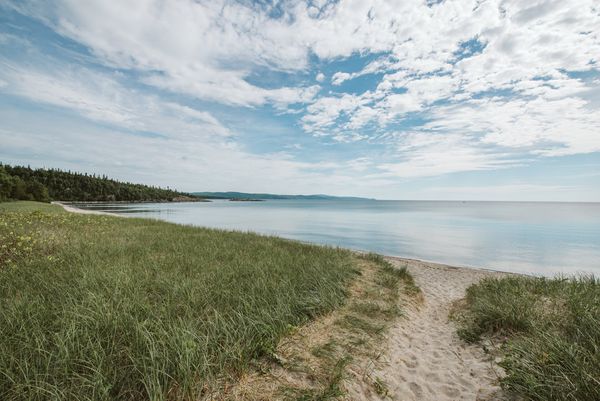 9
Wawa
Home to one of the most iconic statues in Northern Ontario the giant Canadian Goose calls Wawa its home as it welcomes visitors to this small Northern town. Located just off Highway 17, Wawa has much to offer including the perfect place to get gas and groceries, take a picture with the goose, one of the most photographed landmarks in Canada, or visit one if its pristine beaches.
Make sure to make a stop at Young's General Store as it has been a staple in this town for over 50 years. This one-of-a-kind general store has everything to offer from snacks like home made fudge and even pickles in a barrel! Visit the downtown that has lots of little local shops offering souvenirs of your trip. Take a drive 15 minutes out of town to where you will find some of the most pristine white sand beaches in the area. Set with the backdrop of Lake Superior, Sandy Beach says it all in its name. This beach was the inspiration for the Group of Seven and many other artists.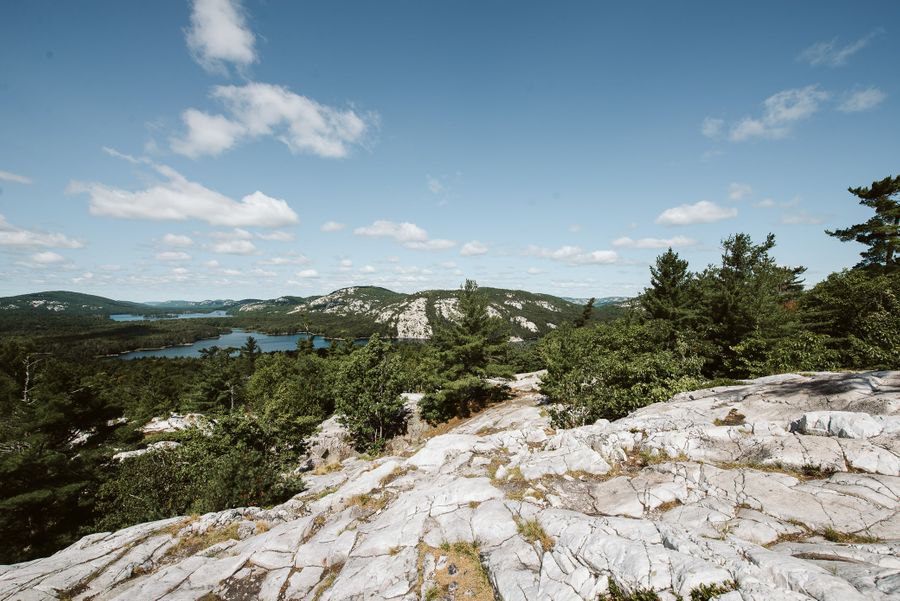 10
Killarney Provincal Park
Sitting on the Northern shore of Georgian Bay is the municipality of Killarney. Mainly known for the Killarney Provincial Park, which is one of Ontario's gems with it's sapphire lakes, towering pine forests and ancient white quartzite cliffs, it is a place that will make you never want to leave.
One of the very popular things to do while visiting Killarney is hike the Crack Trail. This 7km round trip hike takes you up the La Cloche mountain range to offer you some of the best views in the area. If you have half a day it is worth the trek. If you like to spend some time on the water rent a tin boat or canoe and hit the waterways and explore either Georgian Bay or some of the many lakes within Killarney Provincial Park. If you are looking for a more relaxed day, spend your time exploring the downtown of Killarney. Make sure to grab some fish and chips at the famous Herbert Fisheries or get an ice cream at the little ice cream stand and then go for a walk along the docks to check out all the boats in the slips. There are also multiple lighthouses around the area so those are worth driving to check out.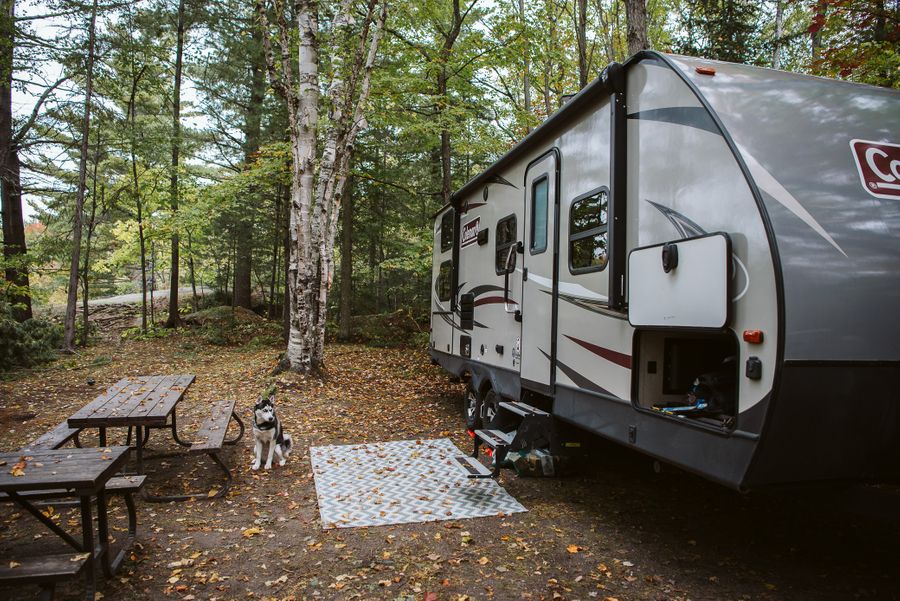 11
Camp in George Lake Campground
George Lake Campground is open for camping all year round. One of the few provincial parks that is. During the winter months take note that the main gates are closed and the property becomes walk in access only from the end of November to beginning of May. This small campground with close to 80 campsite has no electricity or water but all have fire pits and picnic tables. George Lake is located a short ten minutes to the downtown of Killarney and is the beginning of most hiking trails throughout the provincial park.