Photo credit: Eamon & Bec
by Rebecca Moroney, Eamon & Bec
Over the years, we've spent time trekking the Himalayan mountains of Nepal, hiking the Great Walks of New Zealand and summiting South America's best peaks, but nothing compares to the beauty of our own Canadian West Coast. After all, they don't call it Beautiful British Columbia for nothing!
To help you plan your time in BC, we've compiled a list of our Top 5 Hikes in the Squamish/Whistler area. Happy and safe trails…
Joffre Lakes
Difficulty Level: Moderate
Distance: 10 km roundtrip
Elevation Gain: 1600m
Time: 4-5 hrs roundtrip
Located just north of Pemberton in Joffre Lakes Provincial Park, Joffre Lakes offers everything you could want in a day hike. Not too long, steady uphill climb and a few technical sections. But these perfect conditions sure do bring the crowds (seriously, it was packed on a Monday morning). To make the most of your hike, we'd recommend leaving early morning and scheduling enough time to enjoy each of the three glacier-fed lakes: aptly named Lower, Middle and Upper.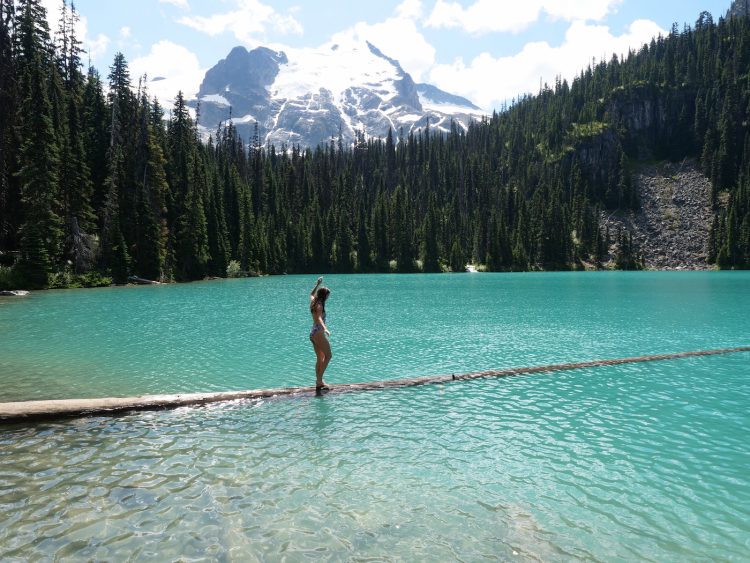 Photo credit: Eamon & Bec
Chekamus Lake
Difficulty Level: Easy/Moderate
Distance: 14 km roundtrip
Elevation Gain: Minimal
Time: 4 hrs roundtrip
We first visited Cheakamus Lake with Eamon's entire family (including his 60 year old mother) as per the recommendation of a guide in Whistler Village. It's a nice, relatively flat trail that follows the Cheakamus River along to the clearing of Cheakamus Lake (a beautiful, cold glacier-fed lake). The views were so beautiful that Eamon and I returned on two separate occasions to take in the stunning surroundings of mountains and pine trees – talk about a day date! To get here from Squamish, turn right at the first set of lights in Whistler and after driving a few hundred meters, turn left onto a dirt road. Follow the dirt road for 6km until you reach a parking lot… this is where the trail begins!
Panaroma Ridge
Difficulty Level: Extremely Difficult
Distance: 30 km roundtrip
Elevation Gain: 2133 m
Time: 10-12 hrs roundtrip
While researching the best hikes in BC, I came across the Panaroma Ridge hike in Garibaldi Provincial Park. The second I laid eyes on a photo of the viewpoint I was sold – and within days we were setting out to take our own photos at the summit! Because of the distance and elevation gain most people choose to camp overnight mid-way but with our cozy home waiting for us in the parking lot, we decided to make a go of the one-day hike. And so, we parked our van at the Rubble Creek lot and set out for a long day of trekking.
If pictures are worth a thousand words, I think the feature photo above can do the talking here…
Squamish Chief
Difficulty Level: Moderate
Distance: 4-7 km roundtrip
Elevation Gain: 500 – 630m
Time: 3-6 hrs roundtrip
Our first visit to Squamish was in October 2017 aka the wet season of the west coast. Needless to say, we spent a lot more time inside our RV than anticipated, so we were extra excited to make the trek up to the Chief Peaks when we returned this summer. Hiking the Squamish Chief is a popular choice because of its proximity to Vancouver, the stunning views at the summit and its clearly marked, well-traveled path. But, despite its popularity, the Chief can be a demanding hike, so be prepared with the right footwear, food and water. To get here, look for signage along Highway 99 as you drive into Squamish. There is a large lot and the trailhead is just beyond it!
Brandywine Falls
Difficulty Level: Easy
Distance: 2.1 km roundtrip
Elevation Gain: Minimal
Time: 0.5 hrs roundtrip
The perfect detour on your road trip! Located just 20 minutes south of Whistler, Brandywine Falls lookout is an easy 15-minute walk on flat terrain. For a beautiful view of the 70m waterfall, stick to the viewing platform. But, if you're feeling adventurous follow our secret guide to the base of the falls.
Disclaimer: While getting to the base of the Brandywine Falls Hike isn't difficult, it does require skirting a fence and scrambling down some slippery rocks, so make sure you wear appropriate footwear.
The route to the base is quite easy to follow: simply keep walking down the lookout path and continue past the end. Follow the small trail going into the woods. This trail will take you through a forest, across a rock field, and along a spongy moss floor. The extra walk is 100% worth it, as the views from the base of the waterfall are absolutely amazing.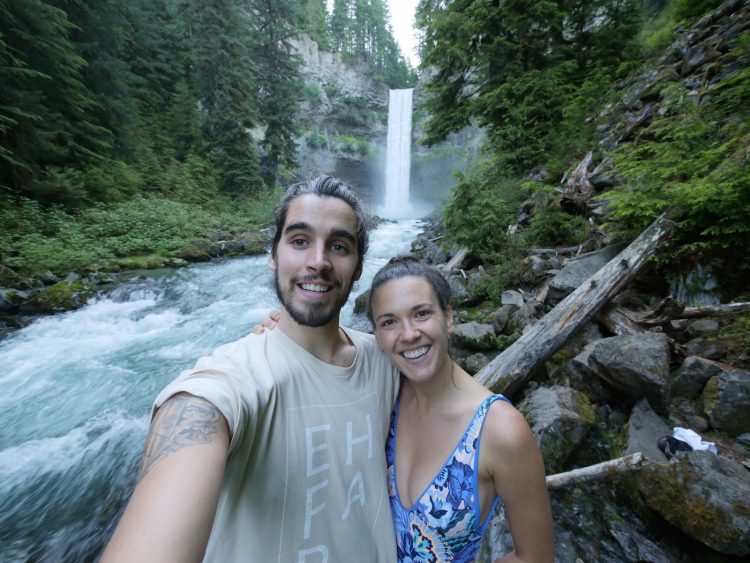 Photo credit: Eamon & Bec
Did we miss your favourite hike in the area? Join the Go Rving Canada community and chime in on Facebook, Twitter, Instagram and Pinterest.
Follow along with Eamon & Bec's vanlife adventures on YouTube or on Instagram Instagram, @rebeccamoroney and @eh.mon.