Canada is filled with natural wonders, many of which we already know about like mountains and oceans, yet there's so much more to discover! After chasing storms across the country, some of Ricky Forbes' most treasured parts of Canada are found in the prairies. Growing up in Saskatchewan, the prairies has a close place in his heart. Passing along his love for the outdoors, Ricky shares his summer road trip driving from Saskatchewan to Alberta boasting breathtaking landscapes found right here in our backyard, capturing the Gift of Canada.  Driving through some of Canada's most unique landscapes found within the prairies, Ricky Forbes passes along the Gift of Canada in a way that can only be experienced on the road.
TRIP ITINERARY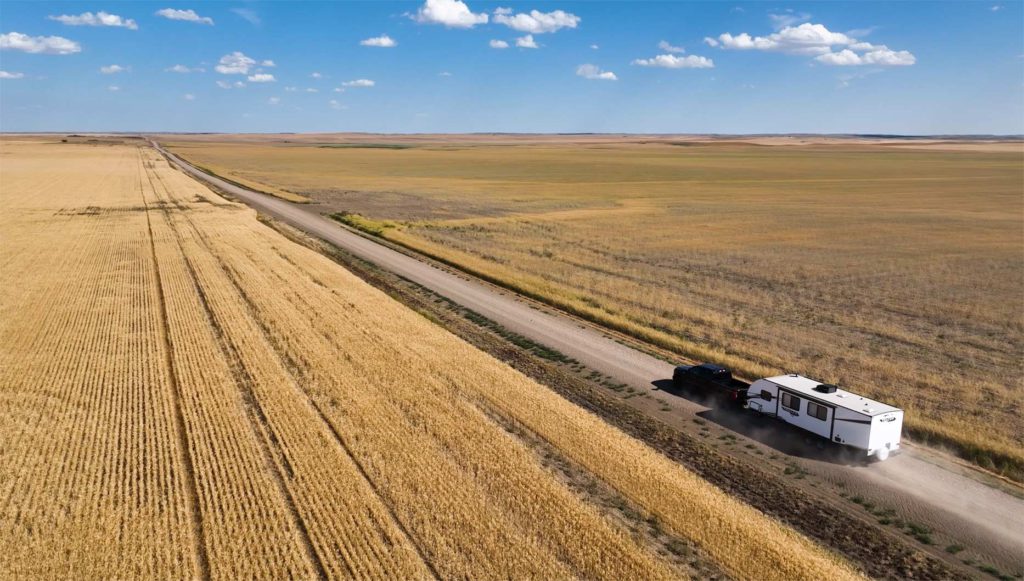 Depart: Saskatoon, Saskatchewan
Get ready for a breathtaking drive witnessing some of Canada's most unique landscapes. Departing from Saskatchewan's largest city, Saskatoon, you'll drive along Highway 7 before coming to Rosetown. Known for its farming it takes the name of "The Heart of the Wheat Belt". Here you can grab a quick bite to eat or pop into an antique store before hitting the open.
As you drive through Saskatchewan and cross into Alberta, you'll eventually enter the Badlands, one of the most spectacular and out-of-this-world landscapes you'll find within the country. The Canadian Badlands is home to gorgeous hikes, cool towns and the largest deposits of dinosaur bones in the world.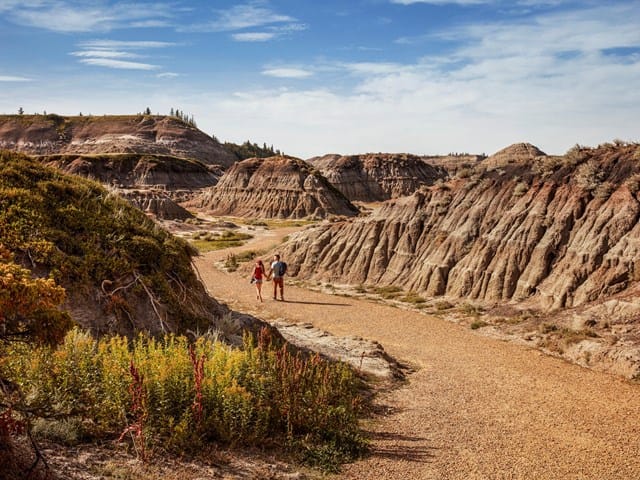 Stop 1: Horseshoe Canyon
Get out and stretch your legs by hiking Horseshoe Canyon, a large U-shaped canyon boasting layers of rocks that date back 70 million years when dinosaurs roamed the land. The canyon is home to three unique ecosystems including the badlands, prairie and wooded coulee slopes making it a must do. Plus, after driving through many fields and rolling hills, you'll have no choice but to pull over to check out these otherworldly landscapes.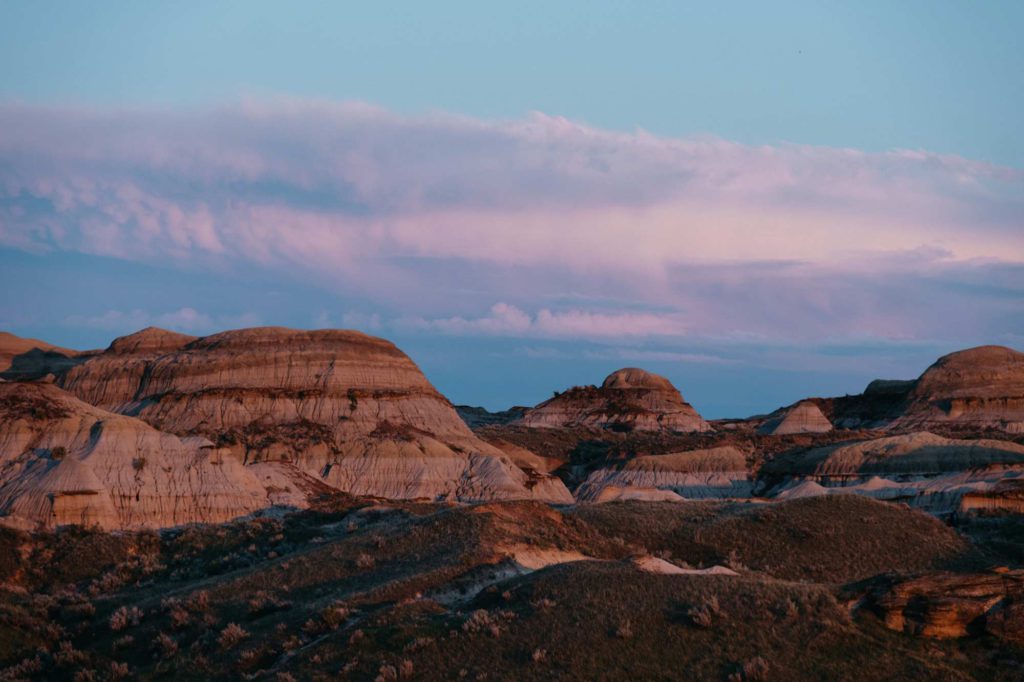 Stop 2: Drumheller 
Continuing through the magnificent Badlands, you'll drive through 11 hectares of land situated by Hoodoos, stone columns with caprocks that you could never imagine would be right here in our own backyard. It's a sight you can truly only experience on the road.
After the many stops to take photos, you'll eventually make it to the downtown of Drumheller, also known as the dinosaur capital of the world. Despite the town being smaller in size, it's filled with prehistoric history and has the World's Largest Dinosaur. Here you can climb 104 steps into the dinosaur's jaw for unforgettable views of the Badlands, talk about a memorable vacation!
As for campgrounds, check out Hoodoo RV Resort & Campground or Horseshoe Canyon Campground so you wake up in what feels like another world!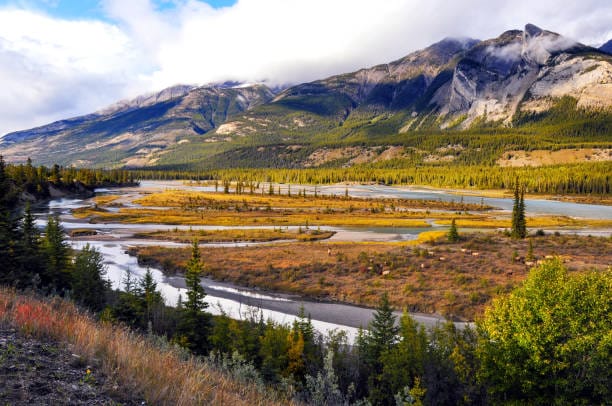 Stop 3: Red Deer
Nestled halfway between Calgary and Edmonton along the Highway 2 corridor, you will find Red Deer where are are guaranteed a warm welcome and friendly hospitality. Built along the banks of the Red Deer River the city is the perfect spot to stock up on supplies and groceries before heading deep into the Rocky Mountains.
The city has a unique history that starts with its name. Named after the Red Deer River that runs through it, the Cree people knew the river as Waskasoo Seepee, which translates to "Elk River". Mistaking local elk for European red deer, the first Europeans mistranslated the Cree name, which is why the city is today called Red Deer.
With no shortage of local attractions, make your longer pit shot a little longer and soak up some local culture on foot along the Waskasoo Park system, one of the best trail systems in Alberta. With over 110KM of easily accessible trails to take in the stunning nature views. As for campgrounds, there is no shortage of RV accommodation close to the city like Wood Pines RV Resort.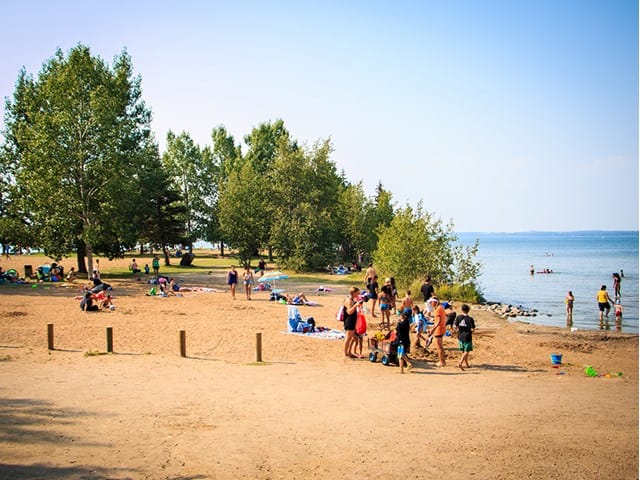 Stop 4: Sylvan Lake
As the city of Red Deer fades into the distance of your rearview mirror take a slight detour off of Highway 11 to take in the vibrant small town charm of Sylvan Lake. Make sure to keep an eye out for mermaids, the symbol of Sylvan Lake for decades!
Surrounded by picturesque landscapes slip into the waters of Sylvan Lake, a 15 kilometer fresh water lake and relax on the beach. If you are feeling extra adventureous amp up the adventure and rent a kayak or canoe to exploring the scenic landscapes from a different perspective.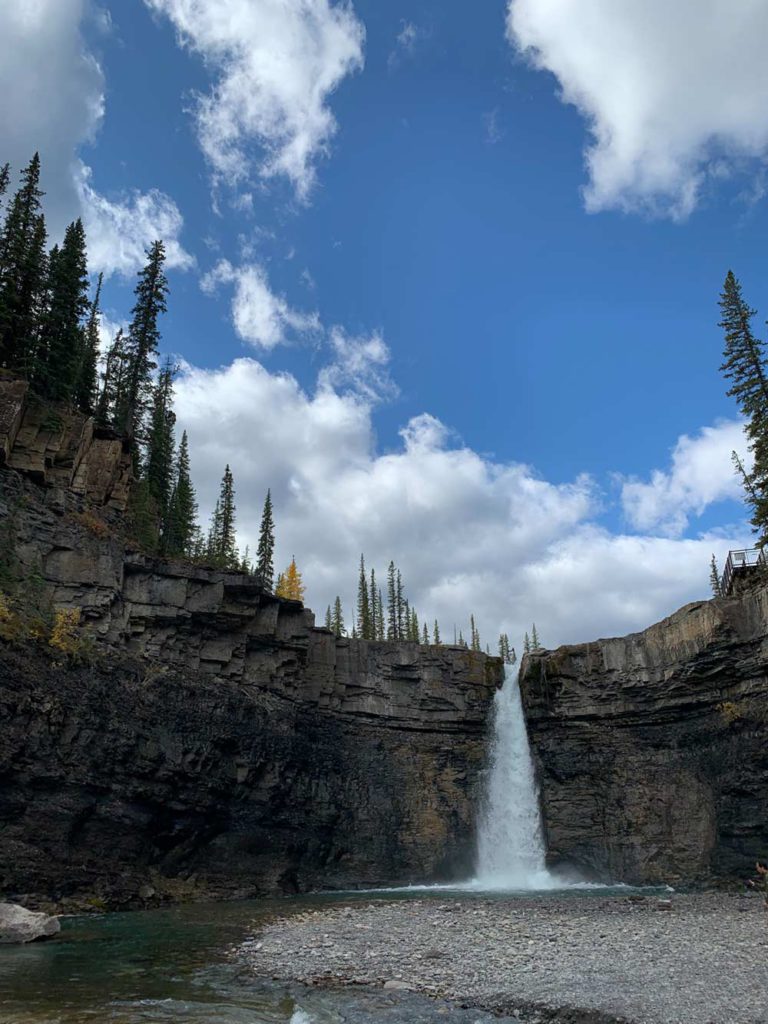 Stop 5 : Crescent Falls
Drive down the David Thompson Highway between Abraham Lake and Nordegg where you'll reach the final destination, Crescent Falls, a stunning two-tiered waterfall. You can either park your RV in the lot and walk down and snap a photo standing right beside the first-tier of the waterfall or add some adventure to your trip and hike through heavily wooded areas and along cliff faces where you'll overlook the Bighorn River and large canyon.
Regardless of which route you take, Crescent Falls is a definite must-see on the list of Canada's beautiful landscapes. Plus the surrounding areas of Abraham Lake and Nordegg offer indescribable views where photos don't do it justice which means, you'll have to make the trek across the prairies to believe it.
Before you get back on the open roads, David Thompson Resort is a perfect place for you to rest your head. With a wide selection of activities to enjoy, from hiking to fishing, even horseback riding, you'll be sure to find something for everyone, with memories to last a lifetime.