One of the best things about driving the Georgian Bay coastal route is the ability to start anywhere on the loop. Join this route at any point and you will find yourself driving 1,350km of some of the most beautiful and scenic road Ontario has to offer. As you drive around Georgian Bay you will get the chance to visit the worlds largest fresh water island, see towering pines and majestic white quartz mountains, stunning turquoise waters dotted with islands and the longest freshwater beach in the world.
1
Wasaga Beach
Wasaga Beach happens to be the longest freshwater beach in the world. This popular summer destination offers a multitude of opportunities from swimming, boating, birding, fishing, biking, canoeing and so much more. The beach is divided up into eight different sections each offering their own parking lot so you don't have to worry about having a hard time trying to find a parking spot. Dotting the main street of Wasaga Beach is an abundance of restaurants and beach bars where you can find some great food to enjoy while exploring the area.
After you are done taking in the sun after a long day of exploring head over to Craigleith Provincial Park where you will be treated to RV sites that sit right along the shores of Georgian Bay.
2
Midland
A quick hour drive from Wasaga beach you will find yourself in the area known as the Heart of Georgian Bay. Visit the cozy town of Midland where you will be greeted by a beautiful mural painted on the grain towers that displays Sainte-Marie Amount the Hurons as it would have looked in 1640. Spend some time walking the downtown streets where you will find a wide variety of local shops and great places to eat. One of the town favourites is the Boat House Eatery sitting right next to the docks where you can watch the boats come in and out of the harbour. Some of the other must do things while visiting Midland is take a tour on the Miss. Midland – this tour boat will take you through the 30,000 islands on Georgian Bay and give you views of Georgian Bay not accessible without a boat.
Head over to Sainte-Marie Amount the Hurons to see the first European settlement in what is now the province of Ontario.
3
Awenda Provincial Park
Sitting on the rocky shores of Georgian Bay is the hidden gem of the Ontario Park's system – Awenda Provincial Park. The 2900 hectace park offers opportunities for both a quick stop or a long term stay. Camping among the thick trees and steps away from Georgian Bay is the perfect way to spend some time being near the water and not to far from amenities.
Offering 333 drive-in campsites that are good size, private and under a thick covering of trees perfect for shade. The park is divided into 6 campgrounds each offering something a little bit different. All 6 campgrounds have water taps, vault toilets and a central comfort station that offers flush toilets and hot showers.
There is lots to do in Awenda Provincial Park including 31km of scenic hiking trails, beaches for swimming (one that is even pet friendly), birding, fishing, canoeing and so much more.
4
Killbear Provincial Park
Begin your drive up highway 69 and spend a day or two exploring the great town of Parry Sound and Killbear Provincial Park. Killbear Provincial Park is one of the most popular parks in Ontario and rightfully so. With kilometers of rocky and rugged shoreline along with sandy beaches and pristine waters. With 6km of recreation trails for hiking and biking make sure you check out the Lighthouse Point Trail at minimum. This quick 5-minute walk will take you to the tip of Killbear Point and offers great views of Georgian Bay and the lighthouse that sits on the rocks.
Camping at Killbear is an incredibly popular activity so reservations are a must during the summer season. Electrical sites are available in Kilcourise, Beaver Dams and Harold Point Campground.
5
Killarney
Killarney, Ontario is the gateway to the North Channel situated right at the entrance amidst the stunning white quartzite peaks and unique pink granite rock. Sitting on the waterways of Georgian Bay, the village of Killarney is the oldest community on the northern shores. The permanent population of the village is less than 500 people but it does not stop this stunning town from being a popular place for boats, hikers and general tourists from around the world.
Nestled into the base of the La Cloche mountain range this quaint little town is a reminder of an old fishing village complete with two working lighthouses to guide in boats. The mountain range that runs through Killarney are a small part of the Canadian shield that stretches south to the township of Massey, through Killarney and southwest to Sudbury. These mountains are very popular for campers and hikers alike. There are many day and overnight hiking trails through the mountain range as well as Killarney Province Park is nestled into the middle of them.
Make sure to head over to Herbert Fisheries where you will be treated to some of the best fish and chips around. Another incredible option for a bite to eat is over at Killarney Mountain Lodge.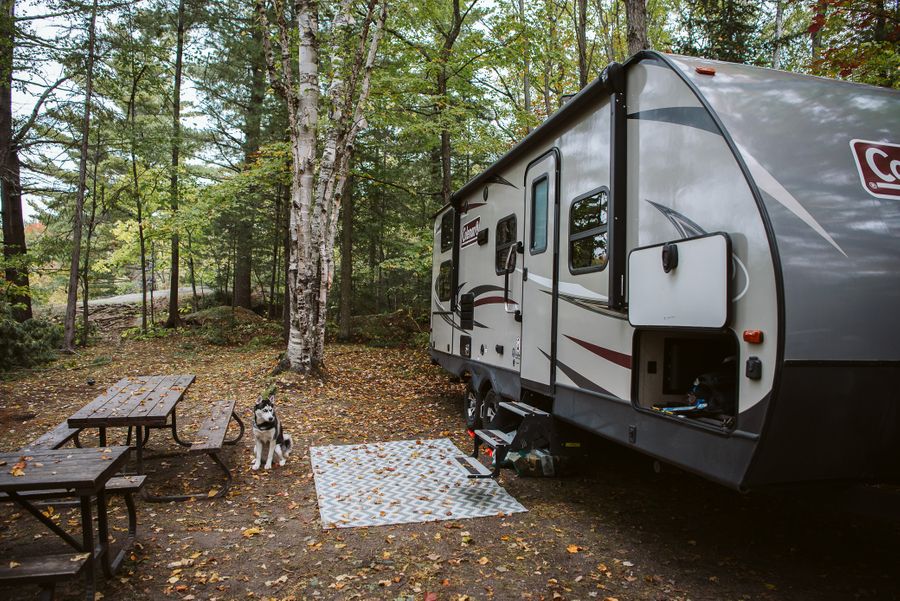 6
Killarney Provincial Park
Home to some of the most beautiful and serene camping in Ontario, Killarney Provincial Park sits a quick ten minutes away from the town of Killarney. Surrounded by the stunning La Cloche mountain range and has just over 100 drive in campsites. To ensure you get a site that will fit your RV make sure to book well in advance as Killarney is one of the most popular campgrounds in Ontario and books up months in advance. A large number of the drive in campsites are for smaller tents so larger sites are harder to get unless you book in advance.
Offering an abundance of hikes that can take you for a quick hour and a half hike to a multi-day hike your options are endless here. One of the best hikes in the park is the Crack Hike – a 6km hike that takes you to the second highest point in the area offering views of Georgian Bay and the surrounding La Cloche Mountains. On top of hiking there is also canoeing, birding, fishing and biking are other popular options to do while visiting the park.
7
Manitoulin Island
Manitoulin Island is the world's largest freshwater island that boasts stunning beaches, a thriving Indigenous cultural landscape, restaurants and breweries, hiking trails and so much more. Spend your time driving around the island checking out the Lighthouse Trail as there is lighthouse dotted all across the island.
If you are looking for a peaceful afternoon filled with beaches and hikes head over to Misery Bay Provincial Park. Filled with thick forests, winding trails and beautiful sandy shores along the waterfront it is the prefect place for a day trip. There is no camping available at this provincial park as it is a Day Use Only park, and it offers 16km of hiking trails between 0.2km and 4.8km.
If you are up for a quick 4km hike to get one of the best views on the island make sure you plan some time to do the Cup and Saucer Hike. After your hike pay a visit the stunning Bridal Veil Falls. To end off the night make sure to head over to either Manitoulin Brewing Company or Split Rail Brewing Co for a refreshing drink and good eats.
8
South Bay Resort
Located on the southern shores of Manitoulin Island South Bay Resort is the perfect place to stay whether you are visiting the island for just a few days or a few weeks. It is not often you get the opportunity to camp right along the waters edge and be able just to walk into the water only steps from your RV. Located only minutes from the main area of South Baymouth which is perfect if you are taking the Chi-Cheemaun over to Tobermory.
South Bay Resort has a lot to offer including electric and water hook ups, picnic tables and fire pits, washrooms with hot showers and flush toilets. There is also onsite laundry.
You also are able to rent paddleboats, canoes, rowboats and kayaks if you would like to explore the pristine waters of South Bay.
MORE ABOUT THIS STOP
9
Tobermory
To get to Tobermory from Manitoulin Island you will ride the pet friendly Chi-Cheemaun Ferry. The Chi-Cheemaun runs 8 times daily during peak months and is highly suggested to pre-book your reservations if you are travelling with an RV to ensure you get the crossing time of your choice.
Once you dock in Tobermory there is so much to do! You can head over to the beautiful Bruce Peninsula National Park, book a boat tour out to see the shipwrecks and visit Flower Pot Island or spend your time exploring some of the lighthouses and the town it self. Make sure to have a bite to eat at the Crows Nest Pub that overlooks the harbor and for those with a sweet tooth a trip to Tobermory wouldn't be complete without a visit to the Sweet Shop.
10
Bruce Peninsula National Park
Cyprus Lake Campground in Bruce Peninsula National Park is the perfect place to call home base while visiting this must see destination while in Tobermory. Cyprus Lake Campground is located on a small inland lake that provides you with a great place to swim and refresh after busy days of exploring.
There are 232 drive-in campsites spread out over three campgrounds. There is no electricity or water hook ups at Cyprus Lake. Portable water taps, cold water sinks and basic washroom facilities are located throughout the campground. Something to note is there no shower facilities within the campground.
One of the best reasons to stay in Cyprus Lake if you are planning on exploring the national park is you do not have to deal with getting a parking reservation for your stay. This allows you to spend more than the four hour time slots given to those who are coming in via car just for a quick visit. Make sure to take advantage of all the hiking trails that wind through the national park and do not leave without making a visit to the iconic Grotto that thousands of visitor's flock to each year. The best time to see the Grotto without hundreds of other visitors is first thing in the morning at sunrise.