Living in 300 sq. feet (or less) for the last decade has taught me that getting resourceful with storage is an absolute must when living in a small space. My name is Emily, I am a full-time solo female RVer, living in my 72 sq. ft. Class B on the West Coast of BC and work a full time office job. My van allows me the freedom to visit loved ones or go exploring on days off. Living in a small space doesn't mean I live without. It means I live with the things I need and are important to me, and that storage is integral to achieve that.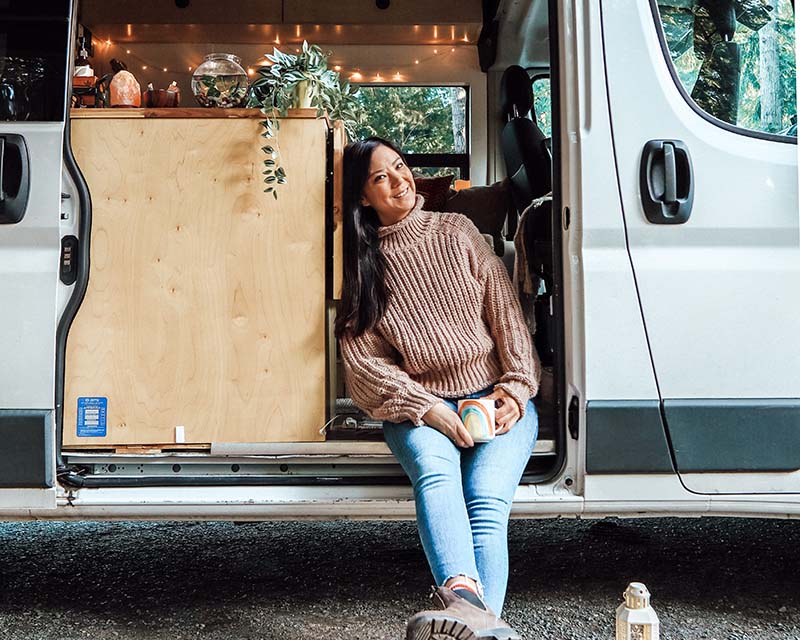 Utilizing ALL the space
Looking for unused storage opportunities is the first step. The space under your bed is great for storage boxes. An open space above your kitchen cupboards is perfect for lesser-used items. Utilizing a uniform set of boxes to store items will keep spaces looking tidy and uncluttered.

Think Vertically
Vertical spaces are an under-utilized option, but an excellent way to increase storage in a small space. A simple hook on the back of a door allows for coats or towels to be hung out of the way. In my van, my passenger seat is the perfect spot to hang my coat – right next to the door and it takes up no space. A hanging shoe organizer in a closet allows for multiple pairs of shoes (or rolled sweaters or pants) to be stored in an otherwise unused space.
One of my (many) favourite uses of vertical space in my van was to install a flip up countertop to the side of my kitchen cabinets. This extends my usable space for prep area or as a standing desk. When not needed, it simply hides away and takes up very little space.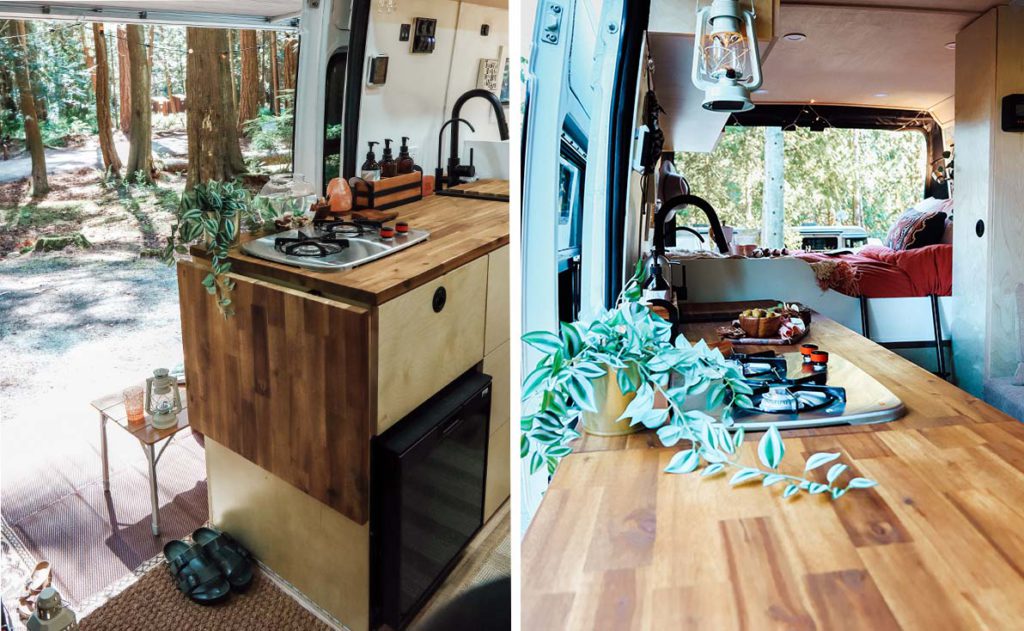 Maximizing storage: Unconventional storage opportunities
Once you've found some of the more obvious unused spaces to add storage, it's time to start getting creative. Looking for less apparent spaces to add storage can be tricky at first.
Another one of my favourite sneaky storage solutions in my van is the platform under my table. The bench seat that encompasses my toilet acts as my dinette seat and transforms into my couch/guest bed. In order to accommodate the toilet, it had to be a very specific height. I installed a platform under the table, to avoid "foot dangle" when seated at the dinette, and put a drawer under the platform for extra storage.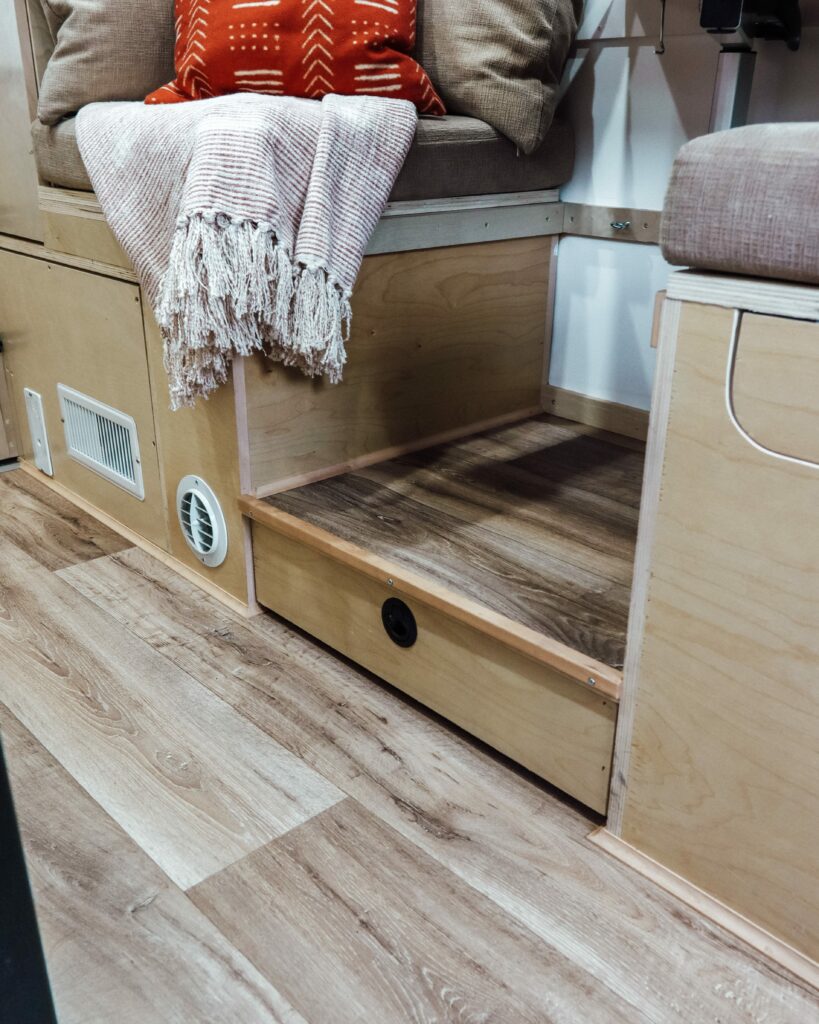 Multi-functional pieces are key
"Everything needs to be multipurpose" are words to live by if you have a small space. Items that can be utilized in multiple ways are integral, and if they can add storage, then you've hit the jackpot.
A footstool can be a footstool, or it can also be an extra seat for a visitor or a side table, and if there's space inside, it can also be storage. I use a leather pouf purchased on my travels to store blankets and use as a footstool both inside and outside.
Decorative cushions on your bed can be filled to store items like extra blankets, pajamas or sweaters!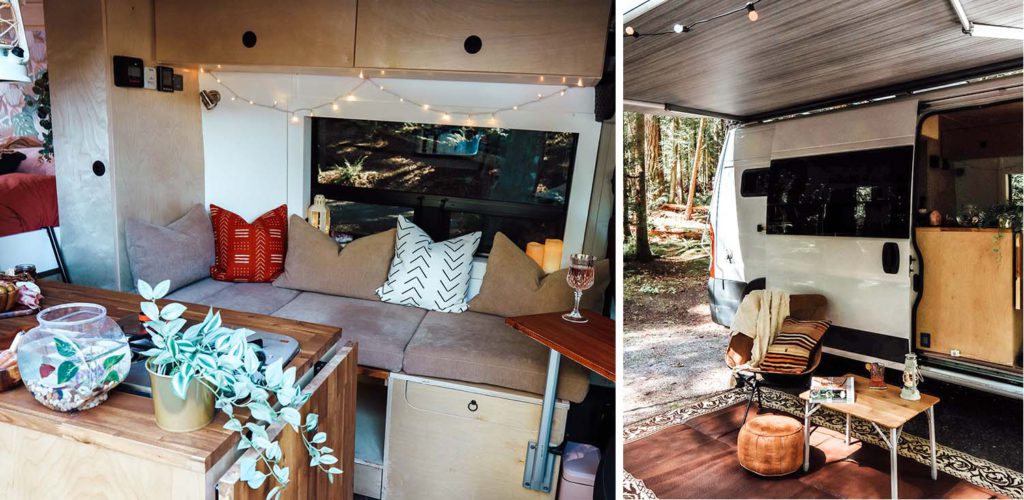 Living in a small space shouldn't mean you live without the things that are important to you. It does, however, mean you may have to think outside the box with how you can integrate them into your home. By implementing some of my favourite small space living tips, I'm confident you will not only have more storage than you need, but will start finding your own creative, sneaky storage ideas too. If you are interested in small space layouts, or would like to know what it's like to be a full time solo female RVer in Canada, come say hi on Instagram @emsvanlife  I'm a storage geek, so DM me your best sneaky storage finds and let's chat!
Start adventures in your own Class B! Find a dealer near you and explore models for rent and sale in your area!