Winter RVing is a great way to experience outdoor recreational activities, and although summer may be the most popular time for RVing, the winter is a great way to escape the busy crowds, relax and enjoy the sparkling snowy outdoors, and the quiet campgrounds. The most important thing before you take off for your winter adventure is to be prepared. In this article, we're going to walk you through some key tips and actions to take to keep you warm in your rig this winter. Luckily, if you are planning to rent from a dealer who offers four-season RV's, most of the RV prep is done for you. Either way, it's always a good idea to ask questions, and make sure you have all you need to hit the road in comfort and safety.

1. Which RV's are best for Winter Camping?
It depends! Most current RVs are designed, built and insulated to take cold weather in stride. Typically fifth wheels are better equipped for all the elements because they have more space available. Look at features like the type of insulation they use, the quality of the main heating system, and the potential for additional heat sources like a built-in fireplace. Another important feature is the proximity of your plumbing to the heat source—is it at risk of freezing? Talk to your local dealer about the options available to you.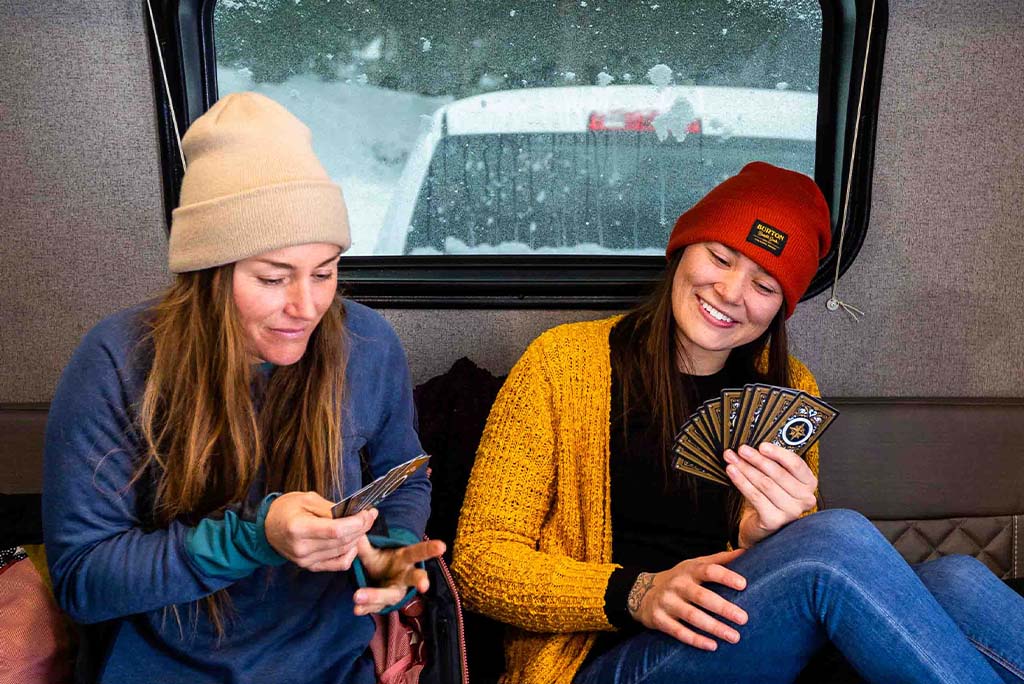 2. What to Pack for a Winter RV Trip
Pack appropriate clothing for outdoor activities and to keep you safe and warm throughout your trip:
Wool socks
Long underwear
Breathable base layers, a variety of fleece or wool mid-layers, and water-resistant or waterproof outer layers.
Warm hats, and mitts
Heavy duty winter boots
Extra blankets for your RV
Extra warm clothes
Warm sleeping bags for extra warmth
Lantern
An emergency kit: Extra batteries, flashlights, freeze dried food medical supplies, headlamp
Tire chains: tire chains are fitted to the exterior of the tires to add further grip to the vehicle in snowy, icy or slippery driving conditions. Without the additional grip provided by the RV tire chains, the wheels would simply spin and the vehicle would become stuck.
Heat tape, thermal curtains, and other items necessary for insulating your RV for winter living
Windshield scraper
RV antifreeze — and engine antifreeze, for your tow vehicle or the motorhome's engine
Rubber entrance mat and extra rags: for muddy shoes and dirt

3. Which Campsites are best for Winter Camping?
Pick a safe campsite that is easy to leave if snowy or icy conditions worsen. Campsites that aren't too far from a plowed and maintained main road are a good bet for winter camping. Try to locate campgrounds and parks that offer winter-friendly amenities like full hookups, hot tubs, indoor laundry, and showers. Be sure to call ahead and ask about any seasonal closures or requirements.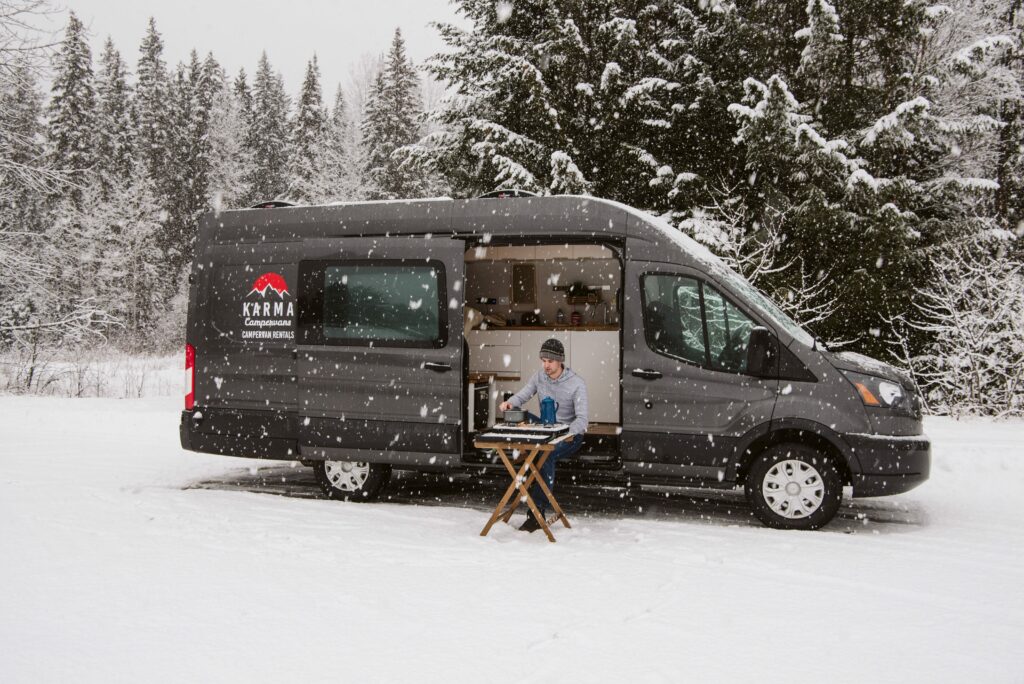 4. Keep a Close Watch on the Weather
Check the weather before you go. Winter weather conditions can change fast, and drastically! So be sure to look out for both weather and road conditions along the route to your destination to avoid any dangerous surprises. Today, there are tons of advanced weather apps you can use to keep track of severe weather warnings, such as Carrot Weather, NOAA Weather Radar, and Weather on the Way.
5. Propane will be Your Best Friend
If you're planning on travelling for a long period in an RV in the winter, you need to ensure you have plenty of propane on board. Check propane levels before you leave for your trip. Propane can run out quicker than normal when the temperature drops, so it's key to map out refill stations along your route. Consider bringing extra propane if you're camping for longer than a few days. In addition to this, another great way to keep your rig extra warm is having a backup heat source, like using small electrical indoor space heaters. Using a heater in conjunction will give you an extra layer of comfort.

6. Check Your Batteries
When you're about to pack up and hit the open road, make sure you check your batteries. If you're new to RVing, batteries provide your RV with a source of power when no external power is available. Batteries will get you going and then continue to power the comforts of home while in the great outdoors! Make sure they are fully charged, as partially charged batteries are more likely to wear our in cold temperatures. You should never let your batteries discharge below 50%, if you let them discharge to lower than 20% , there is a chance that they can become permanently damaged and may not charge back up to full capacity again.
7. Bring Tire Chains
Tire chains are fitted to the exterior of the tires to add further grip to the vehicle in snowy, icy or slippery driving conditions. Without the additional grip provided by the RV tire chains, the wheels would simply spin and the vehicle would become stuck. RV's are heavier than standard cars and this additional weight can make it difficult for standard tires to find traction in slippery conditions. The horizontal links on the RV tire chains bite into the surface, allowing the wheels to gain traction. Be sure to only use tire chains when absolutely necessary. RV tire chains should only be fitted to the tires when the road surface is covered by snow, mud, or ice and removed immediately once the conditions improve. When looking for RV tire chains, it's essential to purchase ones that are the appropriate size for the tires on your rig, your RV dealer can help you select tire chains and provide more information on attaching them to your RV.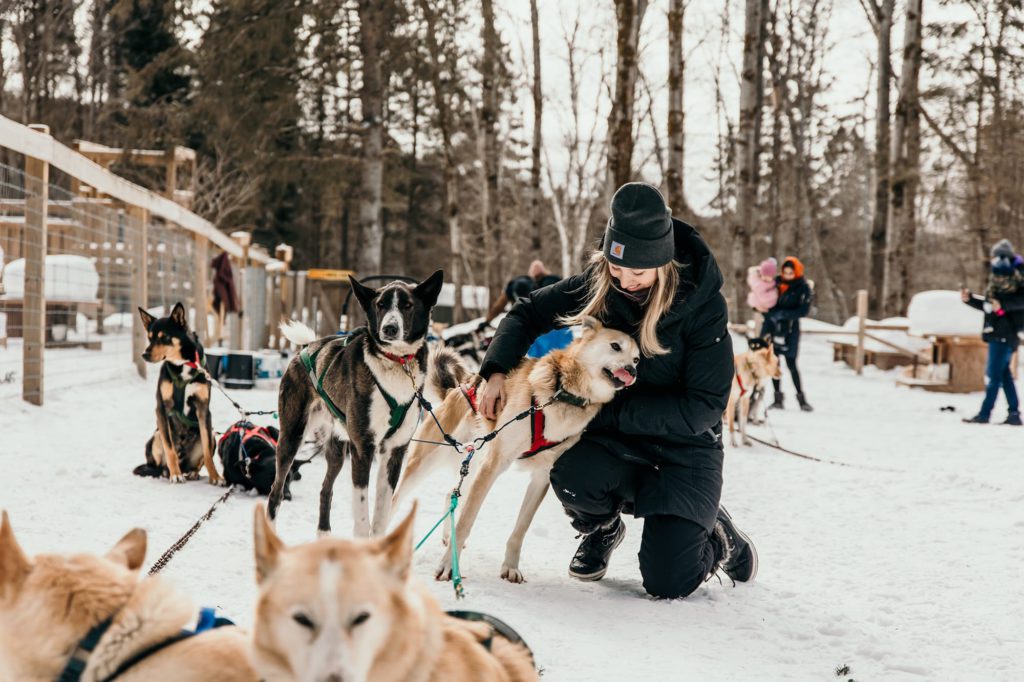 8. Bring Extra Entertainment
Bring books, board games, movies, and explore making fun, warming recipes. Find activities to do along the way and embrace the snowy season like never before!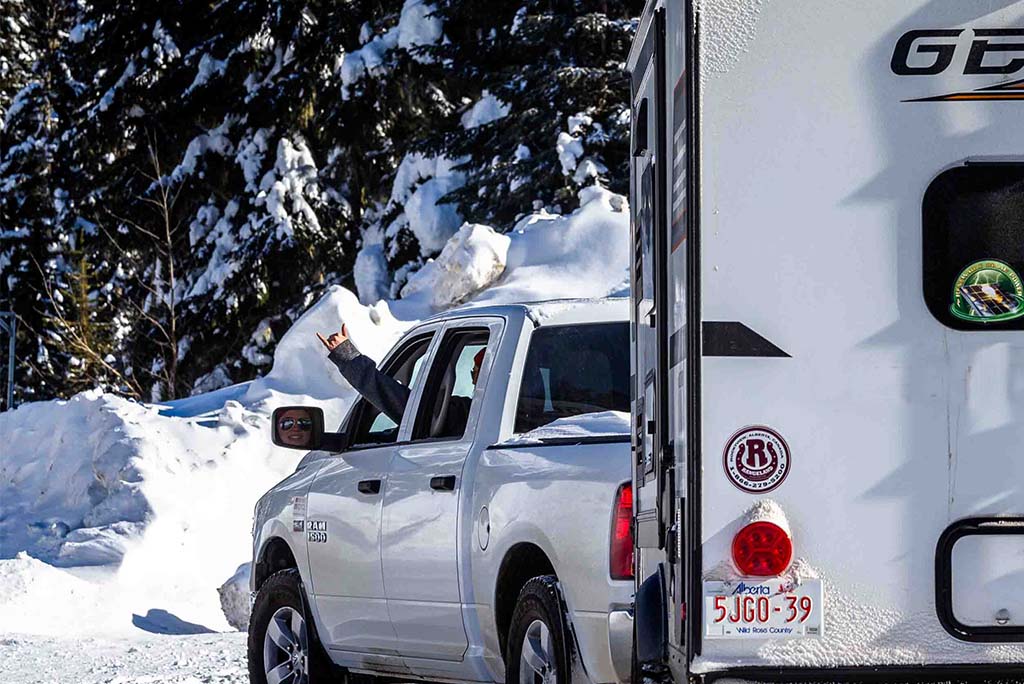 Now, we know this may seem like a lot of work, but as mentioned above, most rental outfitters will walk you through the whole process to ensure you have a smooth, safe and comfortable ride on your winter adventure. You'll see some beautiful, unique sights along your winter RV trip.
There's nothing quite like being in the solitude of a winter campsite, watching the snowfall and blanket the land around you. Find a dealer near you and start planning your winter adventure with us! For more RV tips, sign up to our newsletter.