Hi! We're Amanda and Stefan, owners of The Mobile Mixer, a mobile bartending company serving unique and locally-inspired cocktails, wines, beers, and espresso all out of retrofitted Airstream trailers and camper vans. We started our business in 2018 and were one of the first mobile RV businesses in Canada. Since then, we've embraced the exciting journey of entrepreneurship and learned many lessons about owning a small business built for the road.
Our RVing journey began by taking many road trips out of our vintage Ford campervan. We've traveled from coast to coast with "Popeye", and seen many of this country's best attractions. We've seen beaches & mountains, faced numerous breakdowns, and met many wonderful people. We still travel with "Popeye" and love to bring him to a quiet lake during the summertime.
One of the many questions we get asked is, 'Why did we choose an RV as the vehicle to launch our small business?". There were many advantages to using an RV that drew us towards the idea of starting our business on wheels. First and foremost, our RV business has allowed us to enjoy many benefits that suit our lifestyle, including the freedom to decide where we want to work and travel – something many people yearn for in their careers. On top of having the flexibility to choose our location, it's also helped us avoid the crippling overhead costs that typically come with a brick-and-mortar location. Ultimately, this has helped fast-track us on our road to financial freedom and on top of all that, the best part is getting to meet so many people and sharing the passion we have for the RV lifestyle with them.
Another question we receive is "what's it like to drive? I would love to do this, but it must be quite difficult to get around in". We get that driving a larger vehicle on the road can be intimidating, however, the basic skills are the same as driving any car. It took a little while to get used to reversing with a trailer, but practice really makes perfect and it shouldn't stop you from considering your own RV business.
In fact, there are many ways RVs can be used for business and if this is something you have on your radar, here are a few tips we've learnt over the years to help get you started: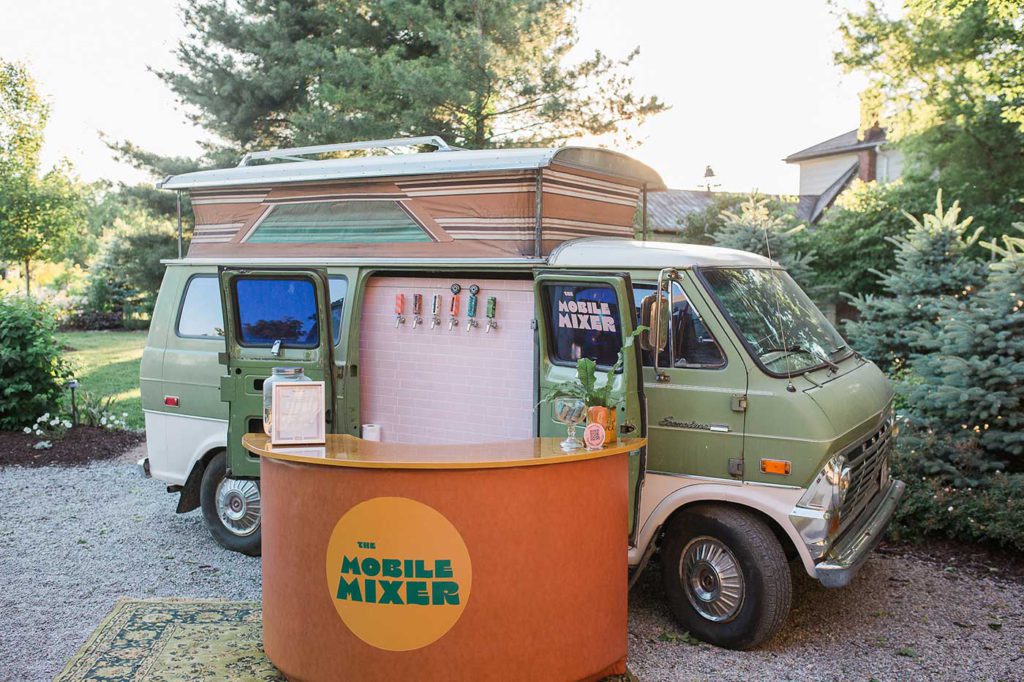 Have a business plan and set your goals
First, you will need to decide on a business idea that is suitable for your lifestyle. Some popular options include: food trucks, mobile bars, mobile fashion stores, spa trucks, or a mobile masseuse.
We live in an area (Niagara, ON) that hosts many events each year, so an events focused business made the most sense to us. We also love being outside, so having a business that encourages people to host their important celebrations outdoors made perfect sense to us.
Once you have your idea, research the markets you want to operate in and create a business plan. Consider your startup costs, target audience, location and marketing strategy.
Remember, it's okay for your goals to differ from a more traditional business model. Are you hoping for more flexibility and freedom for taking time off? Are you looking for a business that allows you to explore new places? Having clear goals will help navigate any obstacles your business may face.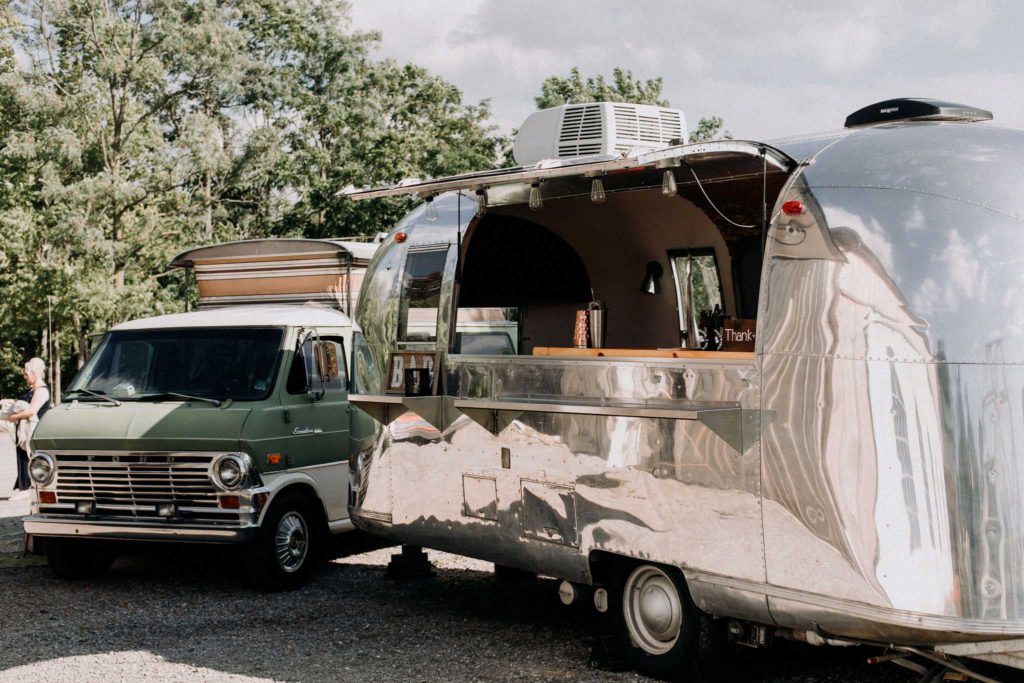 Choose the right RV for your business
This is such a crucial step! If you plan on inviting customers inside your RV, you may need something larger such as a trailer, but if you're planning to serve food or coffee, then a camper may be sufficient. Make sure you have all the necessary equipment and technology for your business, such as a reliable internet connection and a comfortable workspace.
When we were starting our business, we faced the choice of using an Airstream or another type of trailer. Airstreams come at a higher price point, but we decided that the aesthetic was important for the types of events we planned to work. Their overall durability was also important, seeing heavy use during the summer months.
Don't be afraid of DIY'ing your RV
If you're looking for an older style RV, take some time to research what to look for when inspecting these vehicles before you purchase. Our Airstreams are 57 and 61 years old with plenty of miles in the tires which we took into consideration when calculating the overall cost and time needed to repair and/or upgrade. Many vehicles will also require modifications.
It is often difficult to find tradesmen who have the skills or patience to work on older RV's such as Airstreams so it pays to be willing to try doing your own repairs – you may surprise yourself, and even enjoy it! It may seem out of your comfort zone or even capabilities, but there are many resources online to guide you (YouTube is a great starting point).
The most obvious modifications we made to our trailers are the serving windows, which were installed by a professional metal fabricator. Both have new axles installed, one has had two(!) bar fitouts, while one required an entire new end cap on the inside, which we took on ourselves.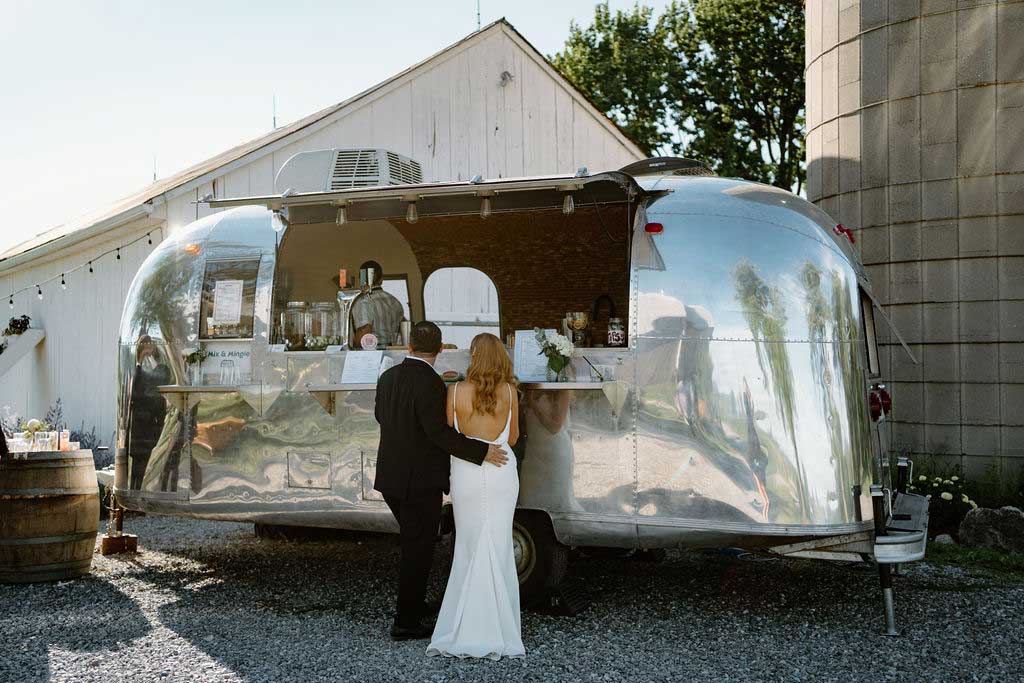 Flexibility is key
More flexibility is a primary reason we chose an RV, and it is also the thing that's helped us through some of the challenges that come from being a small business. The pandemic in 2020 halted our ability to operate our business the way we originally planned, so we shifted our focus to running smaller, more intimate outdoor events. Once life opened up again, we enjoyed a flood of inquiries and were one of the first businesses that could resume normal operations.
Starting an RV business can be a rewarding and fulfilling way to live life on your own terms. With careful planning and a passion for entrepreneurship, setting up a mobile business can allow you to achieve success and both physical and financial freedom, while exploring the beautiful country we call home. We are planning our next trip in "Popeye" during the Fall and can't wait to go RVing again!