WiFi is a priority for many folks on the road, especially families with kids and those who need to work. No matter how you travel or what internet service you choose, connections will get spotty, so be prepared for hiccups. We've compiled this guide to help you decide what internet service will work best for you on your travels.
How and Where Will You Use the Internet RVing?
To determine what internet service will work best for you, you'll need to analyze how you'll plan to use it and where.
Some online activities need a stronger connection and result in more data usage. If cellular data is how you plan to get an internet connection, things like streaming and video calls will put a dent in your data allowance. If you have kids who like to stream and play games, and your work might require you to make multiple video calls, keep in mind your allotted data usage.
If you're only planning to use the internet occasionally, for directions here or there, and checking emails, then your data usage will be significantly lower. However, even without streaming, you might run into large data costs depending on how frequently you use the internet. For example, if you want to have a map app open during the entirety of your time on the road, you'll likely use more data than you think. Research your data usage with your provider and even check if they have a calculator to understand better what you might use.
Off the road, some campgrounds have WiFi, but you're likely to deal with slow internet. Other campers are using the same WiFi as you and the campground location can factor into this. If you're going to stay at a campground for most of your trip, consider getting your internet connection and using the campground WiFi as a backup. Alternatively, if you're on the road, you'll only get WiFi by stopping at locations with free WiFi. Again, how you want to use the internet is an important factor in deciding what internet to get.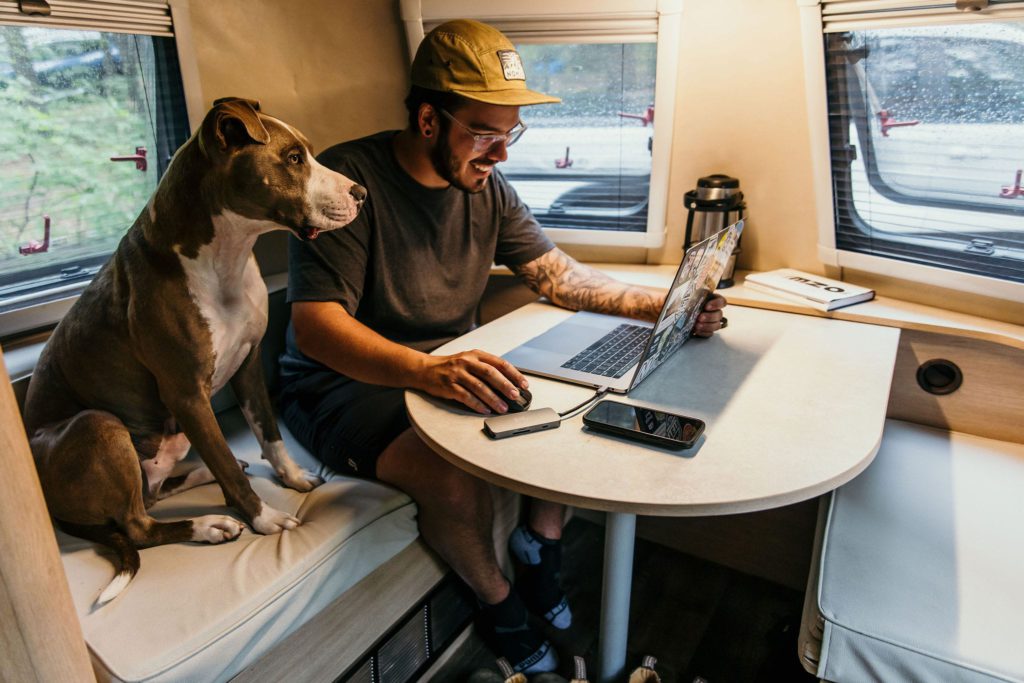 How to Get Internet While RVing
Some internet service options may work better for you based on how you plan to surf the web and where you're headed. Listed below are the most popular internet options for RVers.
WiFi
WiFi is often found in public spaces like rest stops, restaurants, and campsites. Because these WiFi servers are public, they're often shared with other RVers and travelers in general, so the connection will be the most unstable out of all the options. On the other hand, using WiFi as you come across it is a good choice for people who don't plan to use the internet much at all. Also, you won't have to pay for it unless you purchase a hotspot.
Mobile Data
Cellular internet is the most popular service choice for RVers. Essentially, using cellular internet is using your phone's hotspot. The connection strength will depend on your location and the data coverage. It doesn't cost anything for those who stay within their monthly data allowance. Still, if you want to add a directional booster and even an antenna for better coverage, you'll be facing additional costs for those. This option works best for those planning to use the internet for working and little streaming.
Satellite
Satellites can be for TV or an internet connection. Due to satellites connecting to a satellite in the sky and not a tower like mobile data service, you'll find a greater connection than alternatives. Unfortunately, satellite connection is much more expensive and requires a dish to get a connection. It may not always offer a stable connection due to path obstructions from your RV's satellite to what's orbiting in the sky. If you're going to an area with little cell service and don't plan on camping in a dense, forest-like area, then satellite may be the option for you.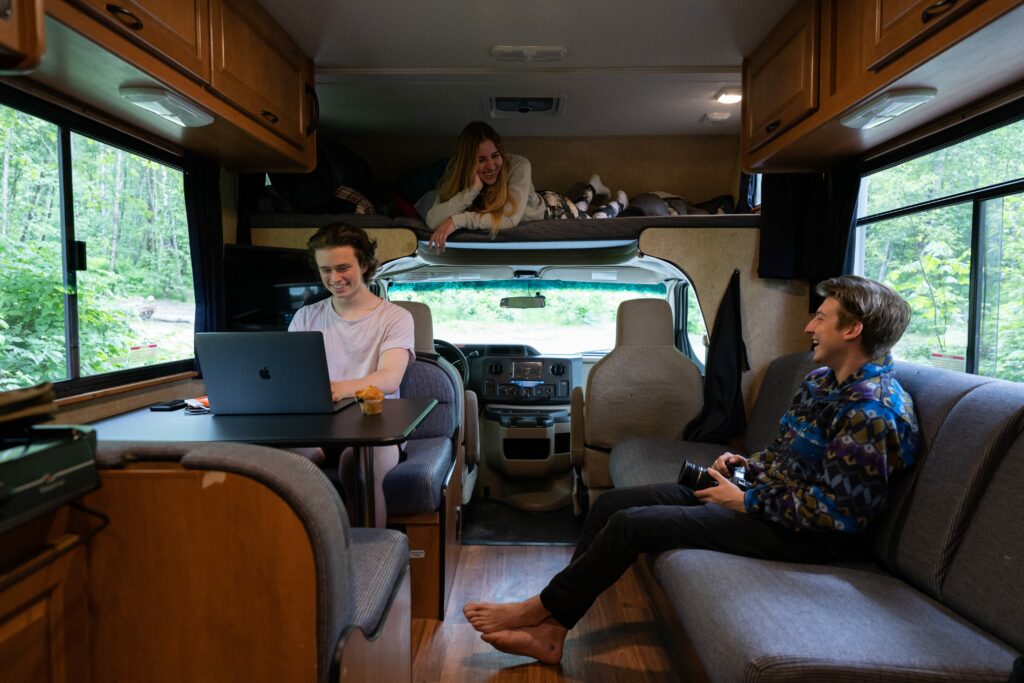 Things to Remember About RVing and WiFi
It's important to remember that you are bound to have spottiness or even get disconnected on the road no matter what type of connection you choose:
Plan and download movies or episodes so you can watch even when disconnected.
Download maps and write down routes, even ones you're not sure to take – just in case.
Research further details about internet connection. What works for someone might not work with you, so make sure to check forums or posts online about those who have a similar RV lifestyle as you. Additionally, look into the details of your mobile data plan to see if anything needs to be changed to suit you. Lastly, look at coverage maps and see how they correspond to your plans.
Have backup plans for entertainment if you get disconnected. DVDs, CDs, board games, and cards are a great way to connect with family when disconnected from the internet.
As always, plan out your itinerary in detail, so you don't get lost or confused. Give family members or friends a copy of your schedule to ensure safety in an emergency.
We hope this helped you understand a little more about how to stay connected on the road! Want more RV lifestyle tips? Sign up to our newsletter!