Fresh flavours make camping meals even better! Check out this tasty recipe for polenta grilled salmon burgers from our friends at Living Tiny.
Time: 30 mins | 3 hours waiting time
Servings: 4 people
Ingredients
Polenta "bun"
• 2 cups polenta
• 6 cups water
• 4 tsp veggie broth powder
• 1 tbsp butter
• salt & pepper
Salmon
• 500 gr salmon fillet
• Fresh lemon juice
• Olive oil
• Dill
• Salt & pepper
Sriracha mayonnaise
• 6 tbsp mayonnaise
• 2 tsp sriracha sauce
• 1 garlic clove
• 1/2 tsp maple syrup
• Fresh lemon juice
Toppings
• 1 avocado
• Fresh spinach
• 2 spring onions
• Sesame seeds
• Salt & pepper
[go-btn-green href="/category/recipes/" text="BROWSE RECIPES"]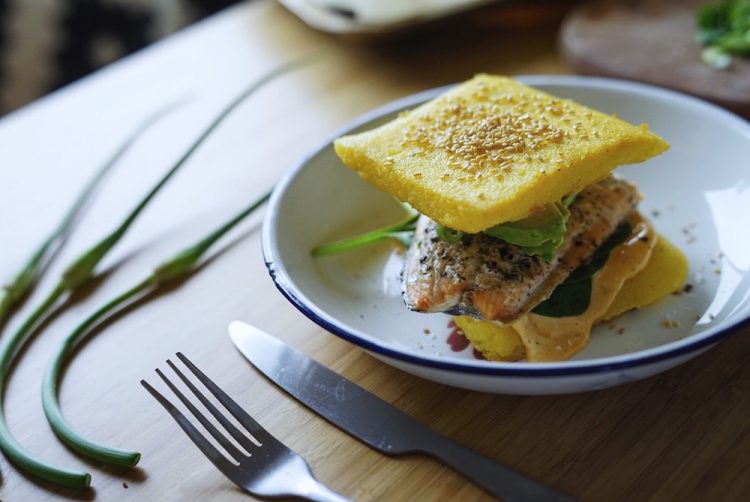 Instructions
Polenta
1. Bring the water with the broth to boil and throw slowly in the polenta while stirring. Depending on the type of polenta you're using, you have to stir between 5-20 minutes until it has a sticky firm consistency. For us, it took only about 5 minutes, so best to check the instructions on the box/bag of polenta.
2. Spread out the warm polenta in a lightly oiled oven-safe dish. It needs to have a thickness of 1/2 – 3/4 inch.
3. Refrigerate for 3 hours, or overnight if you prefer.
4. Cut the polenta into 8 even pieces and bake them in the pan with some oil, until both sides are a bit brown and crunchy.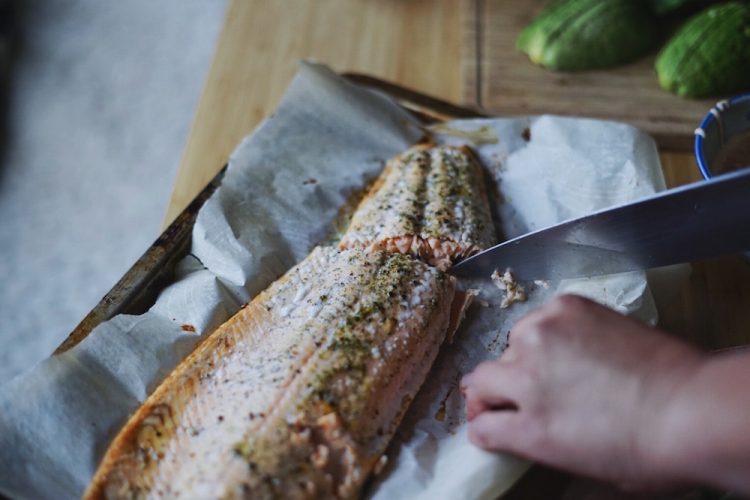 Salmon
1. Rub the raw salmon with oil and herbs and let it sit for 10 minutes.
2. Preheat your oven on 400F and bake the salmon in 15-20 minutes.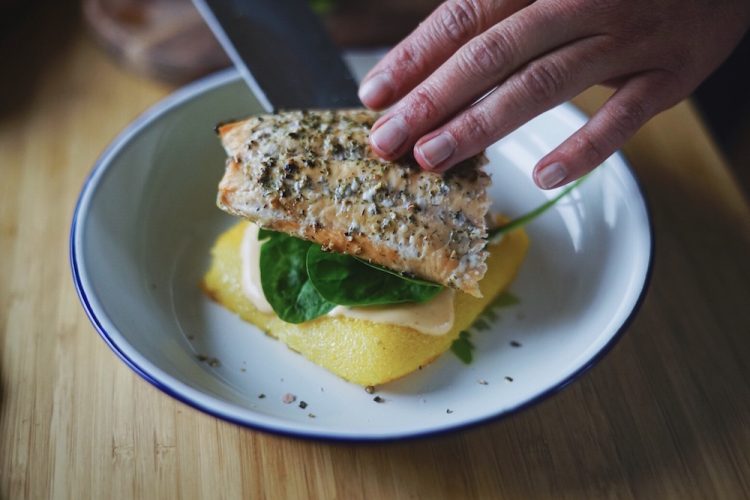 When your polenta buns and salmon are ready, it's time to make your delicious burger by adding the sriracha mayo and all the fresh vegetables. It's a little hard to eat with your hands as the polenta is more brittle than a bread bun, but you can either eat it with cutlery or wrap some aluminum foil around it. Bon appetit!
• Tip: instead of making this dish in the oven and on the stove, you can grill both salmon and polenta on the bbq. Just oil your grill pretty well whenever you bake your polenta pieces, as they can stick together pretty easily.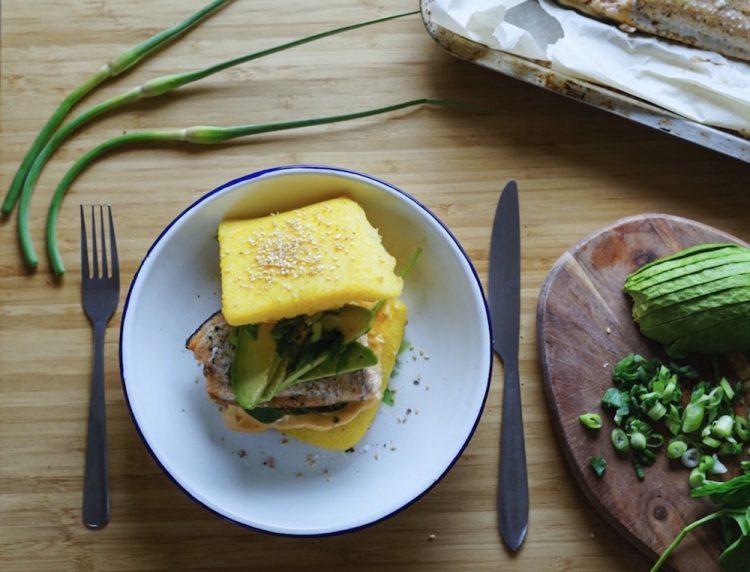 Be sure to follow our friends Dirk and Eelke from Living Tiny on their full-time RVing adventures on Instagram and online.
[go-btn-green href="/category/recipes/" text="BROWSE RECIPES"]
Looking for more delicious camping recipes? Check out Go RVing Canada's Facebook group: Wildhood Recipe Club! We would love to have you join our community.
Or follow along on Facebook, Twitter, Instagram and Pinterest.