Winter is officially here! What do you need to know about keeping warm while winter camping? We have a few tips up our sleeves… let's dive in.
If you're new to RVing, don't let the cooler weather scare you off! We have plenty of resources for buying your first rig. Do you want a park model that feels like home? Or a smaller motorhome to take on the go? Use our buyers guide to get started.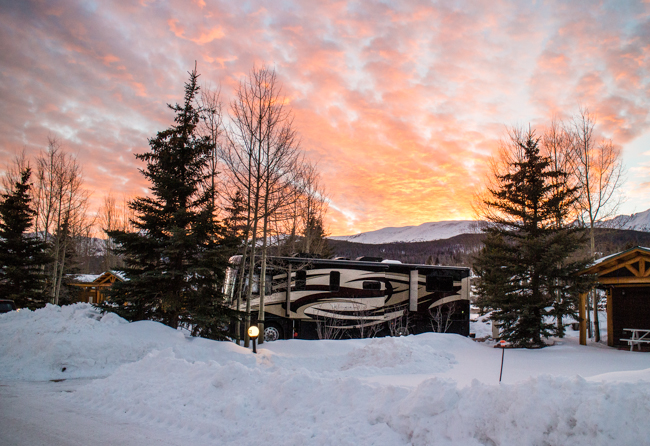 Image via Gone With The Wynns
Which RV is Best for Winter Camping?
It depends! Typically the larger fifth wheels are better equipped for all the elements because they have more space available. Look at features like the type of insulation they use, the quality of the main heating system, and the potential for additional heat sources like a built-in fireplace. Another important feature is the proximity of your plumbing to the heat source—is it at risk of freezing?
Other resources for choosing an RV:
So you bought an RV… now what? Let's get ready for winter!
Keep Warm RVing in Winter
Maybe you're eager to get outside regardless of the weather. Or if you RV full-time, you'll definitely find yourself in a cooler place over the winter months—unfortunately for Canadians, we have a limit on how many days we can spend in the south each year!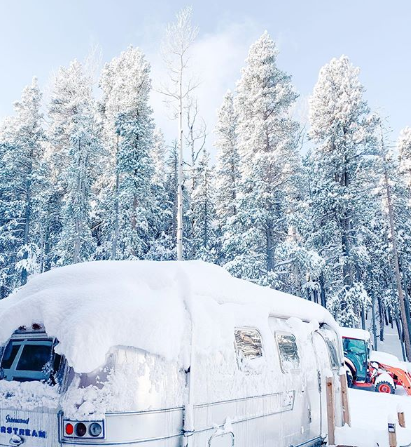 Image via acresandairstreams
You always need to be prepared as an RVer, especially when winter camping. Here's a few tips to stay warm…
Keep the important components warm with a canvas skirt that snaps into place, covering the exposed underbelly of your rig.You can purchase these through most RV dealers.

Close any leaks or drafts. Have a sticky window? You're going to want to fix it before pulling out of the driveway in the winter.

Don't let your water freeze! You can either keep your plumbing above freezing at all times and use antifreeze in your gray and black water. Alternatively, you could choose to go dry all winter and bring bottled water with you.

A little extra insulation like curtains and rugs make an RV feel extra cozy in the winter. Bring out the thick bedding or invest in an electric blanket.

Park your RV so the windows can soak up the sun during the day. Such a simple trick!

Keep the interior dry to prevent excessive condensation when you blast the heat, which could lead to mould.

Purchase a small space heater or install an interior fireplace to help your regular heating system on the extra cold nights.

Plastic wrap your screen door for an extra barrier against the wind.

Make sure you've packed all your

essential winter gear

.

Don't forget to have

fun in the winter wildhood

! Being active outside is a great way to stay warm in the chilly weather.
It seems like a lot of work, but it just might be your best decision yet! We think everyone should keep the camp vibes going through shoulder season, but if you plan to stay home this winter, remember to properly winterize and store your RV!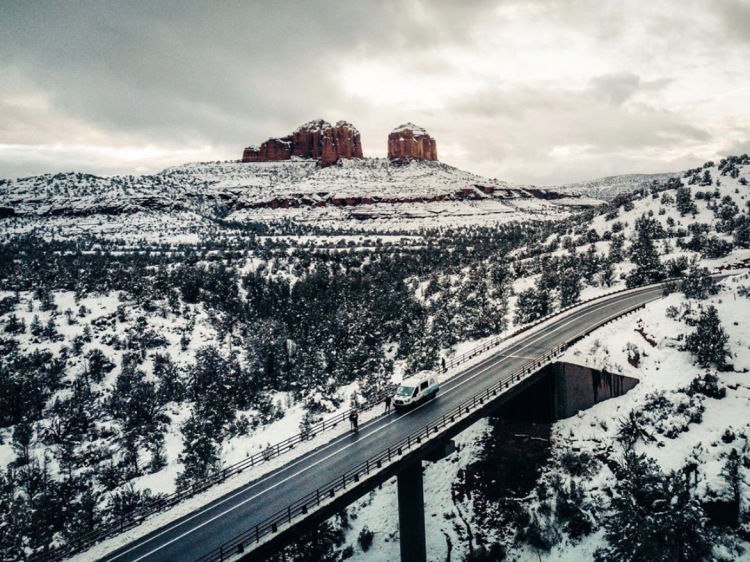 Image via gearbox_adventure_rental
Do have any tips to stay warm when winter camping? Share them with us on Facebook, Twitter, Instagram, and Pinterest.