You've decided to jump on the RVing bandwagon – we don't blame you! – and now looking for the perfect camper for you and your family. Not unlike purchasing a home or vacation property, buying an RV is a big decision and there are many factors to consider, including what RV type is the right one for you and how much they cost.
We have tons of information on our website about RV affordability, buying new vs. buying pre-owned, and links to many RV dealers across Canada. We even created this short checklist of things to consider when purchasing your first RV.
In all the hustle and bustle and often little time on our hands, we simply wanted to put in one place an RV comparison guide to the different RV Types, what's awesome about them, and basic costs associated with each. We hope it helps!
Motorhomes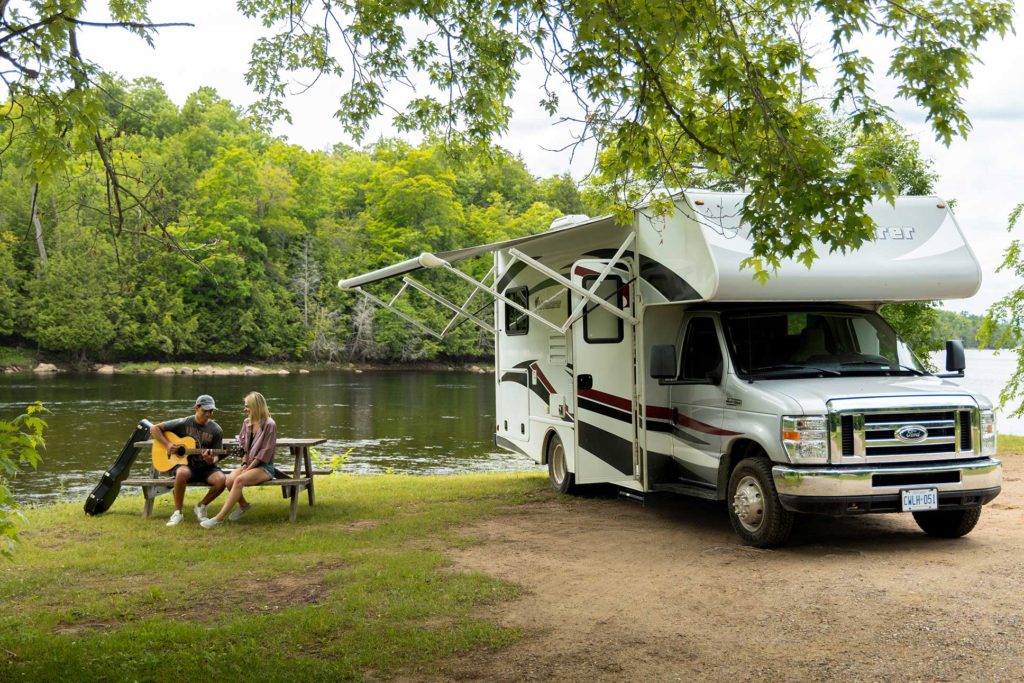 Motorhomes are a great way to RV and perfect for those who want a self-contained, mobile house on wheels. These are ideal when primarily travelling on paved roads, staying in campgrounds that allow longer units, or taking on RVing full-time.
What makes them awesome:
Being able to pull over any time, anywhere to use the bathroom or grab a snack (it's all right there!)
Self-contained with really everything you'd ever need including some luxuries like a washer and dryer, residential sized bathroom and furniture
Being able to tow a little vehicle to get a round
Not having to hook up and un-hook all the time
Ability to take your pet along and give them more space to move around while travelling
Tons of storage options
And generally, motorhomes are a bit easier to drive and park – especially the smaller units

But what do motorhomes cost?
We've broken it down by the different motorhome types: A, B, C.
A. Class A: $120,000-$500,000 (up to a $1 Million for the ultra luxurious kind)
B. Class B (also called van conversions or camper vans): $90,000-$250,000
C. Class C: $120,000-$300,000
Travel Trailers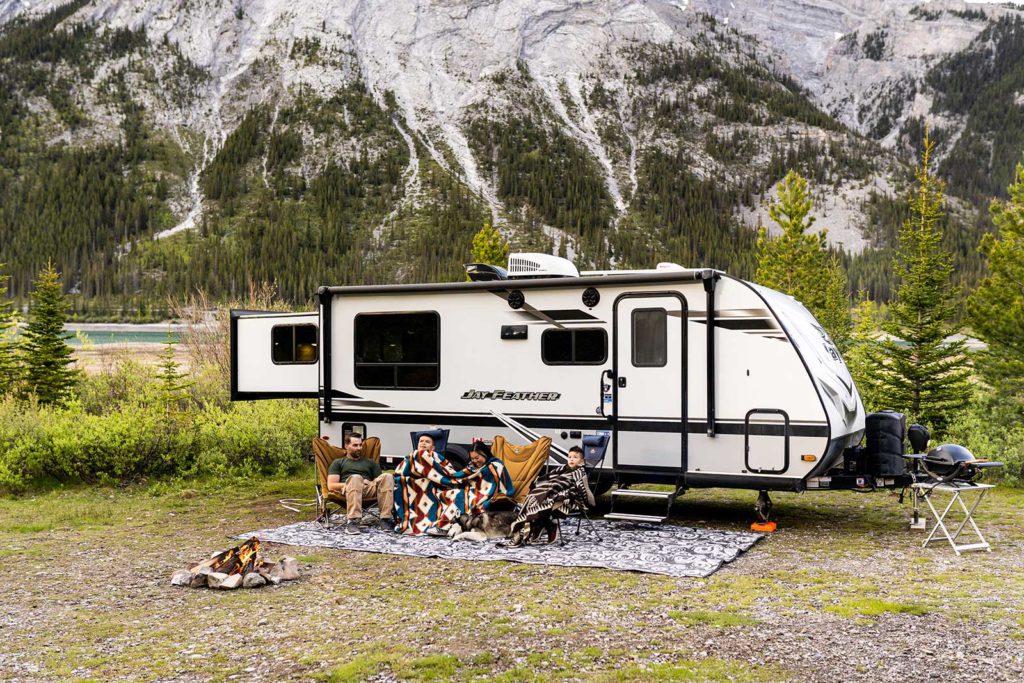 Travel trailers are the most common and popular type of RV among Canadian campers. These are perfect for small or growing families and often have more than one room in them and with multiple beds. Travel trailer types include regular tongue or 'bumper-pull' trailers, fifth wheels, toy-haulers, tent trailers and hybrid trailers.
What makes them awesome:

Being able to unhook and travel around to other sites and attractions
Often multiple rooms for small and growing families
Lots of storage
Often many beds for sleeping including bunks for children
Light weight models perfect for small tow-vehicles
Lots of options, layouts and sizes for different uses
What do travel trailers cost?
Costs of the different travel trailer types range significantly. There is really something for all budgets. Take a look:
A. Travel trailer: $25,000-$150,000
B. Fifth wheel trailer: $40,000-$160,000
C. Toy-Hauler: $35,000-$160,000
D. Hybrid trailer: $30,000-$55,000
E. Tent trailer: $15,000-$30,000
Park Models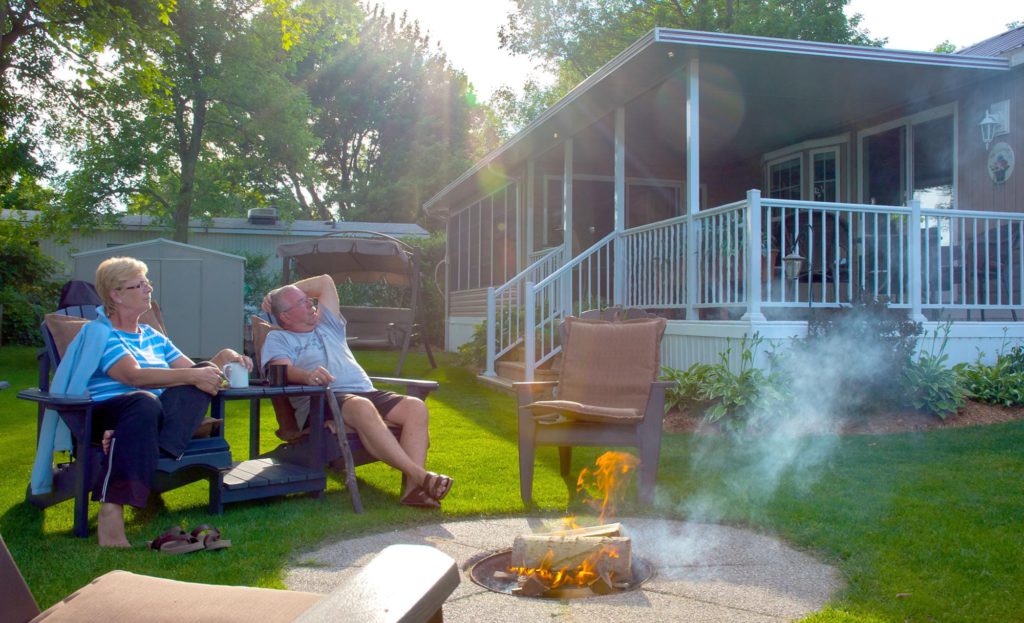 Park models, or their close cousin – park model trailers – are a fantastic option for your recreation activities and a great alternative to the traditional 'cottage' or 'cabin.' Park models can be a max 540 sq. ft., have detachable hitches, need to be towed by a special tow vehicle, and are not self-contained meaning they need hookups for sewer and water.
Park model trailers are similar to park models but are typically a bit smaller at 400 sq. ft. maximum, and, like travel trailers, come with aluminum siding and do not exceed 8.5′ in width. They are not self-contained and will need hook ups as well.
What makes them awesome:
Park models are built for recreation use and sometimes come winterized and ready for the cold weather
These RVs are an affordable consideration if you have a piece of property to put them on such as in an RV resort, park model-specific resort or private piece of land with services
Can build decks, fences, and create landscaping around park models because they don't often move
Some people live in park models year round making them an affordable housing option
What do park models cost?
A. Park Models: $100,000-$350,000
B. Park Model Trailers: $80,000-$130,000
Truck Campers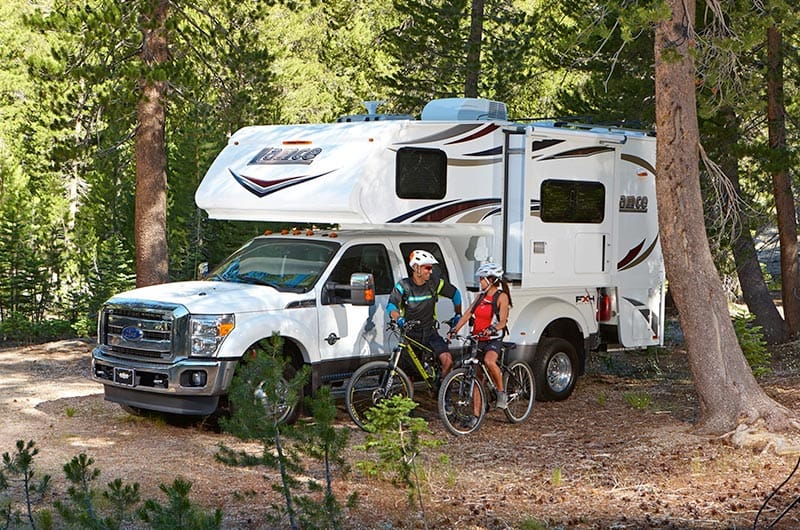 Truck campers are great for couples looking to do some traveling and aren't too fussy about the amount of living space they need. Truck campers sit on the back of your truck and fell like they aren't even there! These are great options when you'd like to tow a horse trailer, boat or utility trailer along with you.
What makes them awesome:
Attached to your vehicle so they go wherever you go
Great for going off road and into remote locations
Compact and low maintenance
Low-impact and don't take a lot of additional fuel
Efficient storage and use of space
Some come fully winterized for year round use

What do truck campers cost?
Generally, Truck Campers range from $25,000-$85,000.
Remember to relax
Families get bigger, people have different preferences as they get older, and our lifestyles change over time. With that in mind, and all the great information we just gave you, it's best to go into buying an RV with an open mind and not get too stressed out. It's all good. We just hope you get out there and give it a go and hope this short guide to buying an RV helps. Want to learn more about RV affordability, or what financing options are available to you? Connect with dealers in your area to learn more.