Gather your friends and family and fire up the grill! Everyone loves a good BBQ in the summertime (or maybe the winter, too—we are Canadian after all). Here are a few tasty BBQ recipes worth a try on your next RV vacation.
After you've worked your taste buds through the list, let us know which was your favourite in our Wildhood Recipe Club Facebook Group.
Homemade BBQ Sauce
Make a big batch of this homemade BBQ sauce to freeze and throw on the grill as needed throughout the summer. The classic flavour goes with any meat of your choosing. Quick and easy!
Do you like to save time? Us, too. We have plenty more freezer meal prep ideas where that came from!
Root Beer Ribs
One of our favourite BBQ plates: roaring root beer ribs with mischievous maple mustard BBQ sauce. Yum! Brine, sauce, grill and serve with sides of your choosing. It's easy and they taste great.
BBQ Shrimp Salad
This grilled shrimp salad satisfies your BBQ craving, but isn't too filling for a hot summer day. Toss the shrimp skewers and corn on the grill while you dice and chop cucumbers, bell peppers, tomatoes and avocado. Serve on romaine with a honey mustard vinaigrette and enjoy!
ps – Be sure to try these delicious seafood recipes if your RV vacation includes a trip to one of Canada's coasts this year.
BBQ Beans
Try a classic, but barbequed! These quick barbecue beans are a generous side dish that doesn't take long to whip up and feed a crowd. Check out more crowd-pleasing camping recipes on our blog!
BBQ Bacon Chicken Kebabs
Sauce them, grill them and pack 'em up for a picnic! These BBQ bacon chicken kebabs check all the boxes for the perfect summertime appetizer. Serve with your favourite sides al fresco. Be sure to bookmark these picnic-friendly recipes for road-trippers, too.
Tofu Peanut and Cucumber Skewers
Vegan skewers can be tasty, too! We can't wait to try these tofu peanut and cucumber skewers. Topped with peanuts and fresh mint, drizzled with creamy satay sauce. Fresh and filling! Mmmm…
Need more vegan meal inspiration? Check out these delicious vegan recipes for the RV crew.
Bacon Wrapped Asparagus
Bacon? Yes, please! This bacon-wrapped asparagus recipe is perfect to bring to your next potluck RV cookout. We like to consider veggies wrapped in bacon a well-balanced dish. Don't you?
Spicy Sweet Potato Fries
We love sweet potatoes! Especially when they're spicy grilled fries dipped in mayo. Serve them solo or on the side with bacon chicken kebabs or root beer ribs.
It's time to get cooking! Pair any of the above BBQ meals with a summer cocktail to get the camp vibes flowing*, then sit back and relax. All that's left is dessert… We recommend cooking up one of these ooey-gooey camping recipes next. S'more, please!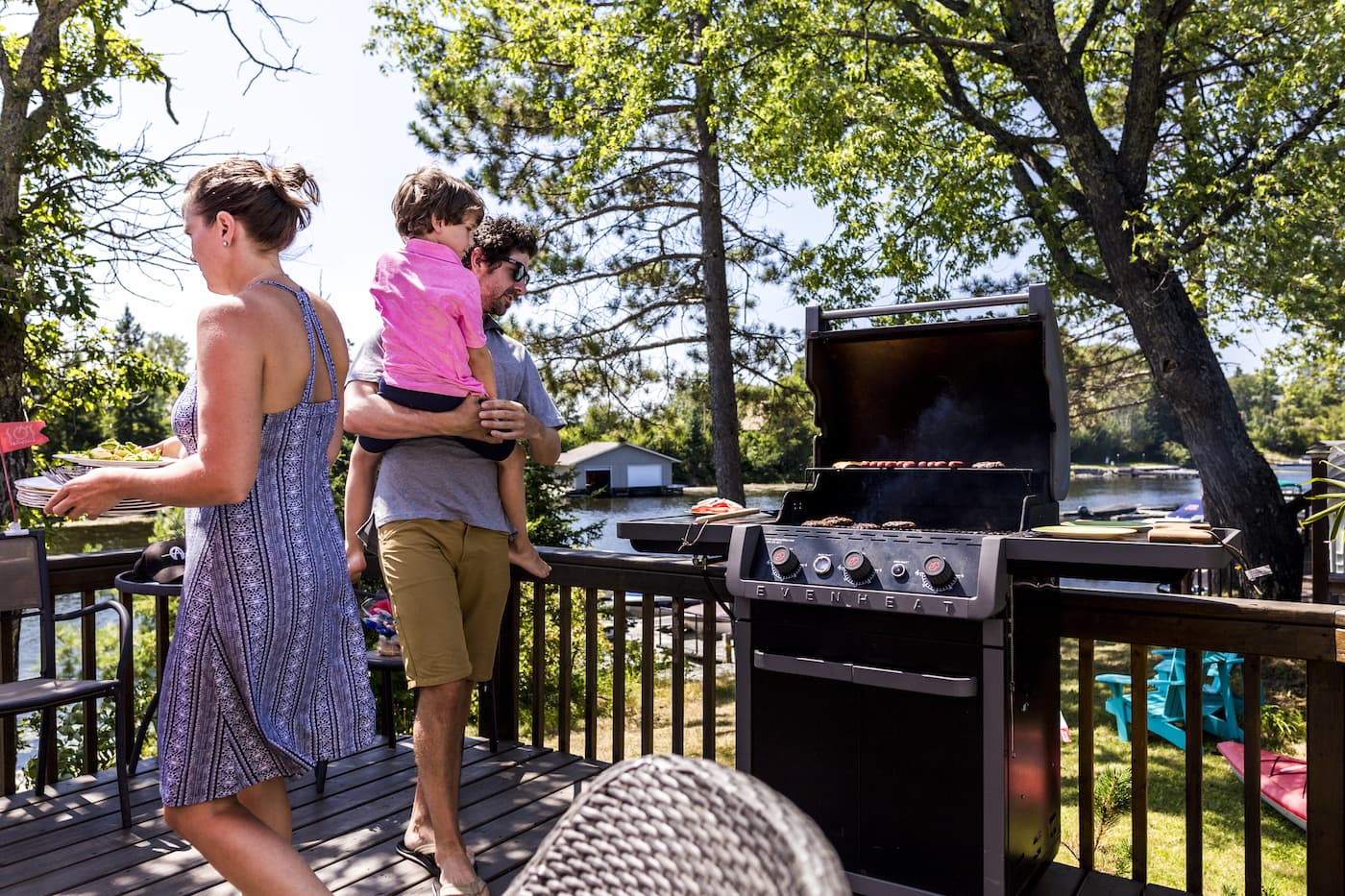 What is your must-eat BBQ recipe? Share them with the whole RV crew in our Wildhood Recipe Club or join our community on Facebook, Twitter, Instagram and Pinterest.
* Of course, this goes without saying, but just in case: Drink Responsibly. Don't drink and drive.