Destination Travel Trailer
Similar to a large conventional Travel Trailer the Destination Travel Trailer is constructed for seasonal use only. Units are designed for occasional moves using a heavy duty tow vehicle and do not require a special highway permit. These units are built on a single chassis and in some cases have a removable hitch. Onsite hook-ups are required.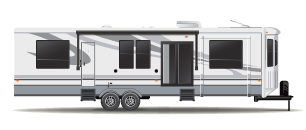 Size

9.7 to 12.5 m (32 - 41 ft)

Cost

$30,000 - 80,000

Sleeps

Up to 8 people
Features of this RV
Park Trailers similar to the travel trailer are built to CSA Z-240 safety standards and may not exceed 400 sqft.
Most are equipped with a 110V systems, although some manufacturers do use a combination of 12V & 110V (see dealer for details).
These RV's do not exceed 2.6 meters (8 ½ ft) in width, but will usually have at least one or two slide-outs that operate at the touch of a button and provide added living space.
Exteriors are available in both an aluminum skin as well as fiberglass and use traditional style RV windows & doors.