Best Canadian destinations to take your dog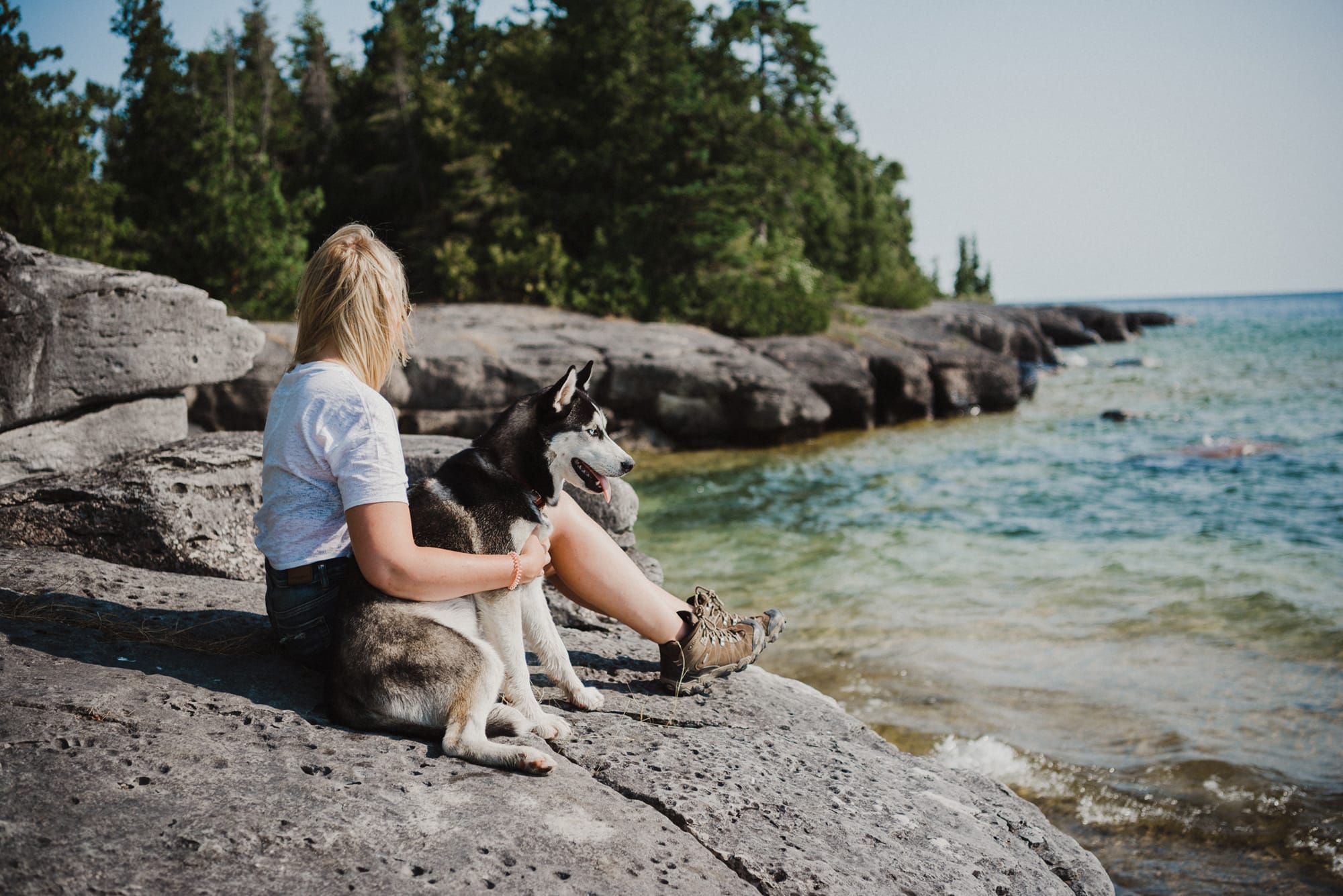 August 7, 2019
Just try to tell us something more fun than camping with your dog! Our four-legged family members love to tag along on road trips. There's so much for them to see and sniff in Canada's wild outdoors.
A bit of extra work comes with bringing your dog along on camping trips, but we're here to help—starting with the destination. Not sure of the best places to take your dog? Keep reading for a few ideas!
Canadian National Parks
In general, dogs are allowed in Canadian National Parks, which means there are plenty of places to stay overnight with your pets! East or west—where will you go? The two key rules: Keep your furry friend on a leash at all times and remember to pick up after them.
Be sure to check the specific park and trail rules before you leave as dog-free zones are common, especially in bear season. Even on safe trails, avoid any wildlife encounters with your pup. Be careful out there!
Dog Parks in Canada
You don't need to change your usual camping trips for your pup because Canada makes it super easy to include them in the typical plans. Most private and provincial campgrounds are also pet-friendly with just a few dedicated pet-free zones.
The only stipulation in campgrounds is that all dogs must be on a leash throughout their stay. If you want your pooch to be able to run around a bit, find a local dog park. They'll have a blast playing in a new area!
Find a dog park in Canada through any of the following websites:
● Bring Fido
● Pet-Friendly
● Pet-Friendly Travel
A quick suggestion: If dog parks are your thing, choose a campground near Calgary, Alberta. There are a lot of off-leash parks in the city. Plus, Banff is just over an hour away with its own small off-leash park.
Dog-Friendly Beaches
Unfortunately, not all beaches are dog-friendly. Many actually have signage to forbade our furry friends, so be sure to check before you let yours run off-leash along the shore. Dog beaches are harder to come by than dry parks, but your pup will thank you when you find one!
If you're camping near Toronto, Cherry Beach is an off-leash puppy favourite, but there are tons of other dog beach options in Ontario.
British Columbia is quite pet-friendly as well with a few dog beaches scattered throughout the province's lush landscape. Vancouver-goers specifically can let their dogs run off-leash along the water at a few places before bringing them along to dinner on a pet-friendly patio.
What dog beach will you visit in Canada?
Dog-Friendly Private Campgrounds
So many private campgrounds in Canada are pet-friendly, you just need to confirm before you book your stay! Some have limitations for the number of dogs per campsite, just like they do people.
Use our campground finder to search for places to stay by destination. When in doubt about dogs or not, ask the campground directly when booking your trip.
We know that the cooler Canadian months makes it harder to RV, but you can always visit our southern neighbours! Travelling to the USA with your pet is much easier than most people think.
Getting ready to hit the road
Preparing to bring puppy on board requires a few extra steps, but it's pretty easy once you know what to pack for them! The essentials obviously include their food, leashes, and bowls, but also consider items meant for comfort and cleanliness. Dog set covers and towels will make your life easier, but also cozy blankets or even a jacket for them might be a good idea if you're camping into shoulder season.
Otherwise, our number one tip is to consider your dog's needs when planning your road trip with them. They thrive with routines as well as regular walks and water breaks. If you're travelling with more than one dog, you definitely want to keep them active and entertained so they don't pull any funny business together on your trip.
Try to plan ahead wherever possible when road tripping with your dog because you can't guarantee that the first campground you find will be pet-friendly.
What are your favourite places to take your dog RVing? We'd love to know! Share photos of your camping dogs with us on < Facebook,Twitter, Instagram and Pinterest.