From the rolling prairies and wide-open skies of Peace River Country to the untamed sweeping strata of the Northern Rockies and through lush boreal forests and azure-hued lakes of the Stewart-Cassiar, the Great Northern Circle Route is a quintessential RV bucket-list adventure.
Experience rich culture, colourful locals and outdoor adventure while taking in unique geographic wonders teeming with wildlife (caribou, bear, bison and sheep can all be spotted along the highway).
Both provincial parks and private campgrounds abound, yet with over 1,800 km of highway to travel through some of the most untouched wilderness in the world, this circle route is anything but crowded. If wide-open spaces, majestic vistas and a connection to nature is what you're looking for, look no further than the Great Northern Circle Route.
1
Prince George
Start your trip in Prince George, a city on the edge of wilderness, perched at the crossroads of Highway 16 (Yellowhead) and Highway 97, where the Nechako River meets the mighty Fraser.
Known as the gateway to the North, Prince George has seen a boom of culture in recent years, with the welcome surge of young entrepreneurs leading to an upswing of unique restaurants, galleries, and live music venues, not to mention two local breweries, Trench (named after the Rocky Mountain Trench) and the aptly-coined Crossroads Brewing. Prince George is also home to BC's northernmost winery, Northern Lights Estate winery, specializing in locally harvested fruit wines.
Of course, Prince George is also known for its easy access to wilderness. With hundreds of hiking and mountain biking trails, lakes and rivers at its doorstep, it's not hard to stretch your legs and immerse yourself in nature here. Be sure to check out the tree carvings at Cotton Wood Islands park, or the accessible trails at Forests for the World or the Great West Life Mobility Nature Trail. Drive an hour east of town to the Ancient Forest/Chun T'oh Whudujut Provincial Park to marvel at giant old-growth cedars in the only inland temperate rainforest in the world.
With nearly a dozen RV parks, campgrounds and provincial parks in and around town, Prince George is a perfect launch pad to stock up, sample a few restaurants, take in an afternoon at the farmers' market or even a round of golf before embarking northward. To plan a perfect weekend in Prince George, and for a full RV and campground listing, visit Tourism Prince George.
2
Pine Pass to Peace River Country
As you head north across the continental divide and into the Pine Pass, the Rocky Mountains rise again, giving travellers a taste of the sights to come. Be sure to stop at Bijoux Falls just off the highway for a photo, and save your appetite for a roadside lunch at Café 97 at Azouzetta Lake Lodge & Campground (a must for burger and doughnut aficionados).
As the Rockies once again taper into rolling fields of the prairie, you've entered Peace River Country. First stop: Chetwynd, the chainsaw carving capitol of BC. With whimsical chainsaw carvings lining nearly every road, parking lot and doorway in town, this unmistakable community is an art gallery in itself. Plan your trip around the annual chainsaw carving festival and watch the town come alive with festivities as revered carvers from around the world compete to be crowned top dog.
3
Tumbler Ridge
From Chetwynd, detour south on Highway 29 to Tumbler Ridge. Possibly one of the most iconic locations in Northern BC, the Tumbler Ridge Unesco Global Geopark is truly a sight to behold.
From towering waterfalls to real-deal dinosaur tracks, its geology and sprawling crags, canyons and hills will have you swooning at this unique and ancient area. For an unforgettable experience, book a jetboat tour to Kinuseo Falls with Wild River Adventure Tours. Or see them from above with Ridge Rotors. And for those looking to channel their inner Indiana Jones, hop on a guided day tour to one, or both dinosaur trackways. Also offered is a night tour where the low angled lantern light makes the footprints stand out even more.
Be sure to stop into the Tumbler Ridge Visitors Centre to get the lowdown on the dozen of hiking trails ranging from accessible strolls to arduous peak ascents, and a stop in at the [Dinosaur Discovery Gallery  is a must.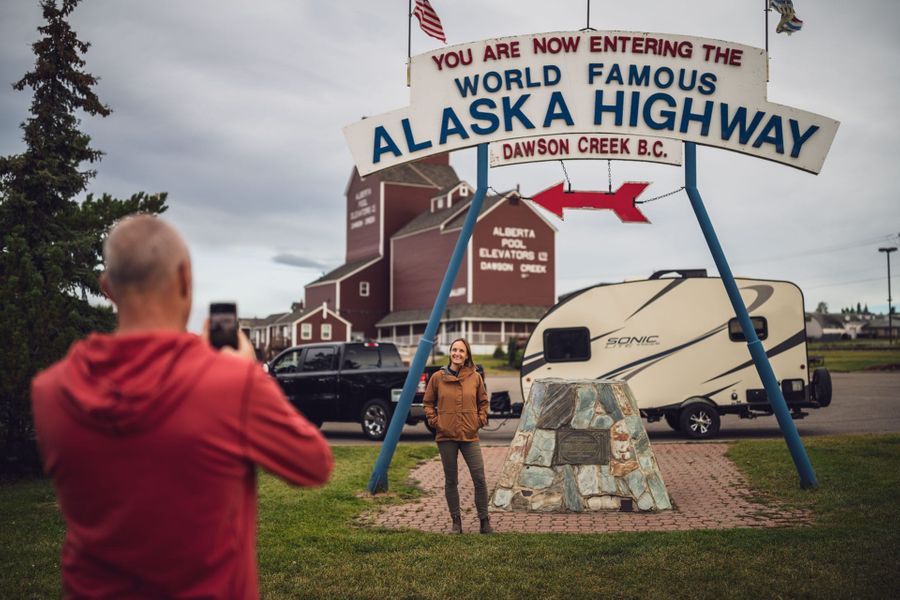 4
Dawson Creek
This is Mile 0 of the Alaska Highway, one of the most impressive feats of civil engineering in the western world. In 1942, in response to the Japanese bombing of Pearl Harbor, both American and Canadian militaries joined forces to punch a route through nearly 2,500 km of untamed wilderness to connect the lower United States to Alaska—the resulting "Alcan" highway was completed in just nine months.
Stop in at the Northern Alberta Railway Park, home to the Dawson Creek Visitor Centre, Art Gallery, and Railway Station Museum to learn about the area's rich history. Then visit the Walter Wright Pioneer Village, a must-see living museum, conveniently located at Mile 0 Campground and RV Park. Continue your historic tour with a visit to the kitschy Rolla Pub in neighbouring Pouce Coupe, famous for its trinket-adorned décor, live music and old-time rock 'n' rodeo vibe.
From Dawson Creek head north on Highway 97 towards Fort St. John. Now's a good time to start stocking up for the journey into the Northern Rockies, which can feel scarce of amenities to some travellers. Be sure to take a slight detour over the famed Kiskatinaw Bridge, the longest curved, wooden trestle bridge in North America and a true remnant of the old Alaska Highway.
5
Fort Nelson & the Muskwa-Kechika
From Fort St. John, drive north for about four hours to Fort Nelson, the gateway to the Northern Rockies. The [Fort Nelson Heritage Museum, the largest collection of artifacts celebrating the Alaska Highway, including a stuffed albino moose, is a must see. Gearheads rejoice in curious curator Marl Brown's extensive classic and antique auto collection, and all things fuel (and steam) driven. In town, the Triple G Hideaway offers full-service RV hookups, gift shops and down-home cooking and cold brews in its saloon-style restaurant, complete with saddle topped barstools.
The nearby Muskwa-Kechika Management Area is known as the 'Serengeti of the North' and is one of the last tracts of true wilderness south of the 60th parallel. For true adventure seekers, Muskwa-Kechika Adventures offers guided horseback trips into the area. For a more relaxing experience, fly in to Elisi Spa & Wilderness Resort for a remote wilderness spa experience with unmatched views.
6
The Northern Rockies
From Fort Nelson, the Alaska Highway winds its way deep into the Northern Rockies. Be prepared to spot wildlife all along this stretch of remote highway. Caribou, sheep and bison abound in this region, so keep your eyes peeled, and be prepared to stop often as these beautiful creatures graze and cross the highway often. If you're lucky you may even see some of the grizzly bears from the safety of your car. Please remember to not feed the animals, keep a safe distance and practice leave-no-trace wilderness etiquette.
Stop in at Toad River Lodge to check out its collection of hats from around the world, gas up and grab a snack. Only a few kilometres up the road is Double G Service, famous for fresh baked bread and the richest, gooeyest cinnamon buns this side of, well, anywhere.
From here, it's on to Summit Lake in Stone Mountain Provincial Park. This provincial park may not have full hookups, but its location, views and proximity to the Summit Peak trail more than make up for it. Hike this scenic trail and find yourself in the alpine surrounded by the sprawling Rockies and stunning views of the lake and valley below. You may even come in contact with Stone's sheep along the way. Next stop: Muncho Lake. There are three provincial park campgrounds on the lake, but at the centre of it all is Northern Rockies Lodge, home to Liard Air and Northern Rockies Adventures.
A destination in itself, the lodge offers full-service hookups, wi-fi, boat launch, canoe rentals, guided fishing for grayling and monster pike, fly-in hiking, flight-seeing tours and even remote outpost cabin rentals for those looking for an authentic northern frontier experience. At the end of the day, the dining in the lodge is world-class and pairs nicely with the lodge's extensive wine collection.
7
Liard River Hot Springs
A highlight for many travelling the Alaska Highway is the popular and oh-so-soothing Liard River Hot Springs, home to the second largest natural hot springs in Canada. Think natural river of hot water rather than a spring-fed man-made pool.
A boardwalk, which leads to the hot spring pools, passes through a warm water swamp (watch for moose feeding in the muskeg) and boreal forest that supports rich and diverse plant communities as well as mammal and bird species. Facilities include a change house and composting toilet.
This provincial park is open year-round and is especially magical in the winter months. Please be bear aware while visiting this area.
8
Watson Lake and Stewart-Cassiar Highway
From Liard River head to Watson Lake, YT where you'll find famous signpost forest. More than 67,900 license plates, road shields and homemade signs are mounted here. Make your mark, then head south on scenic Stewart-Cassiar (Highway 37) to swim or paddle Boya Lake's crystal clear waters in Tā Ch'ilā Provincial Park.
Take a side trip to the ghost town of Cassiar. This region is known for its high concentration of jade deposits. Stop in at Jade City to browse locally mined jade-based souvenirs before heading south to Dease Lake to gas up and resupply.
At nearby Tatogga Lake, take a flight-seeing tour with Alpine Lakes Air over the volcanic wilderness of Mount Edziza Provincial Park, or fly into the [Spatsizi Wilderness Plateau, part of Western Canada's Sacred Headwaters, to a remote outpost cabin experience at Cold Fish Lake.
Continuing south to Kinaskan Lake Provincial Park, take in sweeping views of the Todagin Mountains to the east and the Klastline Plateau to the west. Adventurous paddlers can navigate a section of the Iskut River to Natadesleen Lake to access the trailhead to the massive Cascade Falls. There is also a put in along the highway if river paddling isn't in the cards.
9
Stewart & the Salmon Glacier
Heading south, you'll end up at another crossroads—Meziadin Junction. From here you can head towards Highway 16, or side trip to the historic border town of Stewart and the jaw-dropping Salmon Glacier, the largest vehicle accessible glacier in the world. In Stewart, you'll find colourful buildings and even more vibrant characters characters. Fill your belly and grab some coffee at Toastworks—the storied Ripley Creek Inn's quirky museum dedicated to all things toaster—but save room for baked goods at Temptations Bakery across the street (don't forget to add your name to the thousands of signatures on the walls).
From Stewart drive through its neighbouring Alaskan ghost town of Hyder. With few residents isolated from the rest of America, and even fewer amenities, its character truly shines. It's tradition to stop in at the Glacier in to be "Hyderized" so don't be shy, but brace yourself. From Hyder it's a winding service road with spectacular views on a clear day to the Salmon Glacier. This vast expense of ancient ice is truly a sight to behold. With a large flat viewing platform, it's a perfect place to stop and take in this natural wonder.
Local's tip: if it's socked in at the main viewing platform, keep traveling further up the road to a lower viewing area and you might find yourself below the fog. But be cautious, this area is rugged, and may not be suitable for all vehicles. It would be a good idea to check with locals in Stewart if they feel your particular RV is appropriate, and always have a spare tire (and be able to change it).
10
Meziadin Junction to Smithers
From Meziadin, stop in at [Meziadin Lake Provincial Park, another incredible campground, before traveling south to Kitwanga Junction at Highway 16 (Yellowhead).  Relive history on an interpretive walking trail at Battle Hill National Historic Site before heading east towards the Hazeltons to visit the world-renowned 'Ksan Historical Village. Learn about Gitxsan history and culture, see traditional totem carvers at work, and stroll the shore where the Bulkley and Skeena Rivers meet. From here drive to Witset to see traditional Indigenous dip-netters perched on canyon walls pulling large salmon from the rushing waters below.
With Witset in your rear-view, roll into Smithers and enjoy this Alps-inspired mountain town. With welcoming locals, its stunning landscape is only matched by its small-town charms. With two breweries and a bevy of mouth-watering dining options and endless opportunity for outdoor adventure, there's never a shortage of things to do in Smithers. For a full list of RV sites, visit Tourism Smithers.
11
The Lakes District to Prince George
This last stretch returning to Prince George weaves through an endless quilt of fresh water lakes. The best way to see it is from above with a flight seeing tour from Lakes District Air in Burns Lake or Nechako Lodge and Aviation in Fraser Lake. For a quick side trip head 65 km south of Fraser Lake to check out the magnificent to Cheslatta Falls. The easy 1.2 km trail to the falls winds through a peaceful pine forest on a ridge overlooking the roaring Cheslatta River. From Fraser Lake, head to Vanderhoof and stop in at the Nechako White Sturgeon Recovery Centre, a research and conservation facility and hatchery offering interpretive tours throughout the summer.
Another quick side trip from here will bring you to the popular Paarens Beach and Sowchea Bay Provincial Park campgrounds on the shores of Stuart Lake. Nearby, the Fort St. James National Historic Site is a living museum where guests can experience life in a Hudsons Bay fur-trading outpost. Stay overnight at the fort, B&B style, in one of its restored buildings and stay for the "world-class chicken races." From here it's back to Prince George to reflect on a road trip of a lifetime, a true bucket-list experience and a badge of honour to brag about at the next get together of RV enthusiasts.