Dreaming of warmer days exploring on the road, relaxing at campsites and enjoying time in the great outdoors? Now is the perfect time to start thinking about your next amazing road trip or how to upgrade your RV or even exploring the idea of purchasing a new RV! With so many great RV shows across Canada, it's the prime opportunity to go check out everything the newest models have to offer!
Go RVing Canada invited Canadian travel bloggers and RVers Chris and Nicole of CNA Photography, to visit the Toronto RV Show and Sale. This was Chris's first time visiting the RV show, but Nicole had spent her entire childhood growing up RVing so this would be a familiar visit for her to see all the new RVs and trends that are happening across the RV industry. One of their favourite things about the show was the obvious passion within all attendees for RVing and adventures – both big and small. Their biggest takeaway was that there is something at the RV show for every budget and lifestyle.
Walking the 350,000 square feet of exhibit space, Chris and Nicole had the opportunity to explore every RV imaginable from pop-up tent trailers, to hybrid travel trailers, to fifth wheels, motorhomes and even luxurious park model RVs.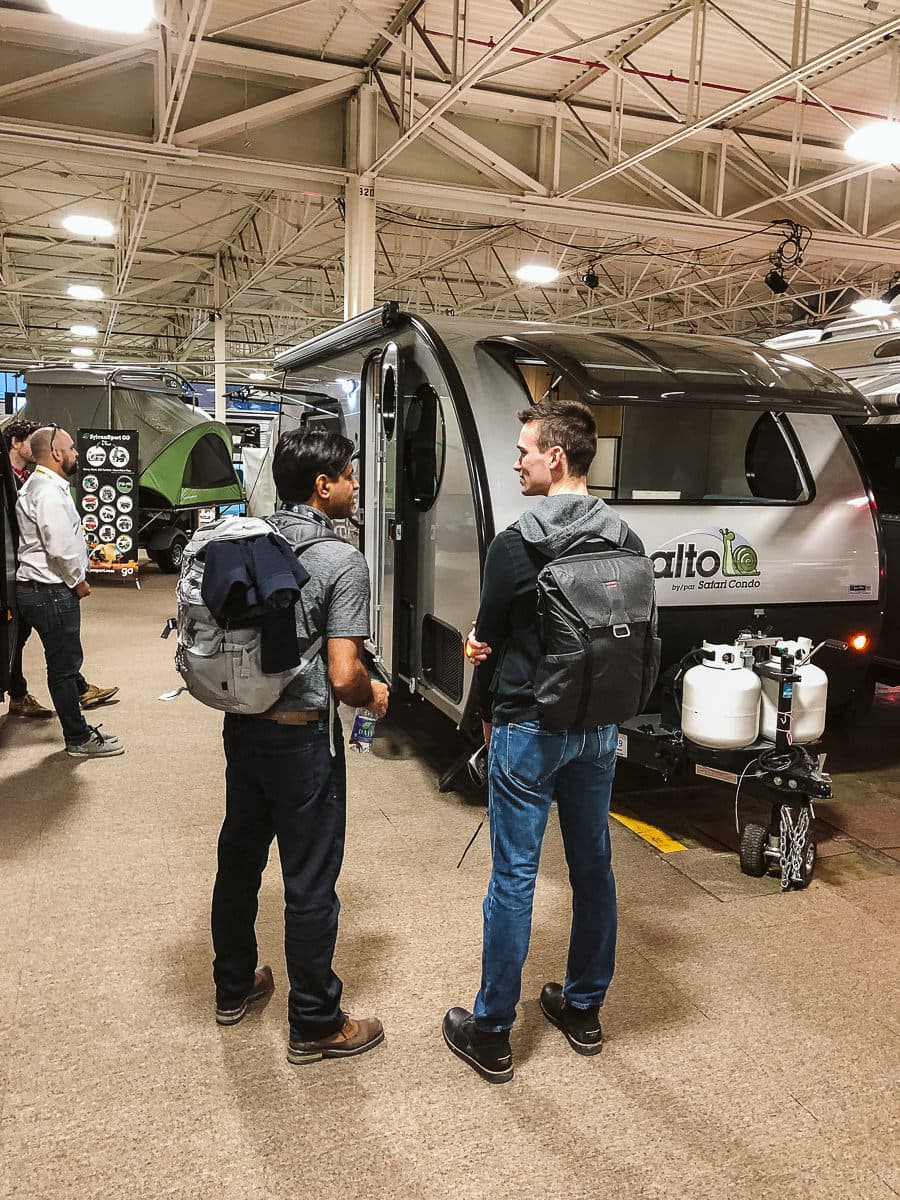 Photo credit: CNA Photography
"I was really amazed at how each RV – no matter the size – felt like home. I could imagine ourselves adventuring in any one of these RVs as we continue to explore throughout Canada," said Nicole. She has experienced almost every kind of RV possible growing up with an old pop-up tent trailer in the early days. Her family eventually got a hybrid travel trailer, followed by a 28' travel trailer, and finally a fifth wheel.
"I have truly had the opportunity of a lifetime provided by my parents to experience not only Canada but North America as a whole in a different way than most of my friends. We always chose road trips so we could bring our dogs along with us and keep the entire family together. I got to experience some of the most beautiful places our country has to offer and also learned to be a seasoned camper. Growing up RVing has also given me great experiences like flat tires, broken axels – each experience making for some incredible family memories and some good learning experiences. One of the biggest things I love about going to the RV show is seeing families with young kids, and knowing how much fun they get to have going camping, getting their feet dirty, finding their Wildhood and experiencing some beautiful places we have in Canada and beyond," said Nicole.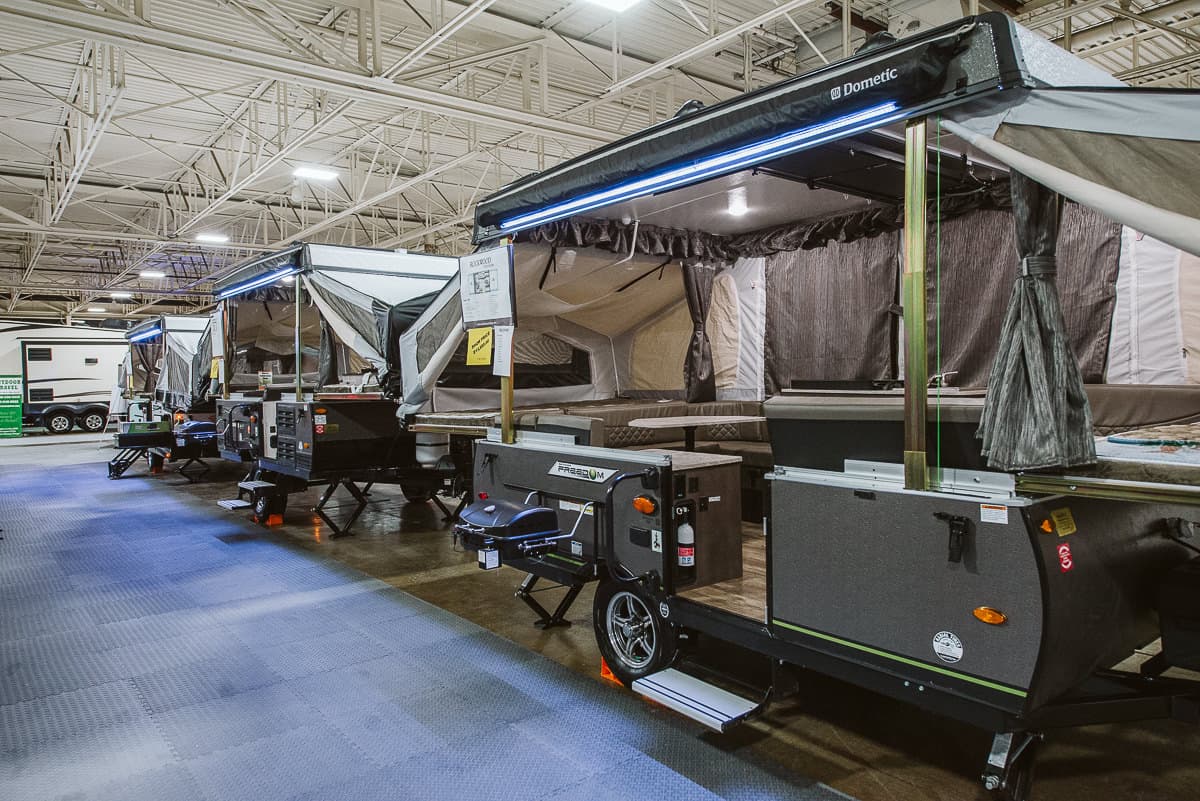 Photo credit: CNA Photography
When Chris and Nicole met, they started camping in a tent but never felt it totally captured who they were as an adventurous couple. They travelled to the Yukon in 2017 and had the opportunity to rent a truck-camper for three weeks to explore the beautiful territory. Later that year, they travelled to British Columbia where they rented a Class B motorhome and explored Vancouver Island and Whistler. In Spring of 2018, they found their dream RV and within two days of purchasing and picking it up, they were off on their first adventure with it. Since then, they have not looked back on their purchase and have already put over 4000km on it and are looking to do even more in 2019!
"When we travel, we love the idea of travelling differently. Sometimes we don't always have the ability to bring our own RV with us if we can't take enough time off from our jobs, but in those cases, we often fly to our location and rent an RV at the destination. We feel it gives us a truly different way to see the area we are exploring and is far cheaper and painless than staying in various hotels each night. We had the opportunity to go to Banff and Jasper in November 2018 and rented a campervan which was such a unique and cool experience. It was a type of RVing we had never experience before but would love to do again," said Chris.
One of the best things CNA Photography recommends – and learned more about while exploring the Toronto RV Show and Sale – was the ability to rent RVs. It's a great way to experience and learn what kind of RV truly suits your lifestyle and gives you the opportunity to test drive various features and see how they travel.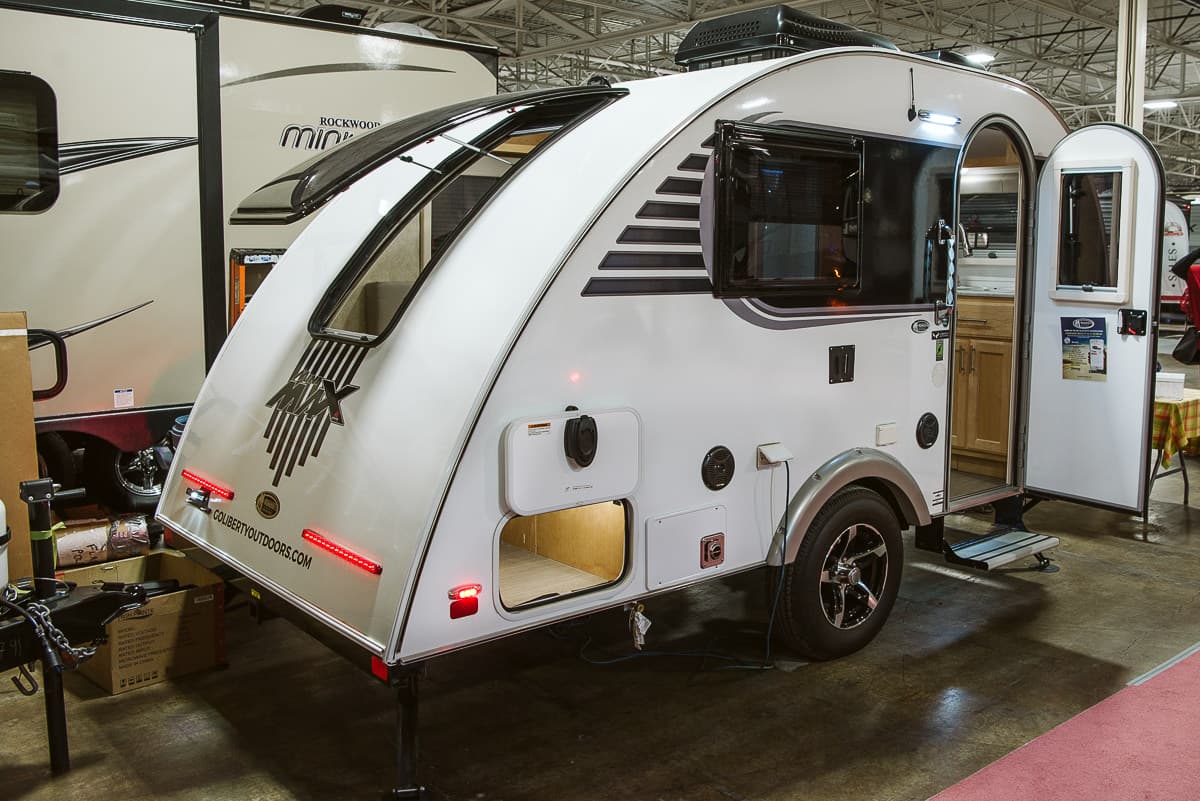 Photo credit: CNA Photography
"We were really impressed with some of the new RVs coming out in 2019 including some of the more compact trailers. Small and compact seem to be a trend lately, not only with millennials but across the board. We have seen so many people of different age groups pulling teardrop trailers and similar sized pop-up tent trailers. Smaller RVs can offer cost savings and weigh less,  offering lots of flexibility – something that really resonates with people. Camping is such an affordable option, so buying an RV should be (and really is) as well," said Nicole.
Since Chris and Nicole just purchased their RV last year it will likely be some time until they are looking for a new one, but going to the RV show isn't just about looking to buy a new RV. It can also be a great opportunity for anyone looking to check out the new features and upgrades, pick up some equipment or just do some dreaming!
"I like how a lot of the new RVs are putting in nice touches like bigger windows for more natural light, outdoor kitchens with built-in BBQs for easy cooking, even fireplaces built into the outside of the unit. They are really starting to make the RVs feel like homes away from home and easier to live in them for longer periods," said Chris.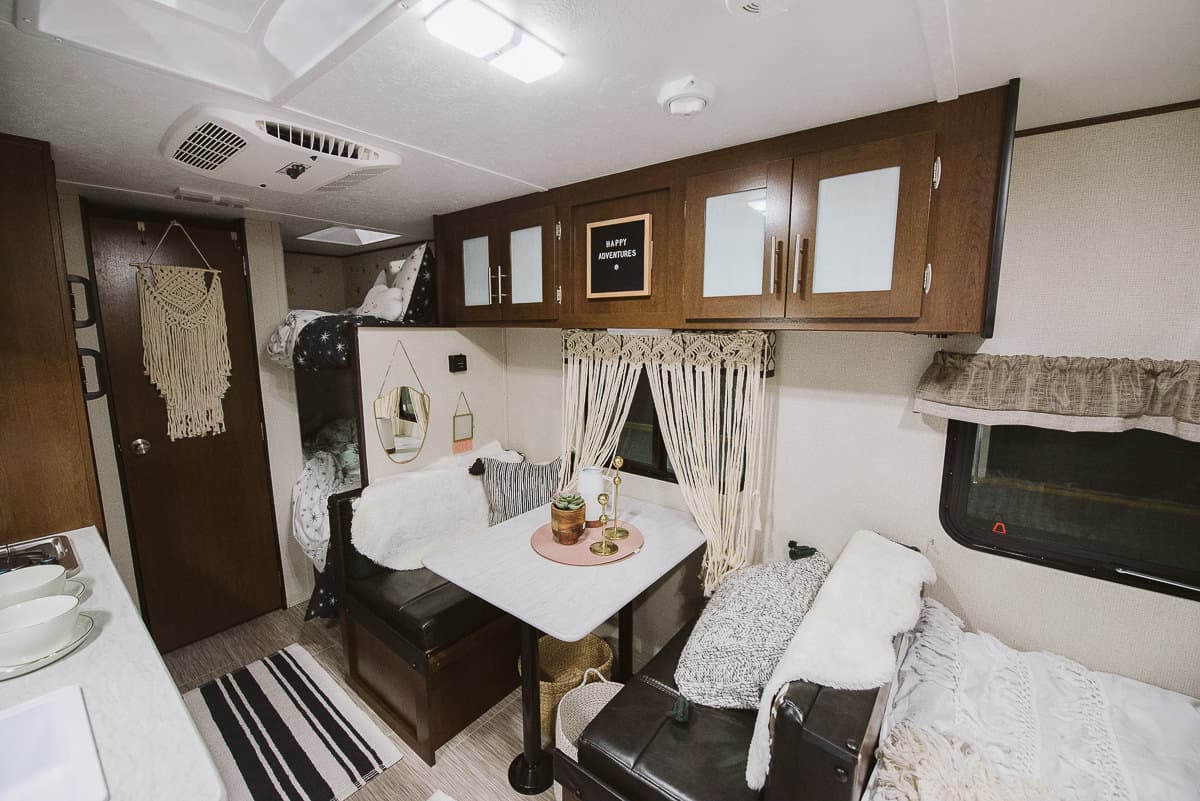 Photo credit: CNA Photography
One day, they dream of purchasing either an Airstream because of their great interiors and light towing, or a large fifth wheel trailer with a big kitchen for cooking and lots of room for their husky, Keno. Nicole would also love to either have a campervan or truck camper for winter camping and more rugged adventures.
"Overall, we had a blast at the Toronto RV Show and Sale and cannot wait to go back next year. We got so many great ideas on how to do small upgrades to our current RV, met some great people and heard about their adventures and dreams for their own RVs, and connected with a lot of great dealers and campgrounds. The RV show really is for everyone and we love seeing more and more millennials starting to get into RVing and wanting to explore our great country," said Nicole.
There are many RV shows throughout the winter and spring across Canada – check out an RV show near you!
Here are some handy tips from Chris and Nicole on visiting an RV show:
Visit the RV Show on one of the first two nights that the show is open. It will be quieter and you will have the opportunity to talk to a lot more of the RV dealers if you have questions! You will also likely not have to wait to walk through any of the RVs. As well, if you go on an earlier day and see an RV you think you might like to buy, you can always go home and do your research to see if it's a great deal, check out similar models out there and get to know everything about it and come back to purchase it later that weekend at the show.
Go in with an open mind! You never know what you might find at the RV show. There are so many new RVs out that offer new features and layouts – there is bound to be something that fits your lifestyle. Don't be discouraged if your dream RV is not at the show though – take away all the best things you like about each of the RVs and ask some of the dealers if they have similar ones on their lots to the one you are looking for. Remember that the RV dealers have access to more models than are displayed on the show floor.
Make sure you know your max towing capacity of your vehicle before heading to the show. This is incredibly important to ensure you do not damage your vehicle by towing something too heavy for it. RVs will list their dry weights, and you'll have to take into account the added weight you'll add with luggage, propane, water, pets and yourselves!
Check out all the RV shows happening in Canada this year! Got a handy tip for RVing and going to an RV show? Join the Go RVing Canada community and chime in on  Facebook, Twitter, Instagram and Pinterest.
Chris and Nicole are a Canadian couple exploring Canada one province and territory at a time! Follow along with Chris and Nicole's outdoor photography adventures on Instagram, Facebook and Twitter.