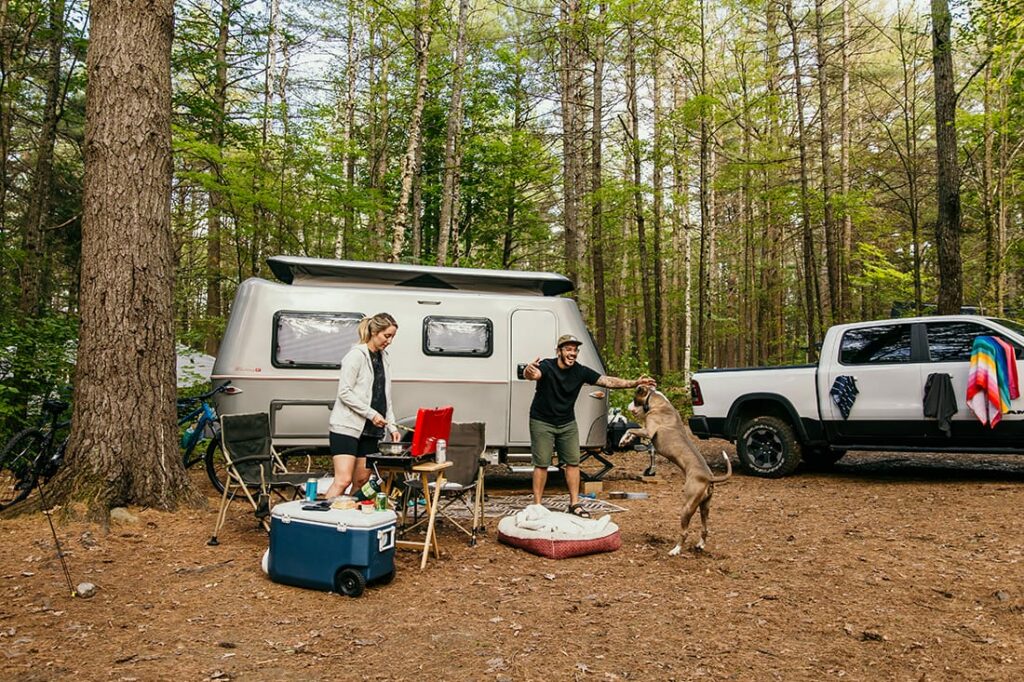 It was time. Time to head out on the open road, get off the grid, and unwind a bit with my little family! We decided we should head somewhere new to accompany our first experience with our RV.
Bon Echo Provincial Park seemed like the perfect destination – not too close, and not too far. The park is located in southeastern Ontario north of Kaladar, which is just north of Cloyne. Bon Echo features several different lakes, including part of Mazinaw Lake (the seventh deepest lake in Ontario). The possibilities are endless, including camping, rock climbing, hiking, boating, and swimming.

The Camping Site
Excited for our destination, we didn't make any unnecessary stops along the way. Upon arriving at our camping spot, the first thing worth noting was the massive amount of room to pull in the trailer and truck. You could be quite an amateur when it comes to driving a rig like this and it still would have been fairly easy. An additional noteworthy point was that the power hookup was very close to the site, which helps save a headache.
On the negative side of things (though it wasn't much of a bother as we had come prepared) the mosquitos at the campsite were plentiful and ready to mingle, so you need to pack repellant accordingly. On the lighter side of things, caterpillars were everywhere – a pleasant sight to see unless you're the squeamish type.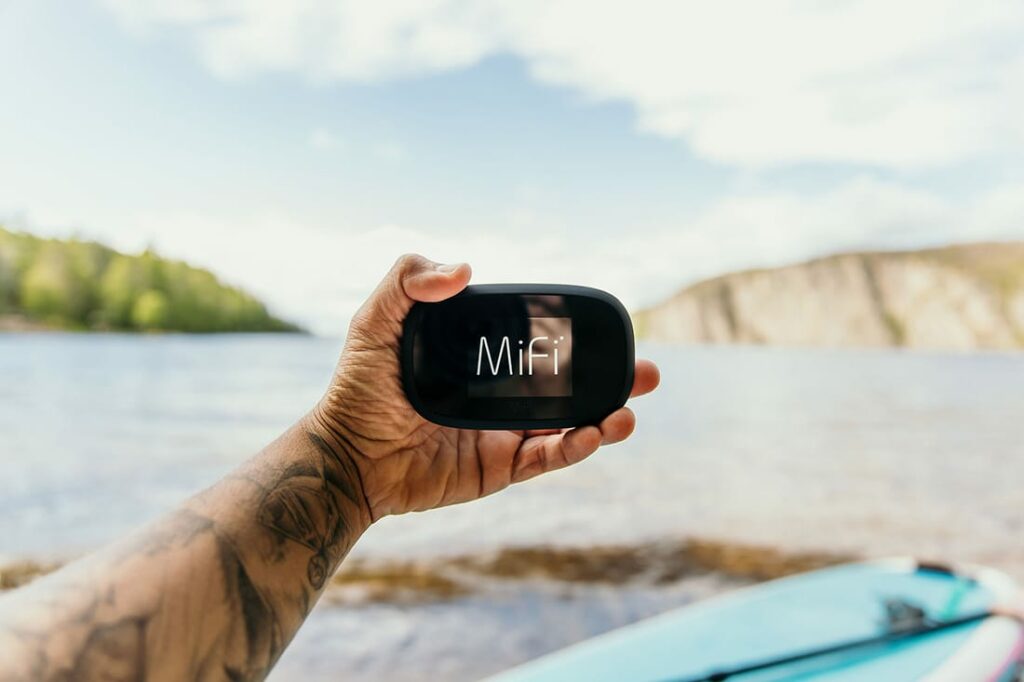 One massive thing worth mentioning is that if you are with Rogers as a cell provider, you'll manage to snag nearly full bars of reception most of the time. With Bell as a provider, I needed to use a device called Mifi to get full service and data. Definitely plan ahead!

The Campground
We used Go RVing Canada's super easy to navigate "find a campground" tool to find and book our stay at Bon Echo Provincial Park.  The first thing you'll notice about the campground at Bon Echo Provincial Park is that it's massive, and it becomes incredibly easy to navigate after even just the first day. All of the sites seemed to offer easy access to the water, which is a huge plus. Since many campsites tend to separate RV's and tents, it was a pleasure seeing the two coexisting here, instead of being separated into different areas based on category.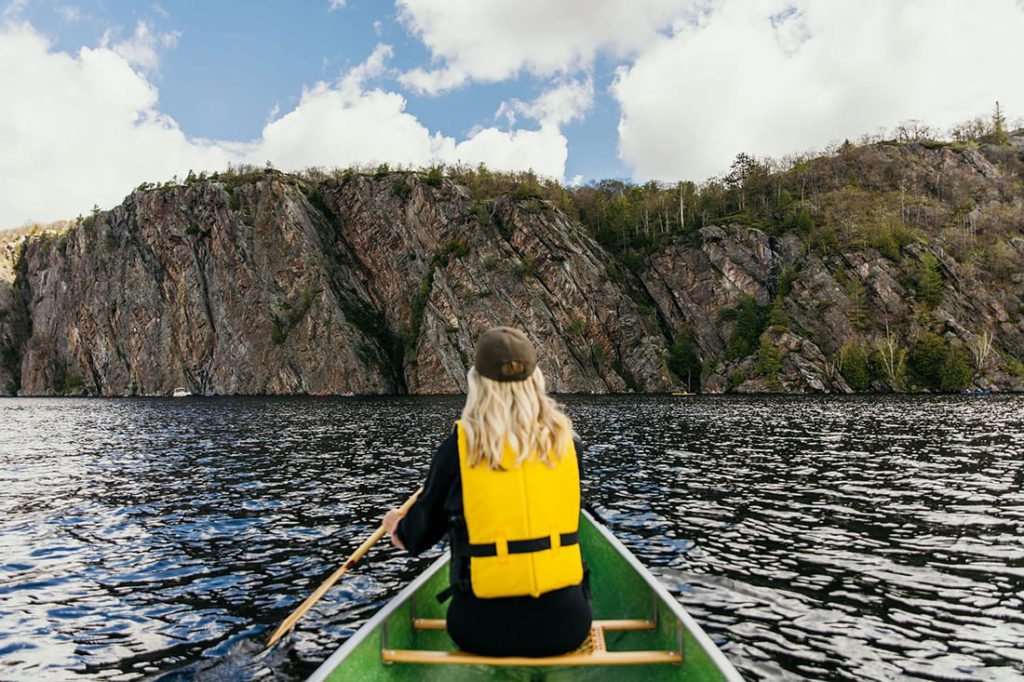 Renting a kayak, canoe, or paddle board is undoubtedly one of the best ways to experience Bon Echo in all its glory, cruising around the lagoon and taking everything in. These watercrafts are everywhere, and the calm waters make paddling along the spectacular Mazinaw Rock a treat. These small, nimble boats also offer a great way to experience the incredible native pictographs up close and personal. An incredibly important thing to keep in mind about rentals is that although they are quite fair and affordable, they only except cash! The grumblings of many families could be overhead about this fact, so be sure to plan ahead.
The number of hiking trails and look out points were plentiful. You can easily plan entire days around these activities.

The RV: Our First Time in the 2019 Hymer GT Touring
Right off the bat, I was pleased with just how easy it was to tow and pull for a long distance. The Hymer was incredibly smooth, and no issues were experienced while moving it from A to B. As for space, it was just the right size for my partner and I, in addition to our big dog! Truly, it made the unavoidable rainy days enjoyable. Whether we were just playing a few card games or reading a book, the RV accommodated whatever vibe we wanted for the day. The cassette toilet was quite functional, we found. We only needed to empty it out twice, and even then, nearby bathrooms kept the trip short and easy. If you're on the hunt for an RV of your own, you can check out Go RVing Canada's find a dealer tool to find dealers near your area.
Overall, Bon Echo Provincial Park was a wonderful destination for a little getaway. From Niagara, the round trip was 813.7 kilometers, and we spent roughly $260 on gas. Well worth it, as we would rate the overall experience an 8.3 out of 10.
If you're looking for more RV trip inspiration, check out Go RVing Canada's trip guides section,  where you can find anything from weekend getaways to long haul trips. Get inspired and start planning your dream RV trip!